Australia's Ruling Conservative Coalition Scores Surprise Win
Surprising pollsters and political analysts down under, Australia's ruling center-right coalition pulled off a big win in Saturday's election.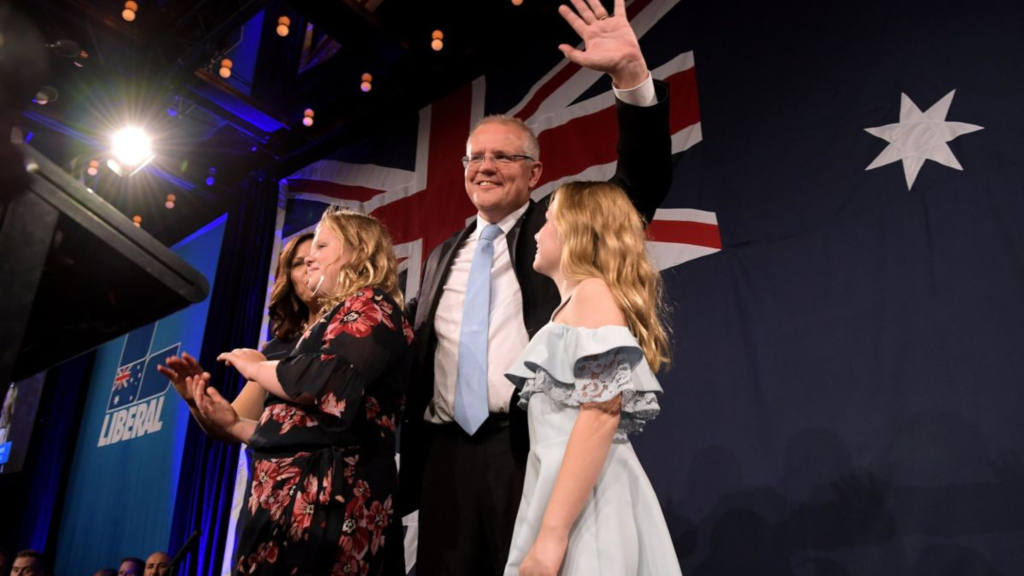 Heading into Australia's General Election yesterday, polls were indicating that the coalition led by the country's Labor Party would end up winning the support necessary to form a government, taking power away from the right-leaning coalition led by Prime Minister Scott Robinson. When the counting was over, though Robinson's coalition had pulled off what analysts down under are calling a stunning victory, solidifying his conservative coalitions control over the country for at least the next several years:
SYDNEY, Australia — Scott Morrison, Australia's conservative prime minister, scored a surprise victory in federal elections on Saturday, propelled by a populist wave — the "quiet Australians," he termed it — resembling the force that has upended politics in the United States, Britain and beyond.

The win stunned Australian election analysts — polls had pointed to a loss for Mr. Morrison's coalition for months. But in the end, the prime minister confounded expectations suggesting that the country was ready for a change in course after six years of tumultuous leadership under the conservative political coalition.

"I have always believed in miracles," Mr. Morrison said at his victory party in Sydney, adding, "Tonight is about every single Australian who depends on their government to put them first. And that is exactly what we are going to do."

The election had presented Australia, a vital American ally in the Asia-Pacific, with a crucial question: Would it remain on a rightward path and stick with a political coalition that promised economic stability, jobs and cuts to immigration or choose greater action on climate change and income inequality?

By granting Mr. Morrison his first full term, Australians signaled their reluctance to bet on a new leader, choosing to stay the course with a hardworking rugby lover at a time when the economy has not suffered a recession in nearly 28 years.


"Australians are just deeply conservative — wherever possible, we cling to the status quo," said Jill Sheppard, a lecturer in politics at the Australian National University. "While we want progress on certain issues, we don't like major upheavals."

The triumph by Mr. Morrison, an evangelical Christian who has expressed admiration for President Trump, comes at a time of rising tension in the Asia-Pacific region. A trade war between the United States and China has forced longtime American allies like Australia to weigh security ties with Washington against trade ties with Beijing.


The conservative victory also adds Australia to a growing list of countries that have shifted rightward through the politics of grievance, including Brazil, Hungary and Italy. Mr. Morrison's pitch mixed smiles and scaremongering, warning older voters and rural voters in particular that a government of the left would leave them behind and favor condescending elites.

The candidate Mr. Morrison defeated, Bill Shorten, the leader of the center-left Labor Party, offered an alternative path for Australia: a return to more government intervention on climate change and the economy, and intensified skepticism about the United States and Mr. Trump.


Mr. Shorten, despite being the face of the political opposition for six years, was not an easy sell to the public. His personal approval ratings never matched Mr. Morrison's, and he relied on the more popular and diverse members of his party to score points with the public.


On Saturday night, he conceded defeat and said he would no longer serve as opposition leader. "I know you're all hurting," he told supporters in Melbourne. "And I am, too."


Mr. Morrison, who kept policy proposals to a minimum during the campaign, rode a singular message to victory: that the Labor Party's plans to raise spending to bolster public health programs, education and wages would blow up the budget and end Australia's generation-long run of economic growth.

Ignoring the turmoil that has led his coalition to churn through three prime ministers in six years, he promoted his center-right Liberal Party as a steady hand on the tiller, and made promises of cheaper energy and help for first-time homeowners.
More from The Sydney Morning Herald:
Prime Minister Scott Morrison has claimed victory in a stunning political "miracle" that has devastated the Labor Party, forced Bill Shorten to step down as its leader and reshaped Australian politics.

Mr Morrison vowed to get "back to work" after holding power at the federal election in a shock result that puts the Coalition on course for a narrow majority in federal Parliament.

"I have always believed in miracles," Mr Morrison said to a cheering audience of Liberal supporters in Sydney at midnight on Saturday, shortly after he had received a phone call from Mr Shorten conceding defeat.

Mr Shorten announced he would stand down as Labor leader while staying in Parliament, adding the federal election campaign had been "toxic at times" but that Labor had fought for ambitious change.


The election result was yet to be finalised at the end of election night, with several seats in doubt, but the Coalition defied the opinion polls to hold its ground and win seats from Labor.


With almost three quarters of the vote counted, the Coalition had 74 of the 151 seats in the House of Representatives and was within sight of forming government in its own right or with support in a hung Parliament.


The Prime Minister said the election was a victory for the "quiet Australians" rather than about the Liberal Party or himself.


"Tonight is about every single Australian who depends on their government to put them first," he said.

"That is exactly what we are going to do. Our government will come together after this night and we will get back to work.


"That is our task and that is my undertaking to Australians from one end of the country to the other.


"I said I was going to burn for you and I am – every single day."
Mr Shorten singled out Labor deputy Tanya Plibersek, shadow treasurer

Chris Bowen and Senate leader Penny Wong for praise in a concession speech to party supporters in Melbourne.


"I know that you're all hurting and I am too," Mr Shorten said.


Two days after the death of Labor hero Bob Hawke, Mr Shorten said he had wanted to achieve victory for Australians who needed better healthcare, an expanded Medicare, greater school funding and other policies.


"Gee, I wish we could have formed a government for these Australians on this evening. I wish we could have won for the true believers, for our brothers and sisters in the mighty trade union movement," he said.


"I wish we could have done it for Bob."

Mr Morrison, who won the leadership after Malcolm Turnbull was deposed in a leadership coup last August, was on track in late counting to secure the 76 seats needed to form government and secure one of the most impressive victories in the Liberal Party's history.


Mr Morrison's presidential-style campaign focussing on income tax cuts and risks to the economy under Labor led the Coalition to significant gains in Queensland and Tasmania while limiting losses NSW and Victoria. His staunch opposition to Mr Shorten's plans to tax higher-income earners appears to have resonated with voters living outside inner-city seats.


Home Affairs Minister Peter Dutton celebrated his victory over Labor candidate Ali France in the Queensland seat of Dixon by quoting former Labor prime minister Paul Keating.


"This is the sweetest victory of all," Mr Dutton said, before paying tribute to Mr Morrison.


"He's been able to campaign in marginal seats, he's been able to put pressure on Bill Shorten, and it's what Bill Shorten deserved."

(…)

The Coalition, which has trailed Labor in the polls throughout its turbulent time in government, went in to the campaign with 74 seats and added to that tally across Queensland, where it defeated Labor in Longman and Herbert. Queensland was a disaster for Labor which recorded a 26.6 per cent primary vote in the Sunshine State.


The Coalition also wrested the Tasmanian seat of Braddon from Labor and appeared likely to claim the neighbouring electorate of Bass as well.


With the electorate enduring more than a decade of unprecedented parliamentary bloodletting – Australia has had seven Prime Ministers in 11 years – many neutral observers were hoping for a period of political stability.


However, the result shows the nation is divided along geographic and ideological lines with Mr Abbott declaring a political "realignment" with Labor making gains in progressive wealthy seats and the Coalition doing better in working class areas. A group of key independents could still hold the key to power.
As Rachel Withers at Vox notes, the result came as a shock given that polling seemed to indicated that the Labor Party was headed to victory:
The Labor Party was widely favored to win this election — so much so that popular gambling website Sportsbet opted to pay out to Labor-backers two days early, to the tune of $1.3 million (there was no such luck then or now for the man who placed a record-breaking $1 million bet on Labor on rival site Ladbrokes).

The Liberal-National coalition has trailing in the "two party-preferred" polls for years now, something that — along with the Coalition's internal division over climate policy — has caused the group to change prime ministers twice in six years (Morrison has only been PM since last August).


The Coalition has grown (or appeared to have grown) increasingly unpopular over its inaction on climate change, an issue of great import to Australians, who now put climate change at the top of the list of threats to the national interest. While Labor's climate policies are more in line with public opinion, its leader is not. Voters have consistently signaled they prefer whoever leads the Liberal Party to Labor's unpopular leader Bill Shorten in the preferred prime minister polling, something Morrison tried to capitalize on by turning the parliamentary race into a presidential one.


And while polls had narrowed in recent weeks, Labor remained clearly in front, with some pundits now blaming the "shy Tory factor" (essentially people telling pollsters they plan to vote for more liberal candidates before actually voting for conservative candidates) for this surprise upset. On-air commenters in Australia are questioning whether they can ever really trust polling again, in scenes reminiscent of both the aftermath of the Brexit referendum and the 2016 US presidential election.
I will not claim to be much of an expert on Australian politics, and the way that both chambers of its Parliament are chosen is quite different from how we do things here in the United States or even how Parliamentary government operates in either the United Kingdom or Canada. Nonetheless, as the commentary quoted above notes, it certainly did seem as though the Australian electorate had had enough of more than a decade of the center-right coalition led by Morrison and his Liberal Party and that they were ready to hand power over to Labor for the first time in roughly 12 years. The fact that the Liberal Party has been in chaos over the past several years — to the point where Australia has had three different Prime Ministers since 2013 — was another reason why many people assumed that the voters would be ready to move in another direction. Obviously, those assumptions and the polls that seemed to reinforce those opinions were wrong/
Many of the post-election posts I've read since the results started coming in yesterday have made note of the fact that these results appear to follow in the footsteps of victories by center-right parties that date back to the U.S. Presidential election in 2016. While it's true that we've seen victories by center-right, or even far-right, parties in the United Kingdom, France, Germany, Poland, Hungary, Brazil, Austria, Israel, and now Australia, it's generally not a good idea to try to equate political developments in other countries as evidence of some kind of global trend. The first reason, of course, is that there are quite often distinct differences between "conservative" parties as you travel around the world. The Republicans in the United States, for example, are quite different from the Tories in the U.K., and both are different from the generally center-right coalitions in France and Germany and from the far-right populists in Poland and Hungary, although one can find some disturbing parallels between those parties and what the Republican Party has turned into under Donald Trump.
In any case, these results in Australia seem to be a fairly strong endorsement by the electorate of the status quote that they've had under the Liberal Party's center-right coalition. From the perspective of the United States that would seem to mean we can at least count on a fairly good relationship with the Aussies since Morrison is apparently a fan of Donald Trump's and vice versa. What it all means for the average Australian and the average American is anybody's guess.