Bachmann, the Constitution, and Slavery
Bachmann's views on the Founders and slavery are more significant than simply a question of how to classify John Quincy Adams.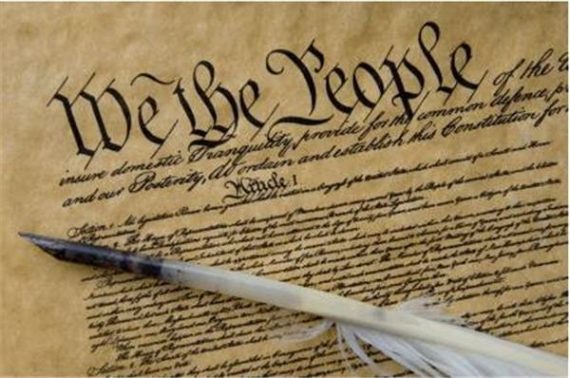 After the debate yesterday here at OTB and elsewhere in the Blogosphere about Michelle Bachmann, John Quincy Adams, the Founders, and slavery, I decided to go beyond the interview with George Stephanopoulos and look at the speech by Bachmann that sparked the question in the first place.
The segment of significance is as follows:
"we also know that the very founders that wrote those documents worked tirelessly until slavery was no more in the United States"
The JQA ref comes next:
"And," she continued, "I think it is high time that we recognize the contribution of our forbearers who worked tirelessly — men like John Quincy Adams, who would not rest until slavery was extinguished in the country."
The transcription is via TPM.
If one prefers to hear the words directly, here's the video (the relevant section is at roughly 10:23):
Now, starting with JQA: if we separate him from "the very founders that wrote those documents" and place him in the category of "our forbearers" then she is on safe ground.  And yes, JQA, especially later in his career, did become a vocal opponent to slavery.  The degree to which "he would not rest until slavery was extinguished" is debatable, insofar as it makes it sound as if it became the singular focus of his life.  Being an opponent, even a public one, is different than being an activist dedicated solely to single issue.   Still, within the context of the speech, one can give her the JQA reference.  Of course, in the interview with Stephanopoulos she actually made the JQA issue worse rather than better by placing him the "founder" category.
The real problem with her history, however, is the first quote above.  The authors of our founding documents in fact did not work "tirelessly until slavery was no more in the United States."  Yes, some opposed it and did make efforts to end it (Benjamin Franklin in the best example), others understood the contradictions between said documents and slavery, but were unable to make the hard personal choices that would have been required to align their lives with their principles (e.g., Jefferson and Madison).  Even Washington, who did the right thing in death (i.e., freeing his slaves), was unable to do so in life.  Other Framers and Founders hoped that slavery would fade in a few decades (but hope is not working tirelessly), while yet others fully supported the institution.
Indeed, the quote makes it sound as if great efforts and whole lives were dedicated by these men to the cause of abolition. This was simply not the case.
Yes, the Declaration of Independence as written scolded King George III for promoting slavery.  It was one of a long list of grievances.  Indeed, that section of the Declaration is something of a "kitchen sink" list of everything bad that the colonists could blame on the King.  However, the irony of that section is that a) Jefferson owned slaves, and b) King George was not actively promoting slavery.  Indeed, at the time of the Declaration the movement towards abolition in Great Britain was starting in the courts (and slavery would be abolished there in 1833 sans a civil war).  Beyond any of that, the fact that there was no serious movement post independence to free the slaves puts the anti-slavery portion of the Declaration in perspective (i.e., it was am invocation of the issue for rhetorical purposes, not because action was planned or desired on the topic).
The Constitution has three  key sections that can be construed as, at a minimum, tolerating slavery:
1)  Article I, Section 2:  "Representatives and direct Taxes shall be apportioned among the several States which may be included within this Union, according to their respective Numbers, which shall be determined by adding to the whole Number of free Persons, including those bound to Service for a Term of Years, and excluding Indians not taxed, three fifths of all other Persons."
This is the infamous 3/5th compromise which acknowledged, however obliquely, the massive slave population in southern states and also ignominiously assigns them the value of 60% of a free resident.
2)  Article I, Section 9:  "The Migration or Importation of such Persons as any of the States now existing shall think proper to admit, shall not be prohibited by the Congress prior to the Year one thousand eight hundred and eight, but a Tax or duty may be imposed on such Importation, not exceeding ten dollars for each Person."
This is the Framers punting for twenty years.  Essentially the slave trade would be left off the table for two decades.  And note:  this provision is focused on the slave trade, not slavery.  So all it did was provide for the possibility of ending the importation of slaves after 1808.    This was a clear political compromise, but make no mistake:  this hardly qualifies as tirelessly working to end slavery.  Yes, some thought slavery would fade given two decades, other didn't.  One thing is for sure:  this is constitutional endorsement, however vague, of continuation of the slave trade for a period of time that many of the Framers knew would likely be after their deaths.
3)  Article IV, Section 2:  "No Person held to Service or Labour in one State, under the Laws thereof, escaping into another, shall, in Consequence of any Law or Regulation therein, be discharged from such Service or Labour, but shall be delivered up on Claim of the Party to whom such Service or Labour may be due."
This, of course, references fugitive slaves.
Look, I fully understand the political reality on the ground in 1787.  I understand the need, as distasteful a fact as it is, for political compromise on the slavery question.  However, that was the reality:  some of the Founders of the US, and specifically some of the Framers of the US Constitution, were pro-slavery.  Indeed, as has been noted, two key Framers, Washington and Madison, themselves were slave owners.  These are facts that have to be understood and dealt with.
Instead, Bachmann's statement that "we also know that the very founders that wrote those documents worked tirelessly until slavery was no more in the United States" is simply not true.  This matters.  And it matters for at least three key reasons:
1)  It influences our understanding of the Constitution:  too many people, and Bachmann and her supporters in general appear to fall in this camp, like to treat the Constitution as though Madison came down from the mountain with the document inscribed on stone tablets by the finger of God.  In this vision, the Constitution is perfection (or nearly so) and it can be quoted as though it is holy writ.  However, this is not the case.  The Constitution, remarkable though it is for a variety of reasons, is not a perfect document.  Further, it s a document that has to be understood as being shaped by politics and compromise.
2)  The influences our understanding of the Founders/Framers:  this is  corollary to the point above.  These individuals were a remarkable collection of individuals.  Some were clearly geniuses.  However, they were not prophets, nor demi-gods, and they certainly weren't perfect.  As such, as much as what they did and what they had to say are interesting, inspiring, and sometimes instructive, they are still just men.
3)  It downplays the national sin of slavery:  by making it sound as if there was a widespread, elite-driven effort from the very beginning to get rid of slavery is an alteration of the true narrative of the United States.  Not only does it absolve, to some substantial degree, the Founders/Framers of sins committed, but it also creates the basis for a narrative in which things really weren't so bad for blacks, because, after all, there were tireless efforts to free them from the beginning.
Indeed, if the Founders did work tirelessly to free the slave, then doesn't that absolve us, as a nation, to some degree of said sin?  After all, if the Founders fought against slavery, then those who were fighting for slavery were some Other People to whom we do not bear responsibility or allegiance.  Don't' blame the Founders!  No, they hated slavery, blame those Other People.  That way we don't feel so guilty and there no need to even consider the long-term effects of slavery on national development.
Further, this is part of a broader narrative that she weaves in the speech (check out around the 9:00 mark) where she paints the US as as place of perfect equality and integration.   And, of course, if that is true, then we really don't need much of asocial welfare system because if we all started out totally equal, then whatever lot you find yourself in at the moment must be your own fault.
I am not, by the way saying that if one has a more accurate understanding of the past that it necessarily leads to a specific vision for contemporary policy.  I am saying, however, that I think Bachmann's policy views, and indeed by extension some segments of the GOP and the Tea Party are illuminated by their specific interpretations of out past, our forbearers, and our key documents.