Backing Trump, The Right Sells Out On Trade And Tariffs
As it has in so many other areas, the right has sacrificed it's previously held beliefs on international trade to feckless obedience toward President Trump.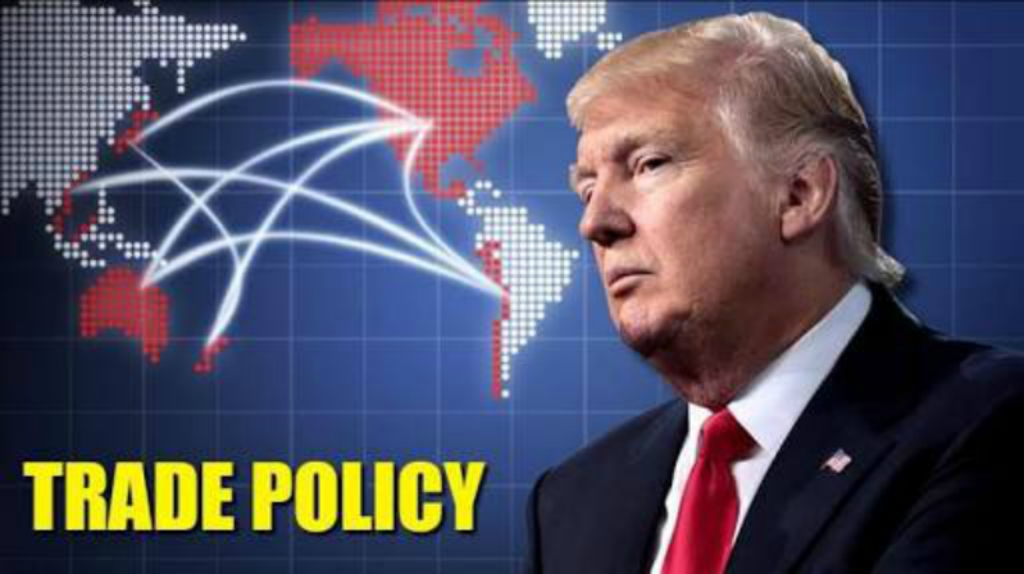 For decades, the Republican Party has been known as the party of free trade, supporting initiatives such as the North American Free Trade Agreement (NAFTA) and other initiatives designed to lower trade barriers and promote free trade around the world, but that's all changed now that Donald Trump is President:
The GOP is starting to give up on thwarting President Donald Trump's trade agenda.

Senate Republicans acknowledge that the president's latest tariff increase on Chinese imports are harming farm state economies, their own constituents and some of Trump's most reliable voters. But there's no plan to stop, or even threaten, the president's tariff regime — just the latest example of Trump imposing his protectionist will on a party that once celebrated free trade.

So the GOP on Monday stuck to the same message: The tariffs are bad, but at least this time, Trump is taking on China — and not on Canada or Mexico.


"They can feel it. The farm community up 'til now has really supported the president without flinching. But eventually you flinch," said Missouri

Sen. Roy Blunt, the No. 4 GOP leader whose state is a major soybean producer. Yet he concluded: "If you're going to have a trade fight, the trade fight to have would be the China fight."


Farmers are "disappointed but, you know, recognizing that China is the one that is forcing this," said Sen. Joni Ernst (R-Iowa).

Trump showed little regard for the GOP's worries on Monday as he advised Americans to avoid buying products made in China to avoid the tariffs then later bragged that the tariffs are taking in billions of dollars — ignoring that consumers pay those fees, not China.


"I love the position we're in," he said. "It's working out really well."


Republicans would disagree but apparently have no will to challenge the president over the matter.


Senate Finance Chairman Chuck Grassley has vowed to block the president's new North American trade deal as long as steel and aluminum tariffs remain on Mexico and Canada, but Trump has ignored his ultimatum.


On Monday, Grassley admitted that Congress has ceded too much power to the White House on trade. But the Iowa Republican declined to say whether his committee would do anything about it, beyond stalled talks about legislation to limit national security tariffs. He offered the gentlest of guidance to Trump, urging him to work with allies on the China fight, and ordered China "to get real."


It's a widely held view among Republicans: Past Congresses granted the White House too much authority and now there's nothing lawmakers can do about it.

"The retaliatory tariffs will have a significant consequence to Kansans," said Sen. Jerry Moran (R-Kan.). He said the Senate can only do so much besides make their case to the White House: "Really this authority rests in the president."


That's a view that ignores Congress' power to rein in the president or confront him through legislation. But the GOP is in no mood to get into it with Trump after blocs of Senate Republicans defied him on his national emergency declaration, criticized his foreign policy and tanked his two Federal Reserve picks. A number of Republicans are up for reelection and sweating potential primary challenges if they cross Trump.


Instead, Republicans seem to be relying on Trump's conservative base in agricultural states to deliver the president a message. Asked who can determine when the economic pain from retaliatory tariffs is too much to stand, South Dakota Sen. Mike Rounds said, "It's up to the producers."

"They can't produce soybeans and actually make a profit today. Five years in a row, farmers' prices are down 50 percent since 2013. This is a very serious thing, and these are the president's people. They want him to be successful. But there's a limit to how long they can hang in there," Rounds said.


The steel and aluminum tariffs on North American and European allies have drawnfar more GOP opposition because they were imposed on the dubious basis of national security. Some Republicans have sought to restrict those "section 232" tariffs, but GOP leaders have declined to consider legislation that would tie Trump's hands.


The GOP pushback has been far weaker on Trump's China offensive, even though the results have been just as damaging. Beijing is imposing new 25 percent tariffs on $60 billion in U.S. imports in the face of Trump's new levies on $200 billion in Chinese goods.


"The president's right to hold China's feet to the fire on this," said Sen. John Barrasso (R-Wyo.). "They wouldn't be negotiating at all if it weren't for what the president has done. Of course, I'd like to see a deal done."
As Amber Phillips notes in The Washington Post, this is yet another measure of the extent to which President Trump has remade the Republican Party:
Perhaps no issue highlights how President Trump has remade the Republican Party better than trade.

In the past, Republican politicians staunchly championed free trade, or opening up America's borders to other countries' products and services. Now, a Republican president is putting billions of dollars in tariffs on Chinese products as a way to close the U.S. to trade practices he deems unfair. And congressional Republicans aren't even trying to stop him.

Republican senators say they aren't happy with the tariffs, both on principle and because it puts American farmers in their states in financial jeopardy. But as Politico's Burgess Everett and Marianne Levine smartly detail, Republican senators aren't planning to do much about it.

"The retaliatory tariffs will have a significant consequence to Kansans," Sen. Jerry Moran (R-Kan.) told Politico. But he went on to say there's not much the Senate can do about it. "Really this authority rests in the president."

(…)

The Republican-controlled Senate could pass legislation led by Grassley taking back some of its authority to approve or deny tariffs. (Right now the White House can basically unilaterally impose tariffs.) It would probably be vetoed by the president if it passed, but it would demonstrate that Republicans are willing to challenge their own president.


They could vote on a resolution of disapproval, as they did for Trump's national emergency declaration at the border. It's symbolic, but at least it would register for the history books that the Republican Party under Trump is not entirely a pro-tariff party.


But Republicans right now have no plans to do any of that.


One reason is timing. They are a year and a half out from elections where the base is their party has largely aligned with Trump on trade. Stand up to Trump on trade, risk getting a primary challenger, is the logic. 4

But that doesn't explain why the Republican Party has shifted so much on trade under its congressional leaders' feet. To some extent, that requires a deeper analysis than the present moment can provide. The reasons likely align with Trump's rise: Americans' growing sense of economic inequality, the feeling that globalization has left them behind, and Trump's simplistic prescriptions that closing America's borders — from China and Latin immigrants — can staunch the tide.


During the 2016 campaign, Republican voters' opinions of free trade seemed inversely proportional to then-candidate Trump's rise. Toward the end of the campaign, Republican voters' opinions of free trade were at their lowest since 2009.

A June 2016 survey by the Public Religion Research Institute and the Brookings Institution found that a majority of Americans said free-trade agreements were more harmful than helpful — with Trump supporters the group most inclined to say they are harmful.

There are some murmurs that farmers who have stood by Trump in states he won in 2016 are starting to break. Soybean farmers, pork producers and cherry producers in particular have said they're struggling with the tariffs already in place, Paletta reports.

Sen. Roy Blunt (R-Mo.) warned as much to Politico: "They can feel it. The farm community up 'til now has really supported the president without flinching. But eventually you flinch."


But for now, Republican lawmakers are stuck inside a party that, when it comes to a consequential economic issue directly affecting many of their constituents, they don't recognize. It's just one of many ways the Republican Party has been remade to the party of Trump.
None of this comes at a surprise, of course. If anything has become self-evident that the Republican Party is now effectively the party of Donald Trump. This is a process that started when it became clear Trump was going to win the nomination, picked up steam after he won the nomination, and became a fait accompli when Trump won the General Election. At each of those moments. former opponents for the nomination and other Republicans who had previously been vocal opponents of the President's became obsequious toadies that have made it their mission to push the Administration's agenda, to deny the outrageousness of the President's behavior and comments about a wide variety of issues, and to essentially do the President's bidding by joining him in attacking everyone from former Director of the F.B.I. James Comey to Special Counsel Robert Mueller. They have also joined the President in denying the seriousness of Russian interference in the Trump campaign and appear to be fully supportive of his ongoing efforts to effectively sabotage the efforts of House Democrats to investigate the swirl of ethical, criminal, and other allegations surrounding the President and his Administration.
Beyond that, though, pretty much every Republican on Capitol Hill, and no small amount of the conservative pundit class that appears on cable news on a daily basis has basically fallen in line behind the President even when it means sacrificing long-held Republican beliefs. This is as apparent in the area of international trade policy as it is anywhere else. Trump's tariff policies should be an affront to any principled conservative and if they had been enacted by a Democrat then it would be Republicans and conservative pundits who were at the lead denouncing those policies and pointing out the extent to which they will harm American businesses and consumers and the American economy. Because they have been put forward by a Republican President, though, what we get is some minor lip service to the self-evident economic truths about how disastrous these policies will be if we continue down this road and then, well, nothing. In reality, there is plenty that Congress could do to try to block the President's disastrous policies, but the GOP in general, and GOP Senators in particular, show no inclination to take any action at all or even to be very loud in their denunciations of these policies. Whether they believe what they are saying is immaterial, the fact is that they are saying it and they have effectively surrendered to Trump on this issue just as they have on so many others.
As I've said before, the modern Republican Party is basically now made up of Trump supporters who are beyond reason, sycophants who are cozying up to Trump because they think it will advance their careers, sellouts who had sold themselves to a man with no principles, and cowards who know what they're seeing is wrong but are too afraid to speak out against it. The result is that the GOP is moving further and further into the Trumpidian populist category in a way that will have a lasting impact on the GOP long after Trump is gone. Hopefully, the American public will stand up against it, but after what happened in November 2016, I'm not particularly optimistic about that.