Bad Economic News Spelling Bad News For POTUS
There aren't many glad tidings at the White House these days.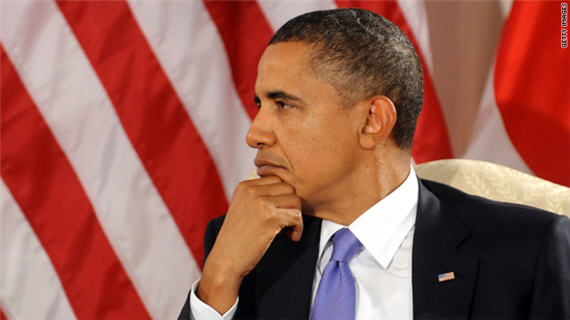 Repeating a pattern we've been seeing for much of the year now, a new CBS News poll portends more bad news for the Obama White House, with more than half of poll respondents saying that the President does not deserve re-election less than one year before they'll actually be going to the polls to decide that question:
Less than one year out from Election Day 2012, voters remain overwhelmingly pessimistic about the economy, and their concerns are taking a toll on President Obama's re-election chances. Just 41 percent of Americans think Mr. Obama has performed his job well enough to be elected to a second term, whereas 54 percent don't think so.

The president's overall approval rating remains in the mid-40's, according to a CBS News poll – lower than the approval ratings of Mr. Obama's four presidential predecessors at this point in their first terms. Mr. Obama's approval rating is dragged down by his poor marks for his handling of the economy – which, at 33 percent, is the lowest rating of his presidency in CBS News polls.

Mr. Obama receives better marks on foreign policy and for his leadership skills. But when it comes to leading the economy in the right direction, voters are unimpressed: Just 28 percent think he has made progress on improving the economy. And most Americans say the president doesn't share the public's priorities, according to the poll, conducted December 5-7.
But it's on the economy that the President is having his biggest problems:
Views of how he has handled the economy is the obvious drag on the president's ratings: While just 33 percent approve, 60 percent disapprove. Similarly, just 35 percent approve his his handling of job creation while 58 percent disapprove. The last time Mr. Obama's approval rating on the economy was above 40 percent was in February of this year.

Views on the national economy remain very negative: Since early 2008, roughly three in four Americans (and sometimes even more) have said the economy is in bad shape. Now, 86 percent of Americans characterize the economy as at least somewhat bad, including 42 percent who say it is very bad.

Although the national unemployment rate recently dropped below 9 percent for the first time since 2009, Americans are skeptical that a recovery is on the horizon. Just 21 percent think the economy is getting better, and 39 percent think it is getting worse, up from 32 percent last month. Another 40 percent think the economy isn't changing.

When asked if Mr.Obama has made real progress fixing the economy, 68 percent say he has not, and just 28 percent say he has. And while 37 percent say the Obama administration's policies prevented the country from going into a deeper recession, just under half – 49 percent – say those policies did not do that.

In addition, more think the policies of the Obama administration have mostly favored Wall Street (42 percent) than mostly favored average Americans (38 percent).
That last part is interesting if only because the White House has spent the last three months or so trying to position the President as they guy who is on the side of the middle class standing against Republicans supposedly doing the bidding of Wall Street. At the same time, of course, the President has been attending several-thousand-dollar-a-plate fundraisers taking money from those same Wall Streeters and members of the so-called 1%. Even taking up the banner of the Occupy movement doesn't seem to have helped the White House shape the perception that they're just as much on the side of the insiders as anyone else in Washington, which is no doubt frustrating to those in the White House who viewed the populism of the seemingly receding Occupy movement as a horse they could ride to victory in November.
The bigger problem that the President has, though, may be the fact that his First Term has been so disorganized and lacking in any clear goals that the voters may not think there's much of a reason to give him an other four years:
As the president gears up for his re-election campaign, 66 percent of Americans say they do not have a clear idea of what he wants to accomplish in a second term; just a third say they do. Fewer than half of Democrats say they have a clear idea of what the president wants to accomplish if re-elected.
This is a perception that could potentially be rectified over the course of the next eleven months, of course, but it's not going to be easy to do so when the economy remains in a funk, people remain jobless, and Europe continues to look like it could tip the world into another recession at any moment. Moreover, it's worth noting that Second Terms have rarely been as successful or productive as First Terms in modern history. Nixon's Second Term was bogged down by Watergate, Clinton's by the Lewinsky scandal and impeachment, and George W. Bush by the devolving Iraq War and an economy that was, in retrospect, built on a a bubble that was destined to collapse. Reagan's Second Term was slightly more successful, notwithstanding Iran-Contra, in that he was able to get major tax reform accomplished and negotiate groundbreaking arms controls treaties with the USSR, but even in his case it was clear by 1986 that things were slowing down in the White House and attention was moving on to the 1988 elections. What exactly is Barack Obama hoping to accomplish in a Second Term? That's a question even he doesn't seem to be able to answer at the moment.
Perhaps the biggest alarm for the President, though, is the extent to which Americans seem to have moved on from the vision of Barack Obama presented during the 2008 campaign. Asked whether they viewed the President as a uniter or a divider, the CBS poll respondents decidedly seemed to suggest that they are seeing the President as more of a divisive force in American politics than they have previously. Overall, poll respondents said the President was more a divider (47%) than a uniter (35%), among independents the numbers were slightly worse with 48% saying the President is a divider, and 35% saying he's a uniter. With the obvious caveats regarding the possibility that the GOP could totally mess things up in November still applying, these are not the kind of numbers the President wants to go into an election cycle with. More importantly, even if he manages to pull of what seems likely to be a narrow victory next year, one wonders how he'll be any more able to push his agenda, whatever it actually is, when 2013 comes around than he is now.