Balanced Budget Nonsense (Part II)
Let's look at the actual proposal.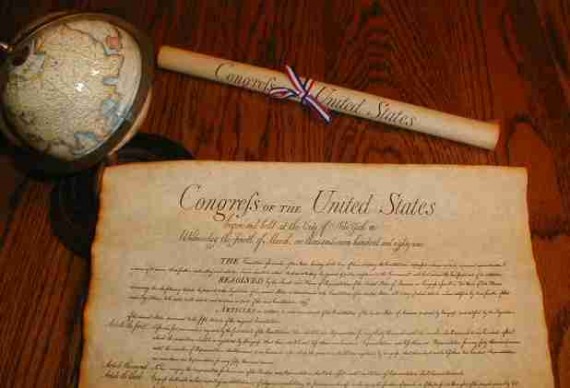 As I noted in my first post on this topic, the numbers are against amending the constitution In the first place, both in terms of the thresholds, but also in terms of the current partisan breakdowns in the two chambers.
But, what of the actual proposal?  Perhaps the content of the potential amendment is such that it might attract some significant bipartisan support?
Well, in  word:  no.
House Joint Resolution 1, as reported out of committee, is as follows:
`Section 1. Total outlays for any fiscal year shall not exceed total receipts for that fiscal year, unless three-fifths of the whole number of each House of Congress shall provide by law for a specific excess of outlays over receipts by a rollcall vote.
`Section 2. Total outlays for any fiscal year shall not exceed 18 percent of economic output of the United States, unless two-thirds of each House of Congress shall provide for a specific increase of outlays above this amount.
`Section 3. The limit on the debt of the United States held by the public shall not be increased unless three-fifths of the whole number of each House shall provide by law for such an increase by a rollcall vote.
`Section 4. Prior to each fiscal year, the President shall transmit to the Congress a proposed budget for the United States Government for that fiscal year in which total outlays do not exceed total receipts.
`Section 5. A bill to increase revenue shall not become law unless two-thirds of the whole number of each House shall provide by law for such an increase by a rollcall vote.
`Section 6. The Congress may waive the provisions of this article for any fiscal year in which a declaration of war is in effect. The provisions of this article may be waived for any fiscal year in which the United States is engaged in military conflict which causes an imminent and serious military threat to national security and is so declared by a joint resolution, adopted by a majority of the whole number of each House, which becomes law.
`Section 7. The Congress shall enforce and implement this article by appropriate legislation, which may rely on estimates of outlays and receipts.
`Section 8. Total receipts shall include all receipts of the United States Government except those derived from borrowing. Total outlays shall include all outlays of the United States Government except for those for repayment of debt principal.
`Section 9. This article shall take effect beginning with the later of the second fiscal year beginning after its ratification or the first fiscal year beginning after December 31, 2016.'.
OK, so we have here a cap on spending at 18% of GDP, a cap on the debt, and a super-majority requirement to raise taxes.  Does anyone think that such a proposal can get 2/3rds of the vote in both chambers?
May I point out that anyone who thinks that building in super-majority requirements into constitutions for fiscal policy matter hasn't been paying attention to California.* Or, really, to the legislative impasses that the filibuster has created within the US Congress itself.
Also, while the proposal allows for a waiver in the case of a declared war, that rather ignores the fact that our military escapades since WII have not been declared wars (and yet, they have still been rather expensive).
Further, none of this is as clear as it sounds.  As Bruce Bartlett notes:
For one thing, the term "economic output" in not defined in the committee report. Presumably, it means gross domestic product. But this is not a term defined in law; nor could it be. GDP figures are constantly being revised as new data become available and economists change their concept of what it means.

Another problem is that Congress cannot know what GDP will be in the coming fiscal year and it must necessarily pass its appropriations bills before the fiscal year begins. This means, as a practical matter, that Congress must base its spending on forecasts of GDP, which are often wrong and sometimes by large magnitudes.
This is no minor issue.  How can Congress know what GDP will be for a given year?  And what measure of GDP will be used?  And who gets to make the authoritative call on the issue?
Further, there is the balance question itself:
For example, until the last day of a fiscal year, it would be impossible to say, as a matter of law, that the balanced budget requirement had been violated. At that point, spending would have already occurred, and it's not really feasible to tell people to send back some of their Social Security checks because the budget was unbalanced. And who is to say what spending was the amount that went above revenues and what wasn't?
And there is the enforcement issue:
Lacking de facto enforcement from the rating agencies, there would have to be some mechanism whereby the courts could intervene to block spending or force tax increases for a balanced budget requirement to be operational and not just an expression of sentiment.
Do we really want the courts deciding what to do to an unbalanced budget?
Really, the notion of hardwiring specific caps is a very bad idea.  Putting very specific public policy guidelines into a constitution tends to create more problems than it solves (see the Alabama state constitution for examples).  Beyond that, the purpose of a constitution is to create a basic institutional framework for governance, not to set fiscal policy.  One of the geniuses of the US Constitution has been its general nature.  This amendment would chip away at that genius.
The proposal is also an insight into the mind of at least some Republicans.  To wit, Senate Minority Leader Mitch McConnell:
The time has come for a balanced budget amendment that forces Washington to balance its books. If these debt negotiations have convinced us of anything, it's that we can't leave it to politicians in Washington to make the difficult decisions that they need to get our fiscal house in order. The balanced budget amendment will do that for them. Now is the moment. No more games. No more gimmicks. The Constitution must be amended to keep the government in check. We've tried persuasion. We've tried negotiations. We're tried elections. Nothing has worked.
Source and emphasis from Think Progress Justice.
By that logic, why don't we just sit down and choose how things should be, enshrine them in the constitution, and forget about an actual government.  Surely we could just subsist on a set of written instructions without the mess of elections, negotiations, persuasion, and such, yes?
Of course, the bottom line remains that this is not going to pass.
—
*And yes, I do understand that in CA the rule was (until recently changed) for 3/5th to pass the budget and for tax increases.