Barack Obama: Presidents Should Avoid Too Much Cable News And Too Much Tweeting
Obvious advice is obvious.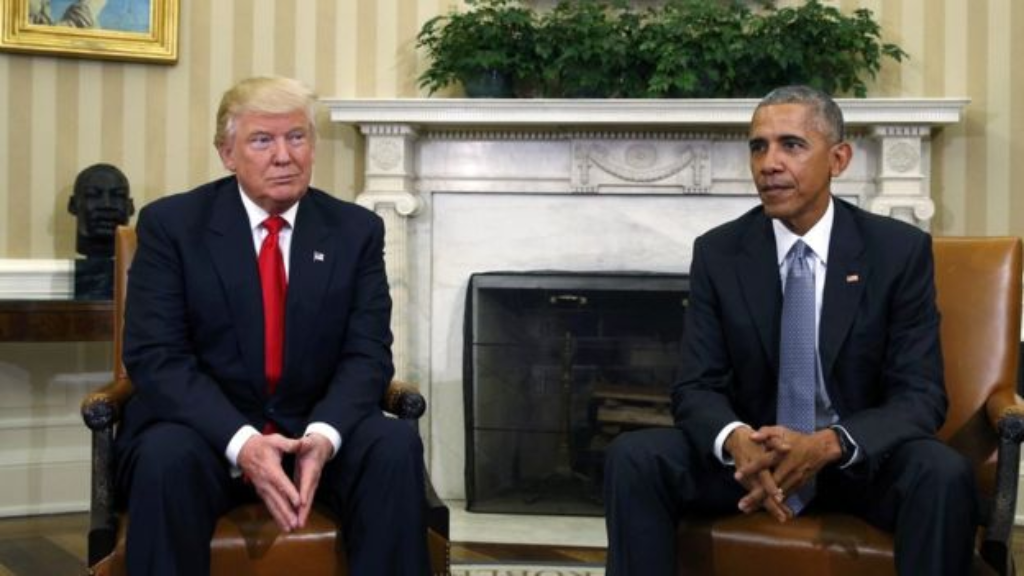 Barack Obama is saying that Presidents should avoid watching a lot of television and spending time on social media:
Former President Barack Obama on Wednesday offered up his advice for clear decision-making in the Oval Office — avoid TV and social media, which only "clouds your judgment."

"What you have to do is to create a process where you have confidence that whatever data is out there has been sifted, sorted and the core issues that are going to be important to your decision, you're able to see it around," Obama said during an interview onstage at a technology conference in San Francisco.

"And that requires not just a good process but making sure you have a team that's got a diversity of opinion. The other thing that's helpful is not watching TV. Or, you know, reading, you know, social media," he said to a cheering crowd.

"So those are two things I would advise if you're president not to do, because it creates a lot of noise and clouds your judgment."While Obama didn't name President Donald Trump in his remarks about TV and social media, Obama's successor is a prolific viewer of cable news and a frequent tweeter.

Obama has occasionally criticized the President — such as when Trump ended the Obama-era Deferred Action for Childhood Arrivals program and in the wake of Trump's first travel ban executive order — but it is rare for modern presidents to criticize their successors. When referring to current news, Obama has frequently avoided using Trump's name.

(…)

Obama said Wednesday that it's important that presidents be clear "that you want facts" without "sugarcoating."

"You can make sure that people who are providing you that information get a clear signal from you that you want facts, and you want bad news first. And you don't want spinning and you don't want sugarcoating and you want a diversity of opinion, and you send that signal strong at the outset."

He added that presidents shouldn't become concerned with outside signals that can "sway your decision-making in an unhealthy way."

"If you are susceptible to worrying about what are the polls saying, or what might this person say about this topic or you start mistaking the intensity of the passion of a very small subset of people with a broader sense of how the country or people who actually know something about the topic you're dealing with think, that will sway your decision-making in an unhealthy way," he said.
The former President didn't mention the current President by name in his remarks, but he didn't really need to do that. With the possible exception of Lyndon Johnson, who became obsessed with the nightly news coverage of the Vietnam War, there hasn't been a President who has become perhaps the most well-known addict of cable news in the nation. According to the many reports about how the President spends his time that has come out of the White House, Trump spends several hours in both the morning and evening and time during the course of the workday, watching news coverage on one of the cable news networks. Usually, he's watching his preferred network, Fox News Channel, something that one can tell usually by following his Twitter feed where he often repeats things that had just been covered on Fox & Friends.
Trump is also the most prolific political Twitter user out there, a habit he developed long before running for President and one that he has continued during the nearly three years that he's been in office. Indeed, Trump's twitter account has become his chief means of communicating with the public, especially since his Administration has basically ended the practice of the daily press briefing. There is seldom a day that goes by without a Twitter outburst of some kind from the President and, often, one that ends up defining the news day. He has also used his Twitter account to announce staff and Cabinet Department changes, such as the departure of former Secretary of Defense James Mattis, former Department of Homeland Security Secretary Kirstjen Nielsen, and National Security Adviser John Bolton.
Trump's addiction to the news and social media stands in sharp contrast to his immediate predecessors. It was fairly well-known, for example, that President Obama avoided watching the news and that he confined most of his television times to evening hours during which he'd mostly watch Sports Center on ESPN or basketball games. Similarly, President George W. Bush, who was famously not much of a night owl, was reported to be another President who avoided excessive exposure to cable news, as did President Clinton before him.
Given the contrasts between those Presidents and the current occupant of the Oval Office, Obama's advice is well-taken. Presidents already have access to all the information they need through their staff and the intelligence community. Adding to that by obsessively watching cable news, regardless of which network it might be, deprives a President of the kind of information they really need and, as we can see on a daily basis with Trump, fills their head with useless information, biased coverage, and self-reinforcing commentary that causes them to revert into an ideological bubble. The same is true of social media. That's not to say that they don't serve a purpose, but that both should be used in moderation and in ways that don't create the kind of ideological bubbles that this President, and far too many other Americans, has fallen into.
Former President Obama's advice is well taken. Not just for Presidents, but for the rest of us too.