Barack Obama: Right About Iraq, Wrong About Syria
President Obama seems to have forgotten the words of a certain Illinois State Senator back in 2002.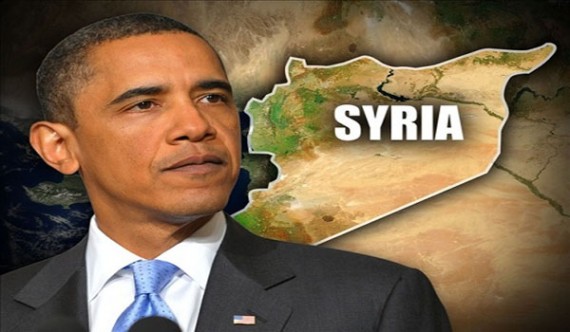 Back in 2002, when Barack Obama was an unknown state legislator from Illinois who had barely just started what would turn out to be a successful Senate campaign, he had this to say about the ongoing debate over the Iraq War:
Now let me be clear—I suffer no illusions about Saddam Hussein. He is a brutal man. A ruthless man. A man who butchers his own people to secure his own power. He has repeatedly defied UN resolutions, thwarted UN inspection teams, developed chemical and biological weapons, and coveted nuclear capacity.

He's a bad guy. The world, and the Iraqi people, would be better off without him.

But I also know that Saddam poses no imminent and direct threat to the United States, or to his neighbors, that the Iraqi economy is in shambles, that the Iraqi military a fraction of its former strength, and that in concert with the international community he can be contained until, in the way of all petty dictators, he falls away into the dustbin of history.

(…)

The consequences of war are dire, the sacrifices immeasurable. We may have occasion in our lifetime to once again rise up in defense of our freedom, and pay the wages of war. But we ought not — we will not — travel down that hellish path blindly. Nor should we allow those who would march off and pay the ultimate sacrifice, who would prove the full measure of devotion with their blood, to make such an awful sacrifice in vain.
Like many critics of the Iraq War, State Senator Obama turned out to be prescient in his warnings against proceeding blindly into Iraq, far more prescient as a matter of fact that supposedly wiser and more experienced people on both sides of the political aisle as it turned out. And yet, here we are some eleven years later and this same Barack Obama is advocating that he be permitted by Congress to engage in an ill-defined mission against a someone whose name could easily be substituted for that of Saddam Hussein in the quote above. If it was possible to contain Saddam eleven years ago, then why is it not possible to contain Bashar Assad today, especially given the fact that there is far less agreement among the international community about the wisdom of pursuing action against Syria?
Of course, the situations in Iraq and Syria are not exactly the same. The Iraq of 2002-2003 was not in the middle of a brutal civil war in which rebels are as divided among themselves by ethnicity and religion as they are committed to fighting the Assad regime. By all estimates, the fall of the Assad government, if and when it comes, is likely to lead to the same kind of chaos and ethnic warfare that we saw in Iraq after the fall of Saddam. We made the mistake of taking actions in Iraq that put is in the middle of that conflict, with the result being the loss of thousands of American lives and and expenditure of billions of dollars. Now, after a few years of what seemed to be like relative calm after the last American troops left, Iraq seems to be slowly descending back into an era where various political rivals use car bombs and other terror methods to inflict pain on their enemies, and on innocent Iraqis. Why in the world would we want to put ourselves in the middle of a similar situation in another Middle Eastern nation?
Obviously, there are as many differences as there are similarities between Iraq and Syria, and it would be an error to fall into the logical fallacy of assuming that events in Syria will unfold exactly as they did in Iraq. These are two different nations operating under different circumstances, and the fact of the civil war certainly makes the situation in Syria far more complicated. That doesn't mean, however, that we cannot learn from the mistakes of the past.
Perhaps State Senator Obama needs to pay a visit to President Obama and have a talk with him.
H/T: Dave Schuler