BART Cop Gets 'Involuntary Manslaughter,' Fed Investigation
A white police officer has been convicted of involuntary manslaughter for killing a black man. Now, the Feds are considering leveling their own charges.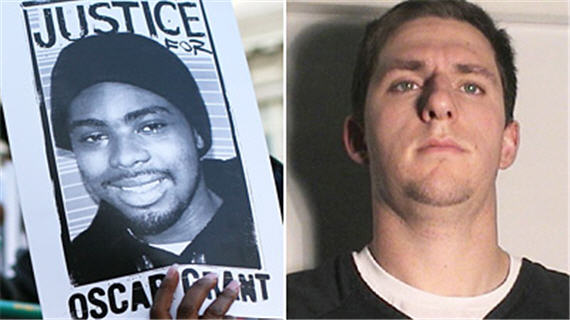 Former San Francisco Bay transit cop Johannes Mehserle was convicted of involuntary manslaughter in the killing of Oscar Grant.    The cop, naturally, was white and the victim, naturally, was black.   Outrage follows.
The facts, from Demian Bulway of the Chronicle:
A jury found former BART police Officer Johannes Mehserle guilty Thursday of involuntary manslaughter, concluding that he did not intend to kill train rider Oscar Grant when he shot him in the back on New Year's Day 2009 but acted so recklessly that he showed a disregard for Grant's life.

The verdict was an all-but-unprecedented instance of a police officer being convicted for an on-duty shooting. But it deeply disappointed Grant's relatives, who said the video-recorded shooting was a murder and that Mehserle deserved a sentence years longer than the one he is likely to receive.

"My son was murdered," said Wanda Johnson, Grant's mother, outside the downtown Los Angeles courthouse where the trial was moved to escape heavy publicity in the Bay Area. "He was murdered and the law has not held the officer accountable."

The jury also found that Mehserle, 28, had used a gun during the crime. In all, he could be sentenced to five to 14 years in prison.

The jury took 6 1/2 hours over two days to decide that Mehserle was guilty of a crime, but not guilty of the other options it had been given – second-degree murder and voluntary manslaughter.

Their verdict suggests they believed Mehserle when he testified that he had mistaken his pistol for his Taser as he sought to subdue the 22-year-old Grant at Fruitvale Station in Oakland following a fight on a BART train, a shooting that was captured on video by five other riders as well as a platform camera.
I haven't followed the case.  Two Californians who have, though, have interesting and opposite reactions.  Kevin Drum:
You can judge for yourself in the cell phone video taken by a witness (the clearest view starts around the 1:45 mark).

I hardly even know what to say about this. I wasn't in court and I wasn't on the jury, so I didn't hear all the evidence. But for chrissake. Look at the video. Mehserle didn't look confused and modern tasers don't feel much like service revolvers. And it's not as if he was acting under extreme duress. At most there was a brief and perfunctory struggle, after which Mehserle calmly raised himself up while Grant was pinned to the ground, drew his revolver, and shot him. The only thing that even remotely makes Mehserle's story believable is that doing what he did is just flat out insane. It doesn't make sense even if he were a stone racist and half crazy as well.
Given three police officers and one more-or-less subdued perp, it's hard to see why a taser would be needed to begin with.   And I tend to agree, it's hard to believe that a trained cop would mistake a handgun for a taser.
Someone calling himself The Mayor of Concord notes the similarities and differences of the weapons:
BART has approx. 64 Taser X26 stun guns in their inventory and would only allow officers to use them after they did six hours of training. Mehserle shot Grant with his Sig Sauer P226 semiautomatic pistol.

The similarities of the weapons are obvious. The differences are what is going to be called into question. Did Johannes Mehserle not know what side of his belt he carried his Taser on vs. his firearm?  The two weapons weigh a lot different than each other. The Sig Sauer weighs about 31 oz. loaded and the TASER X26 only weighs in at 7 oz. I couldn't imagine that he pulled his firearm and didnt't notice that it was not his Taser. In fact before firing since he was not in some immediate threat, wouldn't he have visually noticed that he was holding a handgun and not a Taser?

The safety mechanisims on both weapons are different also. So unless BART police walk around with weapons off safe, (I don't know if they have a policy on this) that would have been a flag that would be raised.
But Mark Kleiman, who's generally to the left of Kevin — and certainly me — on these issues, retorts:
I haven't followed the case closely, but when I heard the story my first reaction was "involuntary manslaughter," which is what the jury decided on. To bring in second-degree murder, the jury would have had to be sure, beyond reasonable doubt, that an ill-trained very junior cop, operating at 2am on New Year's, didn't make the unforgiveable error of drawing his handgun thinking it was his taser. They would have had to be sure, beyond reasonable doubt, that instead he decided at random to murder someone he'd never met before, in front of a big crowd of people and several other police officers.
Well, now it appears that the feds are going to get involved.
The U.S. Department of Justice will conduct an independent review of the Johannes Mehserle case in order to determine whether or not the shooting merits federal prosecution, according the department.

"The Justice Department has been closely monitoring the state's investigation and prosecution," the department said in a statement.  "The Civil Rights Division, the U.S. Attorney's Office, and the FBI have an open investigation into the fatal shooting and, at the conclusion of the state's prosecution, will conduct an independent review of the facts and circumstances to determine whether the evidence warrants federal prosecution."

Congresswoman Barbara Lee, D-Oakland, said she has been in touch with the justice department. "I remain in close contact with the Department of Justice and will continue to work with them, the family and the community in the days ahead," she said in a statement.

The statement also addressed local reactions to the Mehserle verdict.  "Understandably there is grave concern in the community," Lee said. "However, during this time our city must come together peacefully so that we can begin to heal."  Lee said she stands with Oakland Mayor Ron Dellums, the City Council and community leaders in supporting people who want to express themselves.
Well, it all depends on the form the expression takes.
As to the DOJ investigation, I am always very queasy to see the feds take a second bite of the apple after someone is acquitted — or, as in this case, convicted of a lesser offense than prosecutors hoped for — at the state and local level.  Supreme Court rulings to the contrary, this is clearly double jeopardy.   It's simply not right for someone's life to be put on hold twice while various levels of government with comparatively unlimited resources try to deprive them of liberty.
I can understand the rationale for federal involvement in extraordinary circumstances, since as existed decades ago when all-white juries refused as a matter of principle to convict whites for murdering blacks.  But there's no evidence that this happened here.    (And, no, it's not because I reflexively side with whites — I thought O.J. Simpson guilty as hell but wouldn't have supported retrying him in federal court and, indeed, was dubious of his retrial in civil court.)