Battleground Virginia: Advantage Obama?
Obama has an advantage in what is likely to be one of the most important states in November's election, but the race is far from over.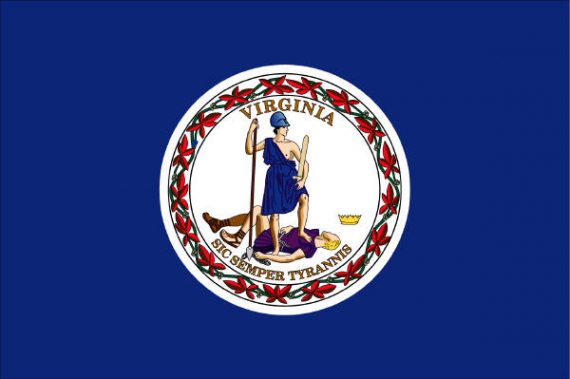 For the second time in four years, and probably for the foreseeable future, Virginia, a state that had been reliably Republican in every Presidential election from 1964 to 2004, is going to be a battleground state:
The verdict is in: Barack Obama's 2008 victory in Virginia was not a fluke. For the once reliably Republican state, competitive presidential elections are the new normal.

Just look at the candidates' schedules. President Obama will make Richmond the site of his kickoff campaign rally this Saturday and, as he often does, will motorcade across the Potomac on Friday for an official event in Northern Virginia, this one devoted to student loans at an Arlington high school. Mitt Romney has two stops in Virginia lined up this week, Wednesday in Northern Virginia and Thursday in Hampton Roads, and he will also be in Lynchburg to speak to graduates of Liberty University next week.

Both campaigns are also moving swiftly to build their organizations. Romney recently brought his Iowa state director, Sara Craig, to helm Virginia and his team hopes to open at least a dozen field offices in the next month. Obama has had a Richmond-based staff in place for months and just opened up his 13th field office last month. The action on the ground is mirrored on the air – Obama's campaign and Romney's super PAC are already broadcasting commercials in the state.

The demographic forces that propelled Democrats to capture two consecutive gubernatorial and Senate races and enabled Obama's 7-point win in Virginia, the first for a Democrat since LBJ's 1964 landslide, make the Old Dominion a prime target for the president. The reelection campaign eyes with delight any state with a significant percentage of voters who are young, minorities and transplants — and Virginia has all three.

(…)

Virginia's composition of voters ensures a politically competitive environment that will make it pivotal for Democrats who rely on centrists to win the White House and Republicans who must compensate for cultural weaknesses in the Northeast and West by holding the South intact. It's no behemoth like Florida, but Virginia is becoming the consummate swing state for the same reasons that have made the Sunshine State so crucial for decades.

"Over the next decade, I am sure that Virginia will be one of the key swing states in the country," said Obama campaign manager Jim Messina. "It's just demographics."

State Del. Jennifer McClellan, a Democratic rising star from Richmond, noted that "Virginia is a lot more diverse than it used to be. It's a microcosm of the country in a way it hadn't been in [the] past."

Much of this is because of both immigration and migration — the state has a growing population of Hispanics and Asians and, thanks to its technology and government contracting industry, significant numbers of what the natives call "come-heres" from other states.

As of the 2010 census, just over half of Virginia residents were born in the state. Over 37 percent were born in a different state and more than 10 percent were born outside the country.
Many Republican partisans, not necessarily professional politicians here in the Commonwealth but  the activists and partisans who have become among the loudest voices on the right, will point to what happened in Virginia since 2008 as evidence that the Obama victory that year was an anomaly. At first glance, that make make some sense. In 2009 the Republicans overwhelmingly swept all three statewide elected offices (Governor, Lt. Governor, and Attorney General) and added six seats to their majority in the House of Delegates, a victory that included impressive victories for the statewide candidates in the same areas that President Obama had won just a year earlier. In 2010, Republicans picked up three Congressional seats in the Old Dominion. Then, last year, the GOP gained nine more seats in the House of Delegates and two in the State Senate, resulting in Republican majority control of the state legislature for the first time since Reconstruction.
It is, perhaps, easy to look at those three years and think that 2008 was a fluke, but that would be a mistake. For one thing, the turnout in each of those years was far different from what it was in 2008, and what it's likely to be this November. In 2009, for example, total turnout was some 1.7 million voters fewer than the number that had voted just a year earlier, although it was consistent with turnout in the two previous Gubernatorial elections. Added to that is the fact that Virginia Democrats managed to come up with a fairly uninteresting bunch of statewide candidates during a time when the state's economy was in bad shape and its fiscal situation was a mess. While Tim Kaine somehow managed to leave office with high approval numbers, that didn't rub off on his fellow Democrats and they paid the price for it. In 2010, the three Congressional seats that the GOP managed to flip all came from Districts that had been trending Republican for most of the previous decade, and which are now even more securely Republican thanks to redistricting. In 2011, turnout was some 1/2 million voters below what it had been in 2009, although again consistent with previous off-year legislative elections. In short, looking to the results of 2009-11 doesn't necessarily tell us anything about what's likely to happen in Virginia this year.
The conventional wisdom is that Virginia elections are decided in the Washington suburbs, but that isn't necessarily true:
"It's not just a Northern Virginia thing," said [Former Governor, now Senator Mark] Warner, singling out the newly competitive Henrico County outside of Richmond. "That was [House Majority Leader] Eric Cantor, [former Gov.] Jim Gilmore, [former Rep.] Tom Bliley country — the heart of the old-line Republican establishment."

A look at Obama's 2008 map makes it clear. He not only carried the most populous counties of northern Virginia, but also places like Henrico and Chesapeake, in Hampton Roads, while only losing Virginia Beach by a single point.

While those places remain competitive, Republicans believe they can win back the suburbs by running against an incumbent who has been defined and has an established record. The GOP strategy is to leave aside the culture wars they used for decades against national Democrats and focus entirely on painting Obama as an adversary to pocketbook-minded voters.

"In Virginia, what is a constant is our very pro-business mentality," Cantor said. "Candidates of either party have always run on a message that we're open for business. And this election is about rejecting an administration that has been hostile to small business."

Democrats, while making the case for a revived economy in a state where unemployment is down to under 6 percent, also have their eye on a gender gap that is as pronounced in Virginia as it is in other competitive states.

"Just look at the rhetoric from the Republican primary, the discussion about these divisive social issues, on top of that what they did in Richmond [with ultrasound and personhood legislation]," said Terry McAuliffe, an all-but-certain 2013 gubernatorial candidate. "You couldn't put together a more toxic mix to voters in Northern Virginia and the suburbs."
As I noted back in March, previous polling in Virginia had seemed to show the race between Romney as being neck-and-neck but that has seemed to change since the controversy over the ultrasound and Personhood bills made news from Richmond all the way across the country. Now, Obama seems to have a distinct advantage in the state. A new Public Policy Polling poll, for example, has Obama leading Romney by eight points here:
Barack Obama won Virginia by six points in 2008, and if he were up against his almost-certain 2012 opponent Mitt Romney today, he would win it again by a similar margin.  If Romney hopes to close that gap, the state's governor Bob McDonnell would not help, and there is no question that one potential running mate would hurt: Eric Cantor.  The Constitution Party candidacy of the state's former congressman Virgil Goode could also draw votes away from Romney, to Obama's advantage.

Obama tops Romney by eight points, 51-43, up from a six-point (48-42) lead when PPP last polled the state last Demember.  These results come among an electorate that reports voting for Obama by only four points over John McCain four years ago.

Democrats favor Obama, 92-4, up from 88-9 when the last survey.  Romney is also consolidating support with Republicans as he wraps up the nomination, but still has work to do on that front—he leads within his party by an 84-9 spread, up from 79-8.  Romney also has a slim lead with independents, 46-44; they make up a pretty sizeable 29% of the electorate.

McDonnell is a somewhat popular governor, with 46% approving and 36% disapproving of his job performance.  But his presence on the ticket would only help Romney tread water at a 51-43 disadvantage.  Cantor, on the other hand, is unpopular.  27% see him favorably and 41% unfavorably statewide, and he would boost Obama's standing by four points (52-40).  Obama would also lead Romney by twelve points if Goode makes the ballot in the state.  Goode would pull 5% to Obama's 50% and Romney's 38%.

"We have polled Virginia six times this election cycle and have found Barack Obama with a decent sized lead over Mitt Romney every single time," said Dean Debnam, President of Public Policy Polling. "Barring a big shift in the political climate Virginia is likely to go for Obama again, and that's going to make it very hard for Romney to score a victory in the electoral college."
That conclusion seems to be supported by a new Washington Post poll that has Obama leading Romney by seven points in the Old Dominion:
President Obama leads former Massachusetts governor Mitt Romney in Virginia but commonwealth voters are evenly divided on the White House's major policies, a new Washington Post poll shows.

Obama is ahead of Romney, the presumed Republican nominee, 51 percent to 44 percent among registered voters. And Romney does no better against Obama than he did a year ago, despite his emergence as the GOP standard-bearer.

(…)

The new poll shows Virginia voters are equally split on Obama's major initiatives, including his signature health care reform law, and remain deeply pessimistic about the way things are going in the country. But the president has a key advantage in his bid for reelection: The coalition of Virginians that propelled him to victory in 2008 — young voters, suburban Washingtonians, women and African Americans — is largely intact.

Christianne Rutan, a Prince William County Democrat who is African American and voted for Obama four years ago, said the president will get her vote again.

"No question, I would stick with Obama," said Rutan, a 22-year-old mother of two who is a therapeutic recreational assistant at a nursing home. "I think he's doing an amazing job. He doesn't get the credit that he deserves."

By a whopping 97 to 1 percent, Obama thumps Romney among black voters, and he has a wide lead among women: 56 to 38. Obama's up by better than 2 to 1 margin among those aged 18 to 29, but he faces a challenge in the coming months in that many of them— 34 percent in this poll— are not registered to vote at their current address.

(…)

If Romney hopes to boost his chances in Virginia, picking Gov. Robert McDonnell (R) as his vice president may not do the trick. More than two-thirds of voters say adding McDonnell to the ticket wouldn't make much difference in their choice; 11 percent say it would make them more likely to back the Republican ticket, while 19 percent say it would push them toward Obama's side.

As in the last several statewide elections, the outer suburbs of Washington are among the state's most competitive battlegrounds — Romney and Obama are essentially tied in the ring that includes Loudoun, Prince William and Fauquier counties. They also neck-and-neck in and around Richmond. Obama runs up the score with wide leads in the close-in D.C. suburbs and the Tidewater. Romney's strength is in central and western Virginia.

The state's voters may want change, but the desired direction is far less clear than it was before the 2008 election. In the summer of 2007, nearly two-thirds said they were dissatisfied or angry with the Bush administration; far fewer now say so of Obama's. More now say they're unhappy with the Republican Congress than the executive branch. And while 83 percent of voters four years ago said they believed the country was on the "wrong track," that number now sits at 65 percent.
These numbers are soft enough that it's far too early to write Virginia off for either candidate, but it seems rather clear that at least at the moment President Obama has the advantage in Virginia and that Republicans are going to have to fight long an hard to get Virginia back in to their column this time around.
On that note, it's worth noting that Virginia seems to be an absolutely essential state for the GOP.  Yes, Florida and Ohio are both important as well, but under at least one scenario, Mitt Romney could win both Ohio and Florida and still lose the election if he failed to win Virginia. Theoretically, Romney could probably win if he managed to pick up other states such as Iowa, Colorado, Michigan or Pennsylvania but, in all honesty, if Romney is going to win those states then he's most likely going to win Virginia too. At the same time, Virginia is an important buffer state for Obama as well and losing it could end up mean losing the election unless he managed to win a state like North Carolina. Again, if Obama wins North Carolina then he's probably going to win Virginia too so the likelihood of winning the Tar Heal State without Virginia seems pretty low.
So, expect to hear a lot about Virginia for the next six months and, sadly, we're about to get bombarded by what will likely be an unrelenting media blitz by the time October rolls around.