Beto 2020? Maybe, But Not For President
Beto O'Rourke should consider running again in 2020, but not for President.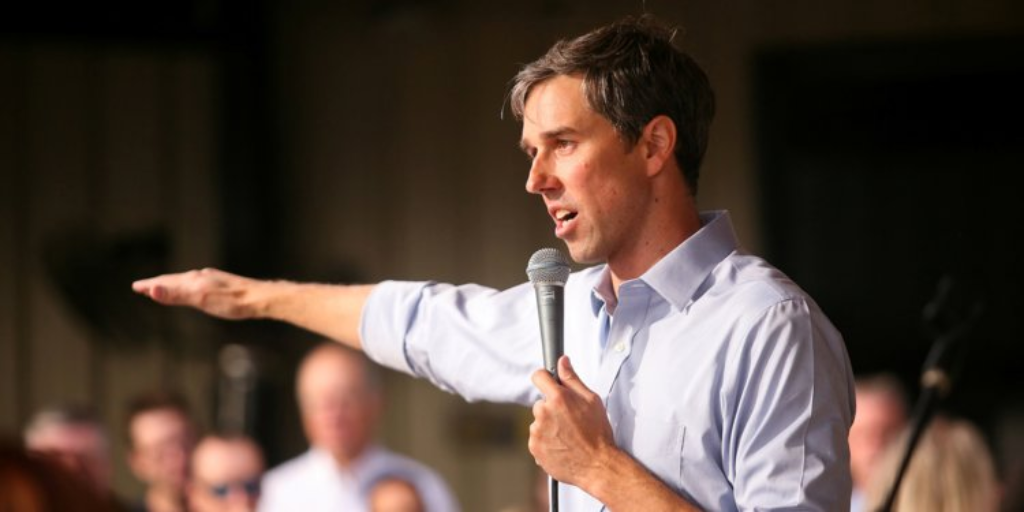 Congressman Beto O'Rourke may have lost his bid to unseat Senator Ted Cruz, but that isn't stopping some Democrats from urging him to run for President:
Rep. Beto O'Rourke's closer-than-expected loss Tuesday has fueled optimism among his friends and allies — as well as Democratic admirers across the country — that he will run for the 2020 Democratic presidential nomination.

O'Rourke smashed online fundraising records on the way to coming within 3 percentage points of unseating Republican Sen. Ted Cruz. He ended the campaign with the tools, including a massive email list and a national progressive following, to remain a force in Democratic politics. But he hasn't signaled, even privately, what his next move will be.

O'Rourke huddled with senior campaign aides Wednesday in El Paso, but offered them no indication of future political plans — saying he first planned to spend time at home with his family after nearly two years on the road and process the election's results before weighing what comes next, one person present for the conversations said.

Another source described having "very initial discussions" with O'Rourke in recent weeks about the prospect of a 2020 bid and what it would take to scale a Senate campaign that operated largely on the candidate's own gut, without pollsters or a massive team of consultants, up to the national level. But the source said it's too early for O'Rourke to have made any decisions.

Publicly, O'Rourke has flatly ruled out the possibility of a presidential run.

"The answer is no," O'Rourke said at a CNN town hall in October when asked about the prospect of a presidential campaign.

"Our children are 11, they're 10, and they're 7 years old. We've told them we're going to take these almost two years out of our life to run this race, and then we're devoted and committed to being a family again," he said.

Pressed again, he said, "It's a definitive no."

He told MSNBC on Monday, "I will not be a candidate for president in 2020. That's I think as definitive as those sentences get."

Despite O'Rourke's comments, staffers on his Senate campaign have discussed a potential 2020 presidential run, with many of them hopeful he will ultimately enter the race, multiple people involved in those conversations said.

There is a belief within O'Rourke's camp and among his allies that the campaign's innovative approaches to digital and organizing — which led to vast increases in young and Latino voters in Tuesday's midterm election — set O'Rourke apart from other 2018 candidates. More importantly, they see O'Rourke as uniquely able to deliver a progressive message with a tone that is optimistic and not overly partisan.

"I don't know what he'll decide to do next, but I do think he's well positioned to be a major leader in 2020 and someone that can mobilize people from around the nation with his very independent and unique and progressive approach to politics," said Cristóbal Alex, the president of the Latino Victory Fund and a Hillary Clinton 2016 campaign veteran who like O'Rourke is an El Paso native. "What Beto has shown is that he can champion the values of the community without vilifying the other side."

The most significant obstacle for an O'Rourke 2020 bid could be timing.

O'Rourke just ended a campaign in which a defining feature was his grueling travel schedule, visiting all 254 Texas counties. In livestreams on Facebook in the race's closing days, he was blunt about looking forward to time with his wife and three young children once the race had ended.

Meanwhile, other big-name 2020 presidential candidates are already at the starter's gate. At least five potential candidates —

Massachusetts Sen. Elizabeth Warren, Vermont Sen. Bernie Sanders, California Sen. Kamala Harris, New Jersey Sen. Cory Booker and billionaire activist Tom Steyer — are in talks with prospective staffers and consultants this week, said several Democratic sources interviewing for those roles themselves or with friends who are doing so.

O'Rourke's campaign team was largely made of Vermont Sen. Bernie Sanders 2016 campaign veterans who are certain to have options to join presidential campaigns and are now trying to determine their own futures.

Other 2020 prospects are anxiously waiting to see what O'Rourke would do. If he were to run, he would be a threat to another potential Texas candidate, former Housing and Urban Development Secretary Julian Castro, as well as progressive grassroots favorites like Warren and Sanders.
On some level, of course, talking up the idea of O'Rourke running for President in just two years seems rather silly and desperate and betrays no small bit of wishful thinking among those who worked for or were attracted to O'Rourke's campaign over the past year as polling showed him doing far better against Cruz than would ordinarily be expected from a Democrat in Texas. Of course, none of those polls except for a handful of outliers showed O'Rourke beating Cruz or coming within the margin of error, but it is worth noting that the outgoing Congressman did better than the final polls were predicting. The final RealClearPolitics average, for example, showed Cruz with a +6.8 point lead over his challenger, suggesting that he was headed for an easy, albeit closer than expected, victory. According to the latest poll numbers, Cruz's margin of victory over O'Rourke was roughly 220,000 votes, or just a 2.6 point margin. This contrasts significantly with other statewide Republicans who were on the ballot, including Governor Greg Abbott, Lt. Governor Dan Patrick, and Land Commissioner George P. Bush, all of whom won their respective races by double-digit margins. Additionally, exit polling showed that O'Rourke actually beat Cruz among "native Texans," while Cruz beat O'Rourke among those who were transplants from other parts of the United States.
In addition to all of this, and largely due to the fact that he was performing so well against a Senator like Ted Cruz, O'Rourke received a lot of attention from Democrats around the country. This is part of the reason why he was able to raise more than $38,000,000 in just the third quarter of 2018 alone. Although much of that money came from small donors inside Texas, the Congressman also received donations from around the country. One could see signs of that in areas far from Texas itself. For example, much like James Joyner noted in one of his post-election posts this week, I noticed several O'Rourke signs in front yards around Northern Virginia, as well as a handful of bumper stickers on cars with Virginia plates. There was also significant interest in the Congressman among the people on the left that are in my social media timelines. As noted, this was due in no small part to the fact that he was running against Ted Cruz, who has few friends even among his fellow Republican and conservatives.
Now that the race is over, though, it seems a bit odd to be pushing O'Rourke to run for President after having lost a hard, long, and bitterly fought race for Senate, notwithstanding the fact that he did better than expected. Had O'Rourke won the race against Cruz, the pressure on him to run in 2020 would have been even greater, of course. Even in that case, though, I think the better route for the soon-to-be-former Congressman is to find some other route to keep himself relevant within the Democratic Party and to keep his powder dry for future years. As it stands, he is still very young at just 46 years old and there is plenty of time for him to make a comeback from this loss. Jumping into what is already shaping up to be a crowded Democratic field after a long and grueling campaign across Texas that has kept him from his family, which his something he noted back in October when he shot down the idea of running for President. Even if he doesn't run, his endorsement is likely to be one that several Presidential candidates will covet in the run-up to the 2020 nomination fight, and he likely would be on the list as a potential running mate for whoever wins the nomination. Beyond that, there are plenty of potential options for him in Texas, and more than enough time for him to consider them.
In an Op-Ed at The Washington Post, James Henson, director of the Texas Politics Project and teaches in the Department of Government at the University of Texas at Austin, is among those who think O'Rourke should run in 2020, but not for President:
Sen. Ted Cruz's (R-Tex.) narrow win over Beto O'Rourke on Tuesday night ended the El Paso Democrat's fairy-tale run. But Democrats' disappointment in failing to "turn Texas blue" obscures another discernible election result: the beginning of the end for one-party rule in Texas.

While a truly competitive party system did not manifest Tuesday, there are signs that double-digit margins for Texas Republicans are numbered. If Democrats want to finish what O'Rourke started, they need to follow his lead. And if O'Rourke wants to secure a spot in the U.S. Senate, he should look to 2020 — and challenge Republican Sen. John Cornyn.

O'Rourke was part of a larger group of Democratic candidates contesting more races in 2018 than in recent memory, including every one of Texas's 36 congressional seats. Two of those candidates, Colin Allred and Lizzie Pannill Fletcher, defeated two veteran GOP incumbents, Rep. Pete Sessions of Dallas and Rep. John Abney Culberson of Houston, respectively. Two other congressional candidates ran strong races and narrowly lost to Republican incumbents. These Democratic campaigns departed from the 21st century norm by being both well-funded and well-executed.

(…)

Two Democrats not running for reelection (Gene Green and O'Rourke) were replaced by Democratic political veterans, Sylvia Garcia and Veronica Escobar, the first Latinas sent to Congress from Texas. Democrats also flipped 12 of the 150 state House seats and two of the state's 31 state Senate seats. O'Rourke attracted more than 4 million votes, a dramatic increase from the Democratic Senate candidate's 1.6 million votes in 2014, and even improved upon the 3.9 million votes cast for Hillary Clinton in the last presidential election, which she lost by nine percentage points.

(…)

2020 is the obvious next step for O'Rourke. Cornyn has already announced that he intends to run for reelection. But he is one of the least popular top-tier statewide officials in Texas; in June 2018, before the Brett M. Kavanaugh hearings and the election environment gave his ratings a boost, his positive job approval among Republicans was only 46 percent, 28 percentage points lower than Cruz's, according to a University of Texas/Texas Tribune Poll. Cornyn's relatively soft support among the GOP base, coupled with presidential year turnout among Democrats, makes Cornyn appear less formidable in 2020 than Cruz in 2018. Should O'Rourke instead choose to exit the stage — or wait for the next round of elections for state government in 2022 — the assets Democrats gained this year may well dissipate.

O'Rourke may be the most valuable of those assets, and exciting as it's been for Democrats in Texas and across the nation, even Betomania has a shelf life. If he wants to be part of the change he has talked about for the past year — change that would inevitably result in more real political competition in Texas — he'll need to finish the job sooner rather than later.
Turning Texas even a little bit more blue would, of course, be a significant achievement for Democrats. While it is unlikely to mean that the state will be competitive on the Presidential level any time soon, it would at least mean that other statewide candidates might have a better chance of taking on their Republican counterparts. Of course, it's possible that O'Rourke's success, even though it fell short of victory, was unique to this year and this race. However, it does seem that Beto O'Rourke has managed to tap into something that attracts many Texans, so it makes sense for him to consider the option Henson suggests. In any case, it certainly makes more sense than what would likely be a quixotic run for the Presidency.