Biden and bin Salman
An embarrassing photo demonstrates the perils of leading the free world.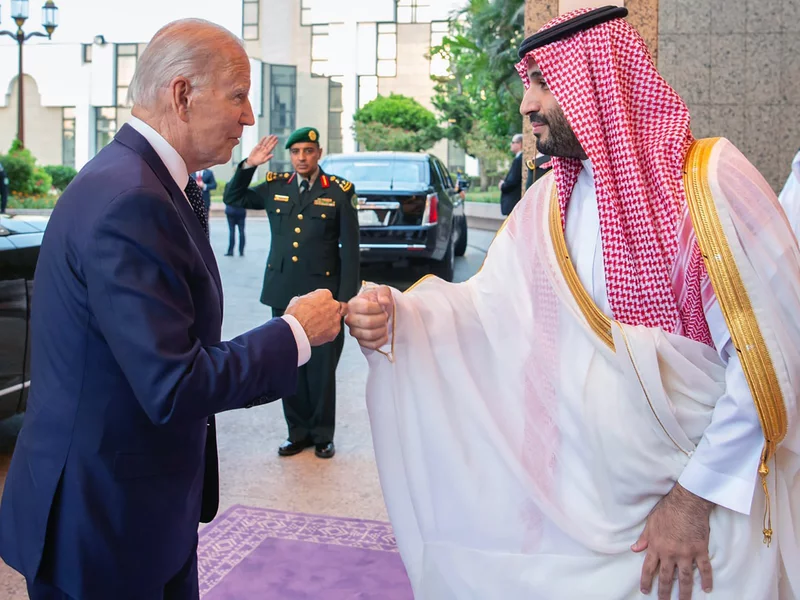 The US-Saudi relationship has long been an odd one, with the ostensible leader of the free world being forced to overlook massive human rights violations in exchange for cooperation on oil prices and stability in a volatile region. Things have to say the least, not improved in recent years, with multiple incidents of Saudi nationalists murdering American citizens in acts of terrorism.
President Biden's weekend trip to smooth things over has, not surprisingly, been without controversy.
CNN ("Biden's fist bump with MBS 'a win' for US President: Saudi foreign minister"):
Joe Biden's controversial fist bump with Saudi Crown Prince Mohammed bin Salman was "a win" for the US President, the Saudi foreign minister told CNN in an exclusive interview on Saturday.

The US President has faced a backlash over the informal way he greeted the kingdom's de facto ruler on his arrival in Jeddah on Friday. Critics have said the fist bump was inappropriate given US suspicions that the Crown Prince was responsible for the 2018 murder of journalist Jamal Khashoggi — and Biden's subsequent 2020 campaign trail pledge to turn Saudi Arabia into a "pariah".
"Suspicions" my ass. He ordered him murdered.
But Saudi Foreign Minister Prince Faisal bin Farhan played down the controversy in an interview with CNN's Nic Robertson hours after the President left Jeddah on Saturday.

"I see the image as a win for President Biden," bin Farhan said.

"He got out of it a meeting with a key leader in the region. He got out of it, I think, reinvigoration of the strategic partnership between Saudi Arabia and the United States."

Bin Farhan said it was "quite normal" that the leaders had exchanged "pleasantries", adding, "I don't know why we're hung up on a fist bump."
Considering that the image was released by the Saudi Press Agency, he knows damned well why we're "hung up" on it. It signifies friendship and respect, seemingly conveying approval. One doesn't generally fist bump a person one believes responsible for the torture and dismemberment of a journalist from an American newspaper.
Biden came to Jeddah seeking solutions to one of his top political problems at home — sky-high gas prices — as diplomacy with Saudi Arabia in the Middle East was seen as one of the few routes he could take to bring down prices that are putting strain on millions of Americans. Bin Farhan said the Crown Prince was open to increasing Saudi Arabia's oil capacity — within limits.

"The most important point in the Crown Prince's statement today was that we need to have a balanced approach towards our energy transition because the kingdom, while it's increasing its capacity to 13 million barrels cannot go beyond that," he said.

However, critics say Biden's visit has been overshadowed by lingering unease over human rights issues in Saudi Arabia.

Concerns over the optics of the trip were highlighted on Saturday as it emerged that when Biden had raised the matter of Khashoggi's killing, the Crown Prince responded by saying the US had "made its own mistakes". In particular, the Crown Prince referenced the abuse of prisoners at Abu Ghraib prison following the US invasion of Iraq in 2003 and the May killing of Palestinian American journalist Shireen Abbu Akleh in the occupied West Bank as incidents that reflected poorly on the United States.
This surely did not come as a surprise. It's the kind of thing Donald Trump says in justifying despots.
For its part, the White House has defended Biden's use of the fist bump as part of an effort to reduce physical contact amid the rapid spread of a new coronavirus variant, noting that Biden also fist-bumped several Israeli leaders before his arrival in Jeddah.
This . . . is not helping. I have plenty of criticisms of the Israeli government over the years. They have committed human rights abuses of their own. They are not, however, monsters. And they're genuine American allies sharing most of the same values.
On returning to the White House Saturday evening, Biden appeared annoyed when asked whether he regretted the greeting. "Why don't you guys talk about something that matters. I'm happy to answer a question that matters," he said.
It actually matters quite a lot, Mr. President.
The meeting between Biden and the Crown Prince was among the most closely watched moments of Biden's landmark visit to the Middle East, with the controversy distracting from some of the other items on the President's agenda — including discussions of Iran's nuclear ambitions.

Before Biden's arrival, Saudi Arabia had been pressuring the US to provide security guarantees if negotiations with Iran were to fail. The last round of talks between the US and Iran resulted in a standstill.

In a statement following the meeting, the White House said Biden had "affirmed the United States' commitment to working with Saudi Arabia and other allies and partners in the Middle East to integrate and enhance security cooperation."
Again, I get it. The United States has worked with some incredibly unsavory regimes in the past and will almost certainly continue to do so.
Indeed, President Bush the Younger was infamously photographed holding hands with Crown Prince Abdullah while hosting him at his Crawford ranch almost twenty years ago. He was criticized for that—and for hypocrisy, given how much the Global War on Terror was ostensibly about global freedom and spreading democratic values.
Diplomacy is a messy business. But this trip was poorly handled. It's not as though this controversy was a surprise. His staff let him down here.
And he's paying the price for it with brutal criticism from all sides.
Robin Wright, The New Yorker ("Biden Caters to Autocrats and Draws Battle Lines in the Middle East"):
On his final stop, in Jeddah, Biden held talks with the Saudi crown prince, Mohammed bin Salman. The C.I.A. has concluded that M.B.S., as he's popularly known, authorized the murder of Jamal Khashoggi, a Saudi dissident and columnist for the Washington Post, in 2018. Khashoggi was lured to the Saudi consulate in Istanbul to get documents to legalize his impending marriage. "Khashoggi was, in fact, murdered and dismembered—and, I believe, on the orders of the crown prince," Biden declared, at a Presidential debate, during the 2020 campaign. He called Saudi Arabia's current government a "pariah" with "little" redeeming value. He vowed to make the Saudis "pay the price." Khashoggi's body has still not been recovered.

In an open letter to Biden, published in the Post, Khashoggi's fiancée, Hatice Cengiz, implored him to cancel the visit. She had waited for Khashoggi outside the consulate as he was suffocated and his body was sawed into pieces. "The details of the suffering he endured have haunted me," she wrote. She was horrified that Khashoggi's killers "roamed free" as the U.S. funnelled billions of dollars in military equipment to the Saudi government. The trip "represents not just an unprecedented capitulation to M.B.S.'s reckless, unaccountable rule but an unprecedented doubling down on support for the autocrats of the region, gifting them with a security agreement that no U.S. Administration has ever committed to in the past," Sarah Leah Whitson, the executive director of dawn, a pro-democracy group founded by Khashoggi, told me. (On Friday, Biden said that he confronted M.B.S. about the killing.)
Bethan McKernan, The Guardian ("Oil trumps human rights as Biden forced to compromise in Middle East"):
For all the careful choreography of Joe Biden's Middle East tour, the White House made a major miscalculation when the president finally came face to face with Saudi Arabia's crown prince, Mohammed bin Salman, for the first time.

Before Air Force One left Washington, the administration said that Biden would be avoiding physical contact and not shaking hands owing to a rise in Covid cases, a move widely believed to allow him to avoid creating an uncomfortable photo op with the powerful heir to the throne.

But the image of the two leaders leaning towards each other, hesitant smiles on their faces as they bumped fists, came across as more relaxed and familiar than the US president probably intended.

Biden came to office determined to take a firmer line with the strongmen and autocrats beloved by Donald Trump. He had a particular enmity towards Prince Mohammed, the ambitious 36-year-old who deposed his uncle to become next in line as king, waged a ruinous war in Yemen, and locked up or killed his critics.

On the campaign trail, in the aftermath of the gruesome murder of dissident journalist Jamal Khashoggi, Biden vowed to make Saudi Arabia a "pariah state". He has since refused to speak to the crown prince directly, liaising instead with his ailing father, King Salman. Shortly after arriving in the White House, Biden released US intelligence findings – suppressed by Trump – which concluded that Prince Mohammed approved the operation targeting the Washington Post journalist at the Saudi consulate in Istanbul.

When the US president brought up Khashoggi with the de facto Saudi ruler on Friday, the prince reportedly hit back, accusing Washington of hypocrisy by not investigating the killing of Palestinian-American journalist Shireen Abu Aqleh, and for allowing the abuse of inmates at Iraq's Abu Ghraib prison.

Yet Riyadh has been one of Washington's closest strategic partners for decades for a reason that no US president can ignore. Biden has heard the siren song of the kingdom's vast oil reserves: the war in Ukraine has unleashed chaos in global oil markets, and he can no longer refuse the call.
Worse yet, Biden's attempts to do damage control seem to be backfiring.
Peter Baker, NYT ("Biden Says He Confronted Saudi Prince Over Khashoggi. How True Is That?"):
As President Biden told the tale, it sounded pretty dramatic.

After meeting with Crown Prince Mohammed bin Salman, Saudi Arabia's de facto ruler, on Friday for the first time since taking office, the president insisted that he had pointedly blamed him for the murder of the columnist Jamal Khashoggi.

"He basically said that he was not personally responsible for it," Mr. Biden recounted to reporters. "I indicated that I thought he was."

The only hitch? That's not the way it happened, according to Saudi officials. Adel al-Jubeir, the Saudi minister of state for foreign affairs, who was present for the encounter, told reporters that he had not heard the president blame the crown prince.

The White House on Saturday did not back down. "The president was very clear about the conversation, and we stand by his account," said John Kirby, the coordinator for strategic communications at the National Security Council.

Asked by reporters after landing back in Washington whether the Saudi minister was telling the truth, Mr. Biden replied simply, "No." He seemed exasperated by the second-guessing of his trip. When a reporter asked if he regretted the fist bump he had greeted Prince Mohammed with, he complained, "Why don't you guys talk about something that matters?"

Both sides had an interest in spinning the closed-door meeting. Mr. Biden has been denounced by rights groups, media organizations and politicians in both parties for meeting with the crown prince, who the C.I.A. says ordered the 2018 operation that killed Mr. Khashoggi, a United States resident and columnist for The Washington Post. By promoting how tough he was behind closed doors, the president clearly hoped to defuse some of the criticism for abandoning his campaign promise to make Saudi Arabia a "pariah."

For their part, the Saudis were eager to present the meeting as a return to business as usual between the leaders of two longtime allies, and had every hope of minimizing the lasting import of the Khashoggi case. Mr. Jubeir confirmed to reporters that Mr. Biden had raised the matter but characterized it in less confrontational terms. The last thing the Saudis wanted was the image of a president lecturing their young leader.

Indeed, both sides were acutely attuned to the choreography of the encounter. American news photographers traveling in the White House motorcade were given no opportunity to get in place to capture the image of the president greeting the crown prince upon his arrival at a palace here, a picture Mr. Biden's aides had dreaded. The Saudi government, for its part, made sure its official photographers were everywhere and snapped myriad shots of the two together, which were promptly posted online.

Mr. Biden is by nature a storyteller with a penchant for embellishment. He has often told the story of meeting President Vladimir V. Putin of Russia in 2011 as vice president and telling him, "I'm looking into your eyes, and I don't think you have a soul." Others present at the time had no memory of that specific exchange.

Mr. Biden has similarly described an unvarnished confrontation in 1993 with Slobodan Milosevic, the Serbian nationalist leader who unleashed an ethnic war in the Balkans. "I think you're a damn war criminal and you should be tried as one," Mr. Biden, then a senator, related having told Mr. Milosevic, according to a 2007 memoir, "Promises to Keep." Some other people in the room later said they did not recall that line.

Mr. Biden likes presenting himself as standing up to dictators and crooked figures. Another favorite story stemmed from a meeting with President Hamid Karzai of Afghanistan in 2008, when the Afghan leader denied that his government was awash in corruption. Mr. Biden said he grew so irritated that he threw down his napkin, declared, "This dinner is over," and stormed out.

Often, others in the room for such sessions say that some version of what Mr. Biden has described did take place, only not with quite as much camera-ready theatricality. During his presidential campaign, for instance, he told a moving story about honoring a war hero that fact checkers at The Post later concluded conflated elements of three actual events into a version that did not happen.
All of us, from time to time, will falter in the moment only to come up with the words one wishes one had said after the fact. Biden, it seems, likes to pretend that he actually said them. Charitably, that's a reflection of who he wishes himself to be. In the movies, the hero is always ready with the right lines. In real life we don't have a script.
Regardless, as David Sanger and Peter Baker write in the NYT ("As Biden Reaches Out to Mideast Dictators, His Eyes Are on China and Russia") these uncomfortable optics come in service to an actual policy agenda.
During his painful encounters with a series of Arab strongmen here in Saudi Arabia this weekend, President Biden kept returning to a single reason for renewing his relationship with American allies who fall on the wrong side of the struggle he often describes as a battle between "democracy and autocracy."

"We will not walk away and leave a vacuum to be filled by China, Russia or Iran," Mr. Biden said at a session on Saturday with nine Arab leaders in a cavernous hotel ballroom in this ancient port on the Red Sea. "And we'll seek to build on this moment with active, principled American leadership."

Mr. Biden's framing of America's mission as part of a renewed form of superpower competition was revealing. For decades, American presidents largely saw the Middle East as a hotbed of strife and instability, a place the United States needed a presence largely to keep oil flowing and eliminate terrorist havens. Now, more than 20 years after a group of Saudis left this country to stage terrorist attacks against the World Trade Center and strike the Pentagon, Mr. Biden is driven by a new concern: That his forced dance with dictators, while distasteful, is the only choice if his larger goal is to contain Russia and outmaneuver China.
A return to "great power competition" was ostensibly at the center of President Trump's national security strategy and, arguably, that was presaged by President Obama's "pivot to Asia" back in 2011. But Biden seems to genuinely be prioritizing said competition and organizing the rest of his foreign policy around that.
"We're getting results," he insisted on Friday night as he emerged from a meeting with the Saudi crown prince, Mohammed bin Salman, who clearly sees the opportunity to get diplomatic rehabilitation after Mr. Biden refused to see him for months, accusing him of complicity in the murder of Jamal Khashoggi, the Saudi dissident and Washington Post columnist.

Mr. Biden's effort here to negotiate greater oil production — jarring enough for a president who came to office vowing to help wean the world from fossil fuels — is driven by the need to make Russia pay a steep price for invading Ukraine.
To be sure, it's also motivated by domestic politics. Americans are furious at the higher prices at the pump.
So far, that price has been scant: Not only are the Russians continuing to collect substantial oil and gas revenues, they are even supplying Saudi Arabia, Reuters reported recently, with fuel for its power plants — at discounted prices.

Perhaps the most notable of Mr. Biden's flurry of announcements with the Saudis was an agreement signed Friday night to cooperate on a new technology to build next-generation 5G and 6G telecommunications networks in the country. The United States' main competitor in that field is China — and Huawei, China's state-favored competitor, which has made significant inroads in the region.

It is all part of a larger Biden administration effort to begin pushing back on Beijing in parts of the world where for years the Chinese government has made progress without feeling much competition.

Three weeks ago, at the NATO summit meeting, Mr. Biden celebrated a new "strategic concept" for the Western alliance that, for the first time, recognized China as a systemic "challenge," describing its policies as coercive and its cyberoperations around the world as malicious. The doctrine said that along with Russia, Beijing was trying to "subvert the rules-based international order," words similar to those the Biden administration has used on this trip to Israel and Saudi Arabia.

After that summit, European officials said they would focus on pushing back on China's influence inside Europe, and on reducing dependency on its electronics, software and other products.

The effort here in Jeddah is similar — to show that the United States will help push back on Chinese and Russian influence. Mr. Biden outlined a five-part "new framework for the Middle East" that included supporting economic development, military security and democratic freedoms. "Let me conclude by summing all this up in one sentence," he said. "The United States is invested in building a positive future in the region in partnership with all of you, and the United States is not going anywhere."
Frustrating though it may be, human rights aren't always at the top of our foreign policy agenda. Certainly, the prospect of China setting the global agenda is more problematic than how the Saudi government treats its subjects.