Biden Jumps To Big Early Lead In South Carolina
More good news for Joe Biden, this time out of South Carolina.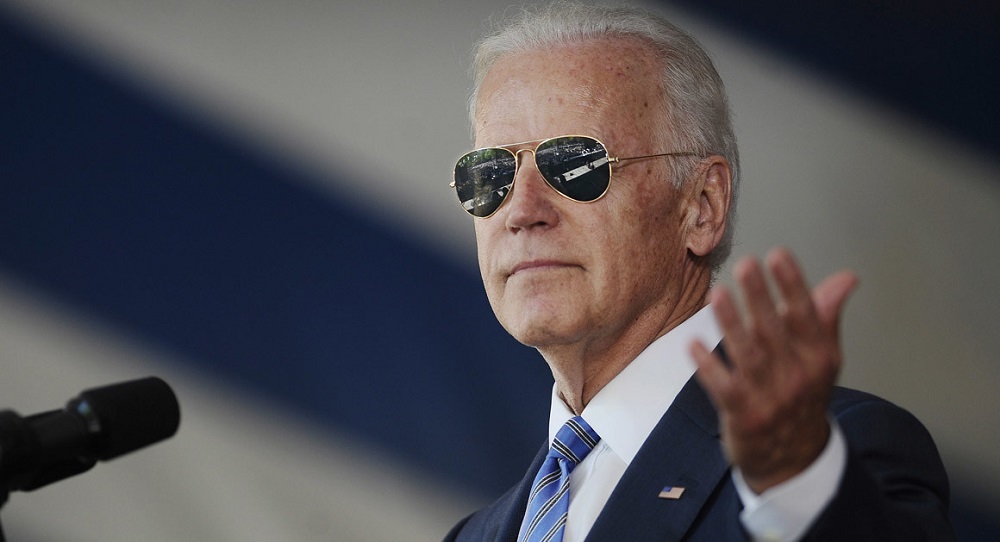 A new poll out of the early primary state of South Carolina shows that former Vice-President Biden's lead in the polls at the national level and in states such as Iowa and New Hampshire is also manifesting itself in what is arguably the first truly important primary test of 2020:
Former Vice President Joe Biden holds a sizable lead over the 2020 Democratic presidential field in a key primary state, according to a new Post and Courier-Change Research Poll. 

The survey, which was released on Sunday, found that 46 percent of likely Democratic voters in South Carolina, home to the nation's third primary, favor Biden over the rest of the Democratic field. Sen. Bernie Sanders (I-Vt.) is a distant second, with 15 percent of respondents saying they'd support him.

Meanwhile, 10 percent of likely South Carolina Democratic primary voters said they'd favor Sen. Kamala Harris (D-Calif.).


The Post and Courier noted that Harris and Sanders' support has remained steady in the state since February. Biden, on the other hand, has experienced a surge in support since officially launching his presidential campaign in late April. 


"He's always been popular in South Carolina and always maintained good relationships here, so people were really excited about him getting in," Kenneth Glover, chairman of the Orangeburg County Democratic Party, told The Post and Courier.

South Bend, Ind., Mayor Pete Buttigieg and Sen. Elizabeth Warren (D-Mass.) each earned support from eight percent of respondents. Four percent of likely primary voters said they'd support Sen. Cory Booker (D-N.J.), while two percent said they'd favor former Rep. Beto O'Rourke (D-Texas). 


The support for O'Rourke represented a seven-point slide from the previous month, according to the newspaper. 



More from The Post And Courier:
Now that he's formally entered the race, former Vice President Joe Biden widened his lead in South Carolina among 2020 Democratic presidential candidates, according to a new poll.

Biden is preferred by 46 percent of likely S.C. Democratic primary voters, up 14 points from a month ago, according to a Post and Courier-Change Research Poll released Sunday.

Biden's post-announcement bump in South Carolina is higher than in other parts of the country, pollsters said. 

Vermont Sen. Bernie Sanders sits second at 15 percent, with California Sen. Kamala Harris following at 10 percent. Their numbers have held steady in three S.C. polls taken since February.


South Bend, Ind., Mayor Peter Buttigieg continued his surprising rise, landing fourth, at 8 percent in a tie with Massachusetts Sen. Elizabeth Warren. Buttigieg did not register with voters in the first S.C. poll taken nearly three months ago. 

The next two candidates, New Jersey Sen. Cory Booker and former Texas congressman Beto O'Rourke, took big hits this month in the crucial early-primary state.


Booker, one of most frequent visitors to South Carolina, saw his support cut in half, to 4 percent.


O'Rourke, who drew large crowds in his first swing in South Carolina, sits at 2 percent, tied with entrepreneur Andrew Yang — down 7 points from a month ago. Their numbers also have dipped nationally, Change Research pollsters said.


Meanwhile, excitement in South Carolina about a possible run by former Georgia House Minority Leader Stacey Abrams has cooled off. Support for Abrams, who ran in a hotly contested governor's race last year, slid to 1 percent from 7 percent in April despite her not ruling out a presidential bid.
Outside of the previous Post and Courier poll noted above, there has been limited polling in South Carolina to date. The only other recorded poll is one from Emerson College that was taken in late February. That poll also showed Biden in the lead, although by a smaller margin, and also preceded not only Biden's entry into the race but also that of several other candidates. That being said, the current RealClearPolitics average shows the former Vice-President with a massive lead in the Palmetto State, averaging 41.5% of the vote compared to 18% for Senator Sanders. Behind Sanders are Senator Kamala Harris at 9.5%, Elizabeth Warren at 6.5%, Cory Booker at 5.6%, Pete Buttigieg at 4.0%, and Beto O'Rourke at 3.5%. All of the other candidates stand at 2% or lower or do not register at all.
One of the primary reasons for Biden's huge lead among Democrats in the Palmetto State appears to be the fact that, much like Hillary Clinton in 2016, he appears to have the support of a significant percentage of African-American voters, one of the most important Democratic voting blocs in the state. Three years ago, that segment of the Democratic electorate rallied around Hillary Clinton to such a great extent that she ended up defeating Bernie Sanders, who had surprised the Clinton campaign in the races in Iowa and New Hampshire earlier that month, by an overwhelming margin that marked the beginning of her ascent to the Democratic nomination, by nearly 180,000 votes. This time around, that contingent of the Democratic electorate in South Carolina appears to be rallying behind Biden for the moment despite the fact that there are several minority candidates in the race. Granted, it is early in the contest but this is yet another good sign for Biden in what is still a very young campaign.