Biden-Ryan Debate Mostly A Draw
Last night's Vice-Presidential debate was combative, but is unlikely to have a major impact on the race for President.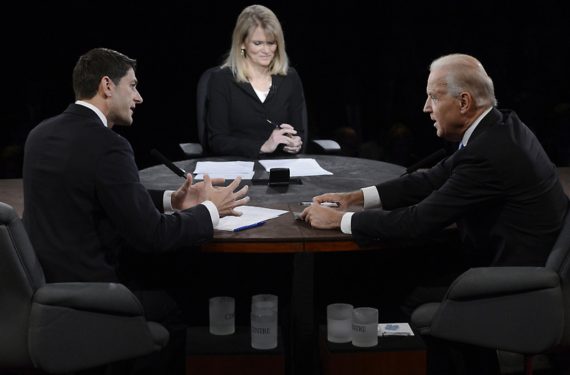 My own impression of last night's Vice-Presidential Debate was largely similar to the one that James Joyner noted in his post last night. I found Vice-President Biden's constant interruptions, eye-rolling, smirks, and laughs to be rather annoying after awhile. It's as if his debate handlers decided they would just let Joe be Joe and he responded by treating the debate more like a bull session in a bar in Wilimington than a serious debate about issues of national importance. Paul Ryan, on the other hand, came across as earnest and knowledgeable  but somehow out of his element, especially at the start of the debate when the two men spent the better part of a half hour talking about foreign policy.  The debate moderator Martha Raddatz, meanwhile, did next to nothing to control the debate, although I do give her credit for choosing to start out with a question about the debacle in Libya. In the end, I suspect that the debate ended up being mostly a wash. If you're a Democrat, you thought Joe Biden won. If you're a Republican, you thought Paul Ryan won. If you're an Independent or one of that ever shrinking population of undecided, you were likely just completely damn confused.
The New York Times said that the two men quarreled aggressively, but I think Jonathan Harris and John Martin get it right at Politico when they say that Biden and Ryan basically did the bare minimum of what they needed to do:
DANVILLE, Ky. — Vice President Joe Biden gave Democrats what they needed most from the debate here Thursday night — a jolt of energy that came from hitting Republicans in all the places they are presumed to be most vulnerable and chasing away memories of President Barack Obama's flaccid debate performance the week before.

But Biden didn't do much more than that. It is clear that Biden's substantive high points — and there were several places where he took clear command of the debate on issues ranging from entitlements to taxes — will be partly shadowed by his nonstop succession of incredulous smiles, sneers, taunts and guffaws that were apparently intended to show self-confidence and fighting spirit but struck many viewers as undignified and rude.

Paul Ryan, for his part, gave Republicans the minimum they needed. He turned in a passable performance with no big errors and with very occasional — and very faint — flashes of the energetic young domestic policy activist that first won him the national spotlight.

But Ryan didn't do much more than that. His earnest-but-bland performance rarely if ever dominated the evening, and it is unlikely that he left many Republicans fantasizing about the day when it is Ryan himself running for president and taking the fight to Democrats. If he didn't do any damage to Romney, it is possible he did himself some slight damage to his own long-term reputation.

If all this sounds like a pretty mixed verdict, that's exactly right.

Republicans, thanks to Romney's strong performance and Obama's weak showing last week, have closed the gap in many swing states to where many political strategists long thought the race would be in the final stretch: competitive but with a clear Democratic advantage in the Electoral College. The president was never going to roll with high single-digit leads in states like Ohio and Virginia, and now Democrats have had their inevitable correction after a near-perfect six-week run.

Biden calmed his party's nerves and gave Democrats something to get about excited Thursday, but few people in either the campaign headquarters in Chicago and Boston or in the professional operative class in Washington expect the race will return to its September high-water mark for Democrats.

The Biden-Ryan exchange presents challenges for both presidential nominees when they meet at Hofstra University on Long Island on Tuesday. Obama will need to match Biden's substantive aggressiveness, while avoiding stylistic excesses that would look especially out of place for a president. Romney must revive his momentum from the Denver debate after Ryan did little to help the cause at the Centre College debate here.
 Marc Ambinder notes that Biden likely succeeded in revising the spirits of Democrats who were dispirited by last nights debate and Ezra Klein agrees:
Last week, President Obama looked like he didn't want to be debating Mitt Romney in the first place. This week, Vice President Joe Biden seemed like he never wanted his debate with Paul Ryan to end.

Post-debate commentary tends to focus on who won and who lost. I'd give the edge to Biden, but Ryan delivered a solid performance, and it's hard for me to imagine many voters changing their minds because of a vice presidential debate.

But what's unquestionably true is that Biden succeeded tonight. He had a simple job: Stop the bleeding. Buck up the troops. Make all those Democrats out there who've been fighting for the Obama campaign feel that the Obama campaign is also fighting for them. And so Biden came out tonight and picked a fight. He did everything Democrats wished Obama has done a week ago. He called out Ryan's "malarkey" early and forcefully. He returned again and again to the 47 percent comments. He fought for core Democratic issues like protecting Medicare and Social Security.
As I noted in my pre-debate post yesterday, it's rarely been the case that a Vice-Presidential debate has had any real impact on the race for President, but that doesn't mean that both candidates don't go into the encounter with a job to accomplish. In Biden's case, that job was to both defend the Administration's record from the attacks that would come from his opponent and, largely thanks to the President's disastrous performance in Denver last week, to turn around the narrative that had developed over the past week and send a message to Democrats that he and the President were still fighting this thing. In both respects, Biden succeeded quite well I'd argue. On the first account, it was very much like Biden was appearing on Meet The Press or one of the other Sunday shows, and he did a fairly good job of making the points that the President had utterly failed to make just a week ago. On the second, his aggressiveness, while off-putting at times, clearly seems to have warmed the hearts of Democrats who seem to have spent the last week going through the five stages of grief over the President's debate performance. So, in that regard, Joe Biden did exactly what he needed to do.
It also strikes me that Paul Ryan accomplished what he needed to last night. In Ryan's case, the primary task was to demonstrate his readiness on the national stage to take over should something happen to Mitt Romney. I was actually surprised that the issue didn't specifically come up during the debate itself, but I'd say that in his answers on both foreign and domestic policy, Ryan demonstrated that readiness quite effectively. If the Congressman fell short, it was that it didn't strike me that he came off as the overwhelming debater that some of his Republican boosters were anticipating. Nobody on the right seems to be disappointed in Ryan this morning, but it does strike me that he fell below the bar on several occasions. While he seemed to answer foreign policy questions passably enough, Ryan did seem to me a bit like a fish out of water during those parts of the debate, especially when compared to the far more experienced Biden. Additionally, Ryan walked into a trap when he criticized the stimulus only to have Biden come right back and say that his office had gotten two letters from Ryan requesting stimulus funds for Wisconsin's First Congressional Districts. On the whole, though, I'd say that Ryan did well enough, something that at least one poll seems to agree on, and that, most importantly, he did nothing that's going to cause harm to the ticket.
In end, I'd score the entire debate a draw. Both Biden and Ryan landed some punches on each other, but nobody delivered a knockout and nobody made any serious mistakes. As far as the polls are concerned, I doubt we'll see much movement in either direction based on what happened. Instead, it's likely that all that these two men succeeded
Walter Russell Mead summed up the debate this way:
The vice presidency was, said the first man to fill the position, the most insignificant office humanity had ever devised. It was another vice president who compared it to what, in a gentler day, the press called a pitcherful of warm spit.

Tonight's debate more or less lived up to the office. The current pitcherful, Biden, was rude and blustering. The aspiring pitcherful, Paul Ryan, was clearly taken aback and unable to develop an effective response. Both debaters scored some points here and there, but it's unlikely that many voters wanted either of these gentlemen at the top of their respective tickets.
That about gets it right. Anyone who tuned into last night's debate looking for a serious, sober discussion of the issues facing this country was sadly disappointed. Both sides got off their talking points quite well, but at times the entire thing seemed more like that bull session in the bar that I mentioned earlier. Long, loud, and in the end a waste of time. Kind of like the Vice-Presidency itself.