Biden's Massive Lead
President Trump is behind 14 points in the latest NYT poll.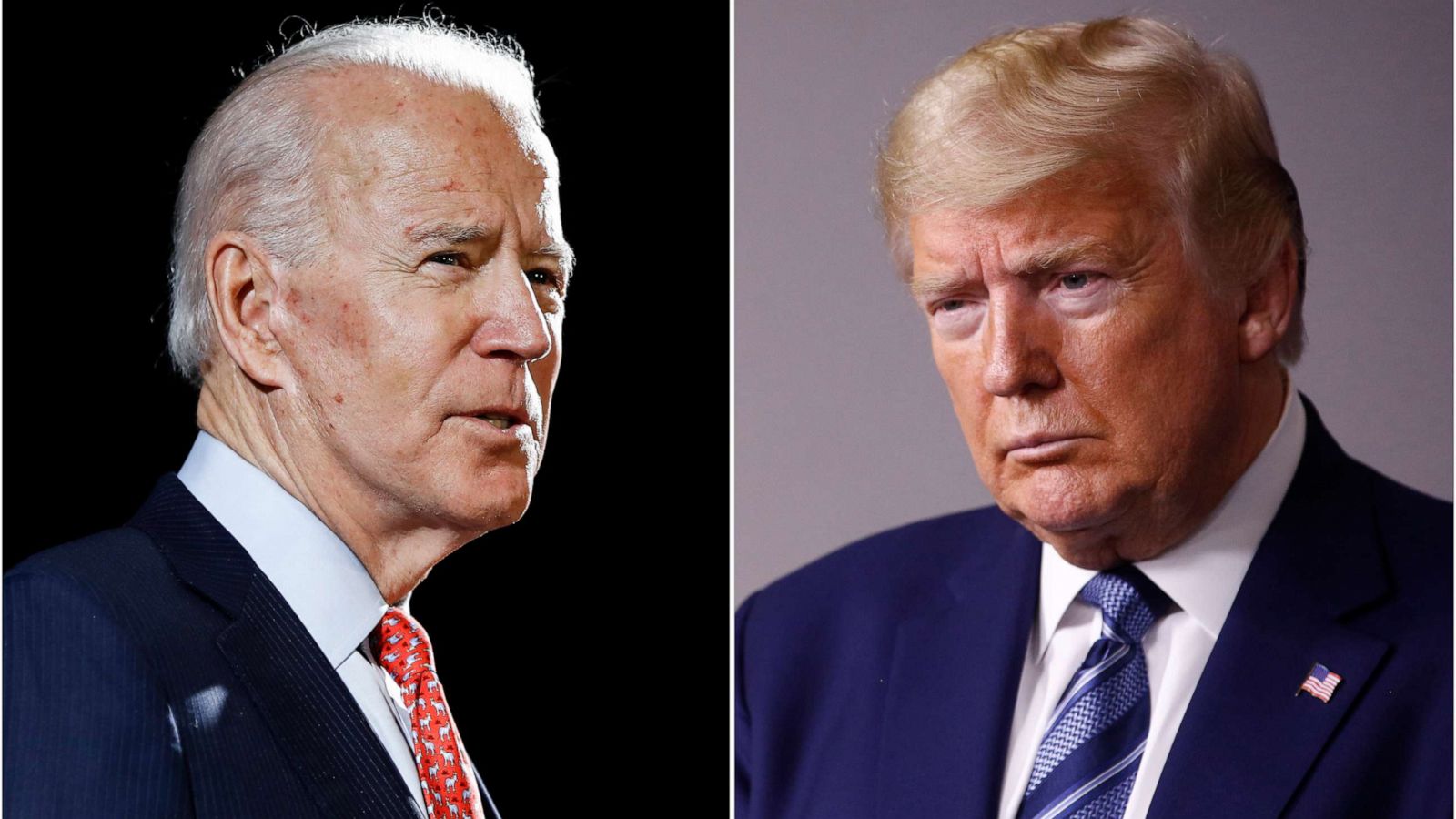 The headline for the NYT's report on its latest presidential poll is powerful: "Biden Takes Dominant Lead as Voters Reject Trump on Virus and Race."
Mr. Biden is currently ahead of Mr. Trump by 14 percentage points, garnering 50 percent of the vote compared with 36 percent for Mr. Trump. That is among the most dismal showings of Mr. Trump's presidency, and a sign that he is the clear underdog right now in his fight for a second term.

Mr. Trump has been an unpopular president for virtually his entire time in office. He has made few efforts since his election in 2016 to broaden his support beyond the right-wing base that vaulted him into office with only 46 percent of the popular vote and a modest victory in the Electoral College.

But among a striking cross-section of voters, the distaste for Mr. Trump has deepened as his administration failed to stop a deadly disease that crippled the economy and then as he responded to a wave of racial-justice protests with angry bluster and militaristic threats. The dominant picture that emerges from the poll is of a country ready to reject a president whom a strong majority of voters regard as failing the greatest tests confronting his administration.
But Hillary Clinton was ahead in the polls and she lost, right? Not like this.
Mr. Biden leads Mr. Trump by enormous margins with black and Hispanic voters, and women and young people appear on track to choose Mr. Biden by an even wider margin than they favored Hillary Clinton over Mr. Trump in 2016. But the former vice president has also drawn even with Mr. Trump among male voters, whites and people in middle age and older — groups that have typically been the backbones of Republican electoral success, including Mr. Trump's in 2016.
Biden has a huge lead among women and a within-margin-of-error lead among men. He leads among every age group except 50-64, where Trump leads by 1 point (well within the margin of error; it's a statistical tie). Trump has only a 1 point (again, statistically insignificant) lead among whites. The only demographic that favors Trump significantly are whites with no college, who favor him by 19 points.
Biden and Trump enjoy identical 85 point leads among those who identify with their political party. That means there's no enthusiasm gap. But here's the thing: the poll has 466 Democratic respondents and only 341 Republicans. If that's a representative national sample, that's a problem for Trump. As is the fact that Independents (401) outnumber Republicans and support Biden by 21 points.
And, as the headline suggests, the issues may actually matter for a change:
According to the poll, white voters under 45 are overwhelmingly supportive of the Black Lives Matter movement, while older whites are more tepid in their views toward racial justice activism. And nearly 70 percent of whites under 45 said they believed the killing of George Floyd was part of a broader pattern of excessive police violence toward African-Americans rather than an isolated incident.

What's striking, though, is that even among white seniors, one of Mr. Trump's strongest constituencies, he has damaged himself with his conduct. About two-fifths of whites over 65 said they disapproved of Mr. Trump's handling of both the coronavirus and race relations.

[…]

Nearly three-fifths of voters disapprove of Mr. Trump's handling of the coronavirus pandemic, including majorities of white voters and men. Self-described moderate voters disapproved of Mr. Trump on the coronavirus by a margin of more than two to one.

Most of the country is also rejecting Mr. Trump's call to reopen the economy as quickly as possible, even at the cost of exposing people to greater health risks. By a 21-point margin, voters said the federal government should prioritize containing the coronavirus, even if it hurts the economy, a view that aligns them with Mr. Biden.

Just a third of voters said the government should focus on restarting the economy even if that entails greater public-health risks.

[…]

The public also does not share Mr. Trump's resistance to mask wearing. The president has declined to don a mask in nearly all public appearances, even as top health officials in his administration have urged Americans to do so as a precaution against spreading the coronavirus. In the poll, 54 percent of people said they always wear a mask when they expect to be in proximity to other people, while another 22 percent said they usually wear a mask. Just 22 percent said they rarely or never wear a mask.
And, no the NYT poll isn't an outlier. Here's the RealClearPolitics average (which hasn't been updated with this poll):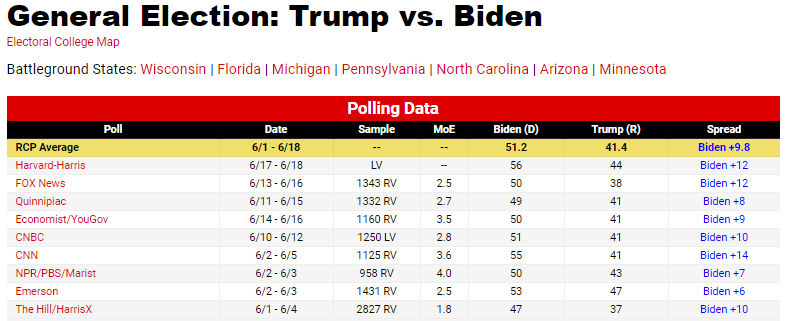 Literally every poll has a considerable lead for Biden and the more recent ones have very wide margins. Indeed, the Fox News poll has the same margin as the NYT poll.
Interestingly, though, the approve/disapprove numbers aren't quite as dismal: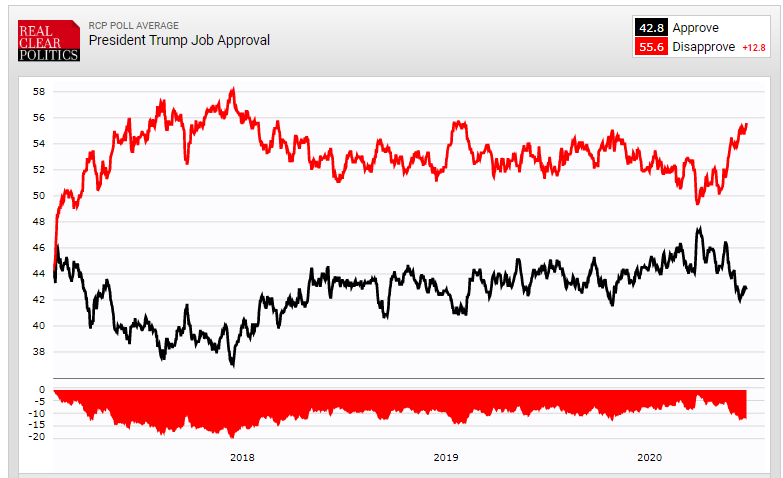 To be sure, the numbers here are awful. Trump's underwater by 12.8 points—which tracks his deficit with Biden. But he's actually been far, far more unpopular at various points in his presidency, with disapproval numbers as much as 21 points higher than his disapproval.
The obvious caveats are that we still have four and a half months to go to the election and we don't elect Presidents via a popular vote. But there's no reason to think Trump is going to get better on the virus and race relations—or anything else, frankly—between now and November. And a 12 point national deficit would almost certainly turn into an Electoral College landslide.