Bill Clinton Has A Different Take On Edward Snowden Than Barack Obama
Bill Clinton seems far more understanding of Edward Snowden than the current President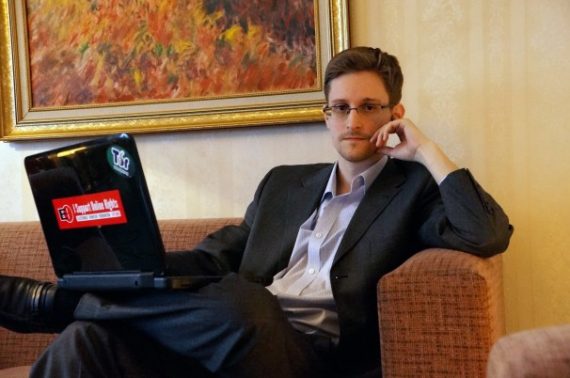 Former President Bill Clinton had some interesting things to say about NSA leaker Edward Snowden recently:
Some members of Congress may be calling for his head, but Edward Snowden earned some sympathetic remarks from a former president Tuesday.

"Mr. Snowden has been sort of an imperfect messenger, from my point of view, for what we need to be talking about here," Bill Clinton said during a 50-minute speech at the Naval Academy in Annapolis, Md. "The Snowden case has raised all of these questions about whether we can use technology to protect the national security without destroying the liberty, which includes the right to privacy, of basically innocent bystanders."

Clinton's comments don't exactly jibe with what the current president has said about the fugitive, who is living in Russia under temporary asylum. President Obama has repeatedly said the former National Security Agency contractor should return to the country and be put on trial.

Clinton also suggested that reforms beyond what Obama has proposed may be needed for the National Security Agency's spy programs, though he balanced the suggestion by noting it's important the intelligence community doesn't "look like fools" and miss a potential terrorist plot.

"We cannot change the character of our country or compromise the future of our people by creating a national security state, which takes away the liberty and privacy we propose to advance," Clinton said, adding: "Don't kill the goose that laid the golden egg."
I tend to agree with what Clinton said here. As I've stated in the past,  it's true that Snowden broke the law by stealing classified information and sharing it with journalists is a serious crime and that he should be prosecuted for that. However,  it's also quite obvious that we would not be having the discussion about government surveillance, privacy, the Fourth Amendment, and related issues that we have been engaging in since he first became a worldwide name less than a year ago if he had not done what he did. It's also worth noting that, according to every source I've read on the subject, Snowden arguably did not have any legal options available to him to bring what he considered illegal action by the government to public light. Government contractors such as Snowden do not have the same type of whistleblower protections that Federal Government employees do, for example, so it's unclear that Snowden could have done anything that didn't place him in legal jeopardy. Admittedly, Snowden has not helped his public relations case by not only absconding from the country, but going to places like Hong Kong and Moscow. Nevertheless, I would submit that we are better off knowing what Snowden has revealed to the public than we were before hand. At least now the American people know some of what is being done "for" and to them, and politicians such as Rand Paul and others have responded to understandable public outrage over some of these revelations. In the end, that's how our system of government is supposed to work, isn't it?
The interesting question, of course, is whether or not Hillary Clinton shares her husbands views on these matters. While Clinton was Secretary of State during the time that many of the programs that Snowden revealed were in operation as well as during the time that they became public, she has not really spoken publicly about the matter since she left office. These comments from the former President make one wonder if this may be the beginning of a shift from Clinton herself on this issue and an effort to appeal to the more progressive wing of her party.