Bill Clinton Most Admired President Of Past 25 Years, Bush 41 Woefully Underrated
Not surprisingly, Bill Clinton is the most admired recent President according to a new poll, but his predecessor seems to be underrated.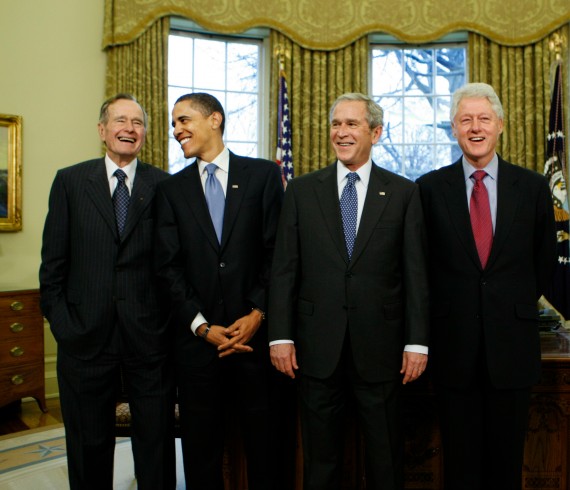 A new NBC News poll puts Bill Clinton at the top of Presidents who have served in the last quarter century:
Bill Clinton is by far the most admired president of the past quarter century, a new poll shows, underscoring how much he has done to burnish his profile since leaving the White House in 2000.

Asked which president of the past 25 years they admired most, some 42% of respondents named Mr. Clinton in the new Wall Street Journal/NBC News/Annenberg Survey. That was more than twice the share that named any other president.

The other three presidents of the quarter century all polled about the same: 18% said they most admired President Barack Obama; 17% named George W. Bush; and 16% named his father, George H. W. Bush.
I can't say that I disagree with the poll all that much.
For all his personal flaws, Clinton was clearly the most effective President we've had in the last 25 years, certainly far more effective, and far more politically astute, than either of the two men who followed him. No doubt, Clinton benefits from the fact that the economy was in far better shape during the majority of his tenure than it has been in subsequent years and the fact that things were relatively quiet on the international front, at least as compared to the period of war that has lasted more than a decade since September 11, 2001. Clinton also compares positively to both of his successors when it comes to personal charisma and the ability to actually get things done in Washington even in the face of bitter political oppositions. Finally, it's simply a fact that, from virtually the start of his campaign Clinton has been as much of a pop culture figure as a politician in a way that none of the other President's in the past twenty years and that his post-Presidency has contributed significantly to the way he's viewed by the public. Speaking as someone who wasn't really much of a Clinton fan when he was elected, or for many years after that, I've got to say that he was without question the best politician to occupy the Oval Office since Ronald Reagan and, in every way, more competent than either of the men that followed him at doing what a President needs to do in order to be successful.
As much as Clinton being at the top of the list is expected, though, I'm somewhat surprised to see that George H.W. Bush ended up at the bottom of the list. The fact that he is the only single term President on the list, and the one who served the longest time ago, perhaps it's understandable that he'd rank lower than more recent Presidents. It's also possible that he's suffering from being associated with his son.  On the whole, though, it strikes me that the Bush Presidency wasn't all that bad in retrospect. Although the Cold War was effectively coming to an end by the time Bush took office in January 1989, he was the man who presided over its demise, which began in earnest in the summer of 1989 in the nations of Eastern Europe, and culminated in the fall of the Berlin Wall in November of that year. In between there were protests from Czechoslovakia to Hungary to even Ceaucescu's Romania and the streets of Beijing. Then, and in the years that followed, though, Bush resisted the calls of his advisers and many conservatives to take a triumphal tone and instead worked to help bring about something that had scarcely ever happened before, the largely peaceful collapse of a totalitarian empire. When Saddam Hussein invaded Kuwait in 1990 just as the new post-Cold War world was taking shape, Bush brought together the largest international coalition since World War Two to push him out. At the time, I wasn't necessarily a fan of the idea of going to war to make Kuwait safe for the Emir and his family, but in retrospect I've come to think that going to war in 1991, and the decision to stop it rather than follow the Iraqi Army all the way to Baghdad, was the right decision. Unfortunately, we weren't so wise when it came to Iraq a decade later.
Like Clinton, Bush 41 was hardly a perfect President, but I'd suggest that he was far better than this survey gives him credit for, and that his life-long commitment to public service, which has continued after he left office, is something that we can all admire. This is a life that started out by passing up admission to Yale to go fly planes in World War II, and continued in later years as a Congressman, which included a vote for the Civil Rights Act of 1968 that was very unpopular in his district, Ambassador to China, CIA Director, United Nations Ambassador, Chairman of the Republican National Committee, and of course Vice-President and President. Since leaving office, he's continued that role in several respects, most notably in partnerships with the man who beat him for re-election in 1992 in response to the tsunami in Indonesia and Hurricane Katrina. Some 25 years after the fact, it seems pretty clear that the partisan vitriol one used to hear about George H.W. Bush was mostly nonsense.
Perhaps opinions of the first President Bush will improve over time, but if this survey is any indication he isn't getting nearly the credit that he deserves. In this poll, though, that obviously isn't happening.