Bill Clinton On Eve Of 9/11: I Passed On Killing Bin Laden Because Civilians Would Have Died
Some words from the past, apparently uttered mere hours before the world changed forever.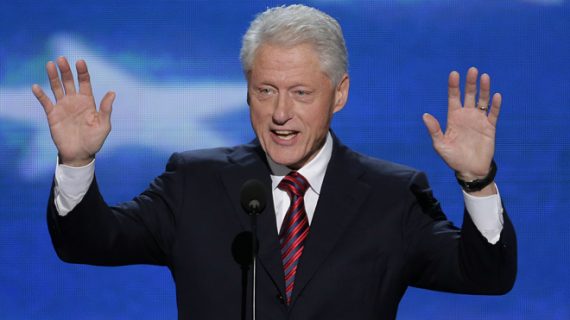 Australia's Sky News is out with what it says is a tape it received from an Australian politician of former President Bill Clinton speaking on September 10, 2001, literally hours before the September 11th attacks began, about why he aborted on an effort to kill Osama bin Laden when he was President:
Hours before the 9/11 terrorist attacks, former President Bill Clinton told an audience in Australia about his missed chance to kill attack mastermind Osama bin Laden, according to audio released this week.

Clinton was speaking at a business meeting in Melbourne when the topic turned to terrorism.

"I'm just saying, you know, if I were Osama bin Laden … He's a very smart guy. I spent a lot of time thinking about him. And I nearly got him once," Clinton said in the audio, which was recorded by former Liberal Party head Michael Kroger and aired by Sky News.

"I nearly got him. And I could have killed him, but I would have had to destroy a little town called Kandahar in Afghanistan and kill 300 innocent women and children, and then I would have been no better than him.

"And so I didn't do it."

Hours after Clinton spoke, a hijacked Boeing 767 slammed into the north tower of New York City'sWorld Trade Center. A second plane struck the south tower 18 minutes later. Other planes crashed in Washington, D.C., and western Pennsylvania. The attacks, organized by bin Laden, killed more than 3,000 people.
You can watch the Sky News report here.
On some level, of course, this isn't news since it was something that was revealed in the investigation of the 9/11 Commission. Nonetheless, there's something quite striking about hearing it directly from the former President himself, mere months after he had left office, and mere hours before the world would be changed forever.
Not surprisingly, the release of this report is causing many on the right to unload on Clinton. However, I think that perhaps the criticism is just a little bit unfair. Obviously, if Bill Clinton had known in the mid-90s that striking at the heart of al Qaeda could have prevented a terrorist attack that would have resulted in the death of 3,000 Americans and set in motion a course of events that would lead to two wars, massive changes in the way we view civil liberties, and a whole host of other events that we are still dealing with today he likely would have acted differently. Judging the situation based on the way the world was before 9/11, though, the decisions that were made at the time were fully in line with the rules of engagement that the United States had been using for decades prior to the embassy attacks in Africa. Looking back with what we know now, perhaps we could argue that we should've done things differently but I'm not sure its correct to say that Clinton did anything wrong himself. If anything, the failure of the U.S. government to recognize just how much of a threat bin Laden was, something that continued right up until the eve of 9/11 itself, is the real problem, and we ought to be asking ourselves whether we've really solved that problem.
More broadly, I have no doubt that some people will try to use this revelation to attack Hillary Clinton somehow. While she didn't say it herself, her husband remains her most prominent political booster and no doubt someone who will be campaigning vigorously for her if she does end up running for President. When that happens, I'm sure we will see Republicans try to bring this up to push back against him. Given that Bill Clinton remains the most popular living former President, it seems unlikely that any such attack will work, of course, but the right has been using pointless and ineffective attacks on Bill Clinton for two decades now, so there's no reason to think they won't do it again.