Bill Clinton Warns Democrats Against Overreaching On Gun Debate
Bill Clinton has a warning for his fellow Democrats.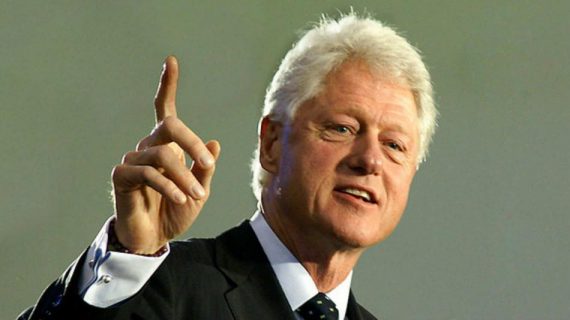 If there's any Democrat in the United States who has experience in taking on America's gun owners and the Second Amendment, it's Bill Clinton. Mere weeks before the 1994 Presidential Election, the United States Congress passed, and Clinton signed, a controversial Assault Weapons Ban. Indeed, while the conventional wisdom continues to hold that the primary motivation behind the massive Republican victories in the 1994 Congressional Elections was due in large part to the President's failed effort at health care reform, many political observers have contended for years that it was the Administration's push on the Assault Weapons Ban, and the political backlash that it unleashed from the National Rifle Association and other groups, that played the most significant role in the tidal wave that handed control of both Houses of Congress to the Republican Party. Given that, it's significant that President Clinton is now warning his fellow Democrats about overplaying their hand in the upcoming debate about gun control:
Former President Bill Clinton warned a group of top Democratic donors at a private Saturday meeting not to underestimate the passions that gun control stirs among many Americans.

"Do not patronize the passionate supporters of your opponents by looking down your nose at them," Clinton said.

"Alot of these people live in a world very different from the world lived in by the people proposing these things," Clinton said. "I know because I come from this world."

Clinton dedicated a substantial portion of his 40-minute address before a joint meeting of the Obama National Finance Committee and a group of business leaders to the issue of guns and gun control, saying that it was a test-case for President Barack Obama's grass-roots movements. (POLITICO was given a transferable ticket by an invited member of the committee.)

"The way the Obama campaign won Florida, won Ohio, won this election by more than projected was the combination of technology, social media and personal contact," Clinton said. That's "the only way that our side will ever be able to even up the votes in the midterms and as these issues come up, really touch people and talk to them about it."

(…)

While some polls show that the public by-and-large supports several proposals for increased gun control, Clinton said that it's not the public support that matters — it's how strongly people feel about the issue.

"All these polls that you see saying the public is for us on all these issues — they are meaningless if they're not voting issues," Clinton said.

Clinton recalled Al Gore's 2000 campaign against George W. Bush in Colorado, where a referendum designed to close the so-called gun show loophole shared the ballot with the presidential ticket. Gore publicly backed the proposal, while Bush opposed it.

Though the referendum passed with 70 percent of the vote, Gore lost the state. Clinton said that the reason was because a good chunk of the referendum's opponents were single-issue voters who automatically rejected Gore as anti-gun.

And Clinton said that passing the 1994 federal assault weapons ban "devastated" more than a dozen Democratic lawmakers in the 1994 midterms — and cost then-Speaker of the House Tom Foley (D-Wash.) his job and his seat in Congress.

"I've had many sleepless nights in the many years since," Clinton said. One reason? "I never had any sessions with the House members who were vulnerable," he explained — saying that he had assumed they already knew how to explain their vote for the ban to their constituents.

Clinton also recalled threatening to veto a bill as Arkansas governor that would have prevented the city of Little Rock from instituting an assault weapons ban.

Clinton said that an National Rifle Association lobbyist threatened him over his veto in the state house, saying that the group would cause problems for his upcoming presidential campaign in rural states like Texas.

"Right there in the lobby," Clinton said. "They thought they could talk to governors that way.

"I knew I was getting older when I didn't hit him," Clinton said. Clinton recalls telling the NRA lobbyist, "If that's the way you feel, you get your gun, I'll get my gun and I'll see you in Texas."

But he said that he understands the culture that permeates a state like Arkansas — where guns are a longstanding part of local culture.

"A lot of these people … all they've got is their hunting and their fishing," he told the Democratic financiers. "Or they're living in a place where they don't have much police presence. Or they've been listening to this stuff for so long that they believe it all."
Clinton makes some very good points here that Democrats would be wise to listen to.
First of all, the horrible tragedy at Newtown notwithstanding, what some on the left now derisively call the "gun culture" is quite a big deal in many parts of this country. It's considered a tradition handed down from father to son, and increasingly daughters as well, and it's something that people consider an important part of their lives whether they are hunters, sport shooters, or simply people who wish to exercise their right to own a weapon to defend themselves. For this reason, it's always struck me as odd and counterproductive that some of the most vehement supporters of gun control, including many of the people who have commented on the issue here in the comment threads at OTB, seem to have a particular degree of contempt for people who own guns and people who support the right to "keep and bear arms." As a political matter, that strikes me as an odd way to approach things. Once you start attacking people instead of ideas, you've essentially guaranteed that whatever discussion will be had on an issue is going to be vitriolic on both sides, and that any kind of compromise will essentially impossible.
Secondly, Clinton injects a little bit of political reality into the post-Newtown gun control conversation. The "gun culture" of which many gun control activists so derisively speak isn't just limited to the South. It's a strong force in the Midwest, especially among hunters, and in the West. Indeed, even in California there are millions of people who own guns and who would resist any effort to take those guns away or restrict their rights under the Second Amendment. We live in a nation where there are nearly as many firearms in the open market as there are people. That suggests the very simply idea that draconian gun control laws are, for the most part, not going to succeed in taking significant action to restrict Second Amendment rights because of the legislative power that the so-called "gun lobby" can bring to bear. Results will vary from state to state, of course, but nationally it seems fairly clear to me that America's gun owners and those of us, such as myself, who still support the right of American citizens to exercise their Second Amendment rights, remain a force to be reckoned with. As Bill Clinton told his fellow Democrats, that's something the advocates of further gun control ought to keep in mind.