Bill Gates: The Most Powerful Man in America?
How the richest man in the world quickly changed the education curriculum in 45 states.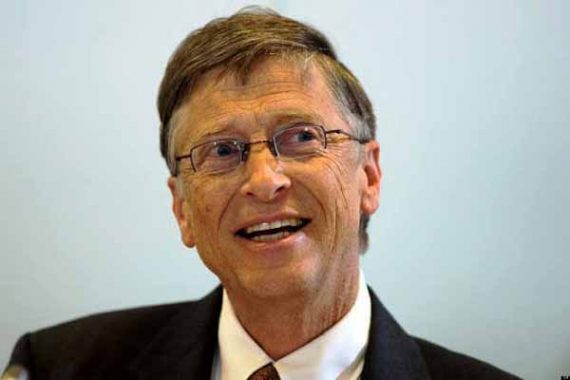 A fascinating piece in WaPo recounts "How Bill Gates pulled off the swift Common Core revolution." Basically, in summer 2008, two education reform evangelists pitched an idea to the richest man on the planet.
After the meeting, weeks passed with no word. Then Wilhoit got a call: Gates was in.

What followed was one of the swiftest and most remarkable shifts in education policy in U.S. history.

The Bill and Melinda Gates Foundation didn't just bankroll the development of what became known as the Common Core State Standards. With more than $200 million, the foundation also built political support across the country, persuading state governments to make systemic and costly changes.

Bill Gates was de facto organizer, providing the money and structure for states to work together on common standards in a way that avoided the usual collision between states' rights and national interests that had undercut every previous effort, dating from the Eisenhower administration.

The Gates Foundation spread money across the political spectrum, to entities including the big teachers unions, the American Federation of Teachers and the National Education Association, and business organizations such as the U.S. Chamber of Commerce — groups that have clashed in the past but became vocal backers of the standards.

Money flowed to policy groups on the right and left, funding research by scholars of varying political persuasions who promoted the idea of common standards. Liberals at the Center for American Progress and conservatives affiliated with the American Legislative Exchange Council who routinely disagree on nearly every issue accepted Gates money and found common ground on the Common Core.

One 2009 study, conducted by the conservative Thomas B. Fordham Institute with a $959,116 Gates grant, described the proposed standards as being "very, very strong" and "clearly superior" to many existing state standards.

Gates money went to state and local groups, as well, to help influence policymakers and civic leaders. And the idea found a major booster in President Obama, whose new administration was populated by former Gates Foundation staffers and associates. The administration designed a special contest using economic stimulus funds to reward states that accepted the standards.

The result was astounding: Within just two years of the 2008 Seattle meeting, 45 states and the District of Columbia had fully adopted the Common Core State Standards.
That's simply astounding.  Put it this way: If the United States Congress had passed a law mandating the exact same standards the day Gates heard the pitch, it's extremely unlikely that they would be in place today—six years later—much less a mere two years after the fact. The pushback would have been vociferous and we'd have been mired in dozens of court battles. This would have doubtless been a key issue in the last two election cycles. Instead, there's this has happened almost without notice.
The math standards require students to learn multiple ways to solve problems and explain how they got their answers, while the English standards emphasize nonfiction and expect students to use evidence to back up oral and written arguments. The standards are not a curriculum but skills that students should acquire at each grade. How they are taught and materials used are decisions left to states and school districts.

he standards have become so pervasive that they also quickly spread through private Catholic schools. About 100 of 176 Catholic dioceses have adopted the standards because it is increasingly difficult to buy classroom materials and send teachers to professional development programs that are not influenced by the Common Core, Catholic educators said.

And yet, because of the way education policy is generally decided, the Common Core was instituted in many states without a single vote taken by an elected lawmaker. Kentucky even adopted the standards before the final draft had been made public.

States were responding to a "common belief system supported by widespread investments," according to one former Gates employee who spoke on the condition of anonymity to avoid antagonizing the foundation.

The movement grew so quickly and with so little public notice that opposition was initially almost nonexistent.
Initially.
That started to change last summer, when local tea party groups began protesting what they viewed as the latest intrusion by an overreaching federal government — even though the impetus had come from the states. In some circles, Common Core became known derisively as "Obamacore."

Since then, anti-Common Core sentiment has intensified, to the extent that it has become a litmus test in the Republican Party ahead of the GOP's 2016 presidential nomination process. Former Florida governor Jeb Bush, whose nonprofit Foundation for Excellence in Education has received about $5.2 million from the Gates Foundation since 2010, is one of the Common Core's most vocal supporters. Indiana Gov. Mike Pence, who, like Bush, is a potential Republican presidential candidate, led a repeal of the standards in his state. In the past week, Oklahoma Gov. Mary Fallin (R), a former advocate of the standards,signed a law pulling her state out, days after South Carolina's Republican governor, Nikki Haley, did the same.

Some liberals are angry, too, with a few teacher groups questioning Gates's influence and motives. Critics say Microsoft stands to benefit from the Common Core's embrace of technology and data — a charge Gates vehemently rejects.

A group calling itself the "Badass Teachers Association," citing opposition to what it considers market-based education reform, plans a June 26 protest outside the Gates Foundation's headquarters in Seattle.
I've always been an outlier on these issues. Even thirty years ago, when I was much more doctrinaire in my conservatism than today, I was largely anti-federalist.  For that matter, even though I remain reflexively anti-bureaucracy when it comes to education, national standards have always struck me as a no-brainer.
Perhaps because I moved around a lot as a kid growing up in a military family, it never made sense to me to have states and localities create education standards independently. Aside from the desirability of kids in Texas and Connecticut learning a little something about the history of their own states, there's otherwise no obvious reason why they should approach the teaching of math, science, history, civics, English, or physical education differently.
Further, Gates is right:
"The country as a whole has a huge problem that low-income kids get less good education than suburban kids get," Gates said. "And that is a huge challenge. . . . Education can get better. Some people may not believe that. Education can change. We can do better."

"There's a lot of work that's gone into making these [standards] good," Gates continued. "I wish there was a lot of competition, in terms of [other] people who put tens of millions of dollars into how reading and writing could be improved, how math could be improved."

Referring to opinion polls, he noted that most teachers like the Common Core standards and that those who are most familiar with them are the most positive.

Gates grew irritated in the interview when the political backlash against the standards was mentioned.

"These are not political things," he said. "These are where people are trying to apply expertise to say, 'Is this a way of making education better?' "

"At the end of the day, I don't think wanting education to be better is a right-wing or left-wing thing," Gates said. "We fund people to look into things. We don't fund people to say, 'Okay, we'll pay you this if you say you like the Common Core.' "
The extent to which everything is viewed through a partisan political lens is just baffling. I don't have a strong position on the merits of Common Core per se but absolutely support the idea of a common core.
I'm actually mildly sympathetic to this:
Jay P. Greene, head of the Department of Education Reform at the University of Arkansas, says the Gates Foundation's overall dominance in education policy has subtly muffled dissent.

"Really rich guys can come up with ideas that they think are great, but there is a danger that everyone will tell them they're great, even if they're not," Greene said.
But I'm not sure what the alternative is in the present environment. A naive fool would say that our elected representatives, not guys so rich they don't care what anyone thinks, should be leading this effort. Alas, that happens only in the movies.
As for Gates:
Gates is disdainful of the rhetoric from opponents. He sees himself as a technocrat trying to foster solutions to a profound social problem — gaping inequalities in U.S. public education — by investing in promising new ideas.

Education lacks research and development, compared with other areas such as medicine and computer science. As a result, there is a paucity of information about methods of instruction that work.

"The guys who search for oil, they spend a lot of money researching new tools," Gates said. "Medicine — they spend a lot of money finding new tools. Software is a very R and D-oriented industry. The funding, in general, of what works in education . . . is tiny. It's the lowest in this field than any field of human endeavor. Yet you could argue it should be the highest."
Of course, what Gates giveth, Gates can taketh away:
Gates is devoting some of his fortune to correct that. Since 1999, the Gates Foundation has spent approximately $3.4 billion on an array of measures to try to improve K-12 public education, with mixed results.

It spent about $650 million on a program to replace large urban high schools with smaller schools, on the theory that students at risk of dropping out would be more likely to stay in schools where they forged closer bonds with teachers and other students. That led to a modest increase in graduation rates, an outcome that underwhelmed Gates and prompted the foundation to pull the plug.
And, naturally, while I have little doubt that Gates is truly acting as a philanthropist here, it doesn't mean Gates doesn't stand to see some return on his investment:
Gates has said that one of the benefits of common standards would be to open the classroom to digital learning, making it easier for software developers — including Microsoft — to develop new products for the country's 15,000 school districts.

In February, Microsoft announced that it was joining Pearson, the world's largest educational publisher, to load Pearson's Common Core classroom materials on Microsoft's tablet, the Surface. That product allows Microsoft to compete for school district spending with Apple, whose iPad is the dominant tablet in classrooms.

Gates dismissed any suggestion that he is motivated by self-interest.

"I believe in the Common Core because of its substance and what it will do to improve education," he said. "And that's the only reason I believe in the Common Core."

Bill and Melinda Gates, Obama and Arne Duncan are parents of school-age children, although none of those children attend schools that use the Common Core standards. The Gates and Obama children attend private schools, while Duncan's children go to public school in Virginia, one of four states that never adopted the Common Core.

Still, Gates said he wants his children to know a "superset" of the Common Core standards — everything in the standards and beyond.

"This is about giving money away," he said of his support for the standards. "This is philanthropy. This is trying to make sure students have the kind of opportunity I had . . . and it's almost outrageous to say otherwise, in my view."
Again, one might wish the process were more directly democratic. Multi-billionaires who could buy every house in Boston without taking out a loan tend not to be overly concerned with public opinion. But, certainly, Gates seems remarkably more adept at managing the process than anyone in Washington.