Bipartisan Agreement: Forks That Don't Suck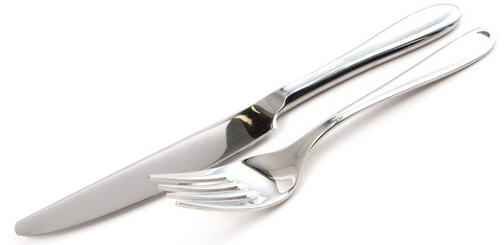 Washington went green under the Democrats, investing in silly carbon credits and more useful things like energy-efficient light bulbs.  Now, the Republicans want to roll back, cutting funding for projects that waste money without saving much energy or reducing much emissions.
One change, however, will be uncontroversial:
And then there are the forks.

"I've had more complaints about . . . the utensils than any other single thing. And that's from Democrats and Republicans," said Rep. Dan Lungren (R-Calif.), the incoming chairman of the House Administration Committee.

Since biodegradable utensils were introduced in House-side eateries, lawmakers, aides and even a few reporters have grumbled that – Earth-friendly or not – the forks break and the knives don't cut very well. Republican leaders could easily earn bipartisan goodwill simply by finding stronger utensils.
I'm all for making rational moves in the direction of energy conservation and environmental friendliness.  But the substitutes have to actually serve their intended function.  And, presumably, forks that break are replaced by other forks, likely doing more environmental damage than sturdier models.