Blackhawks Thank Bruins, Boston Residents for Sportsmanship
The owners of the Stanley Cup Champion Chicago Blackhawks took out a full page ad in today's Boston Globe thanking their opponents and their home city for a classy and well-fought Finals
Here's something you don't see every day: The owners of the Stanley Cup Champion Chicago Blackhawks took out a full page ad in today's Boston Globe thanking their opponents and their home city for a classy and well-fought Finals: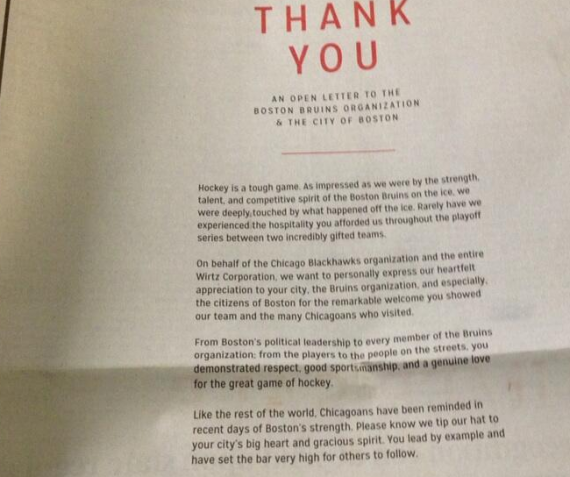 Hockey is a tough game. As impressed as we were by the strength, talent, and competitive spirit of the Boston Bruins on the ice, we were deeply touched by what happened off the ice. Rarely have we experienced the hospitality you afforded us throughout the playoff series between two incredibly gifted teams.

On behalf of the Chicago Blackhawks organization and the entire Wirtz Corporation, we want to personally express our heartfelt appreciation to your city, the Bruins organization, and especially, the citizens of Boston for the remarkable welcome you showed our team and the many Chicagoans who visited.

From Boston's political leadership to every member of the Bruins organization, from the players to the people on the streets, you demonstrated respect, good sportsmanship, and a genuine love for the great game of hockey.

Like the rest of the world, Chicagoans have been reminded in recent days of Boston's strength. Please know we tip our hat to your city's big heart and gracious spirit. You lead by example and have set the bar very high for others to follow.