Blair Calls for Regime Change in Iran and Syria
For a peace envoy, Blair has some nonpeaceful ideas.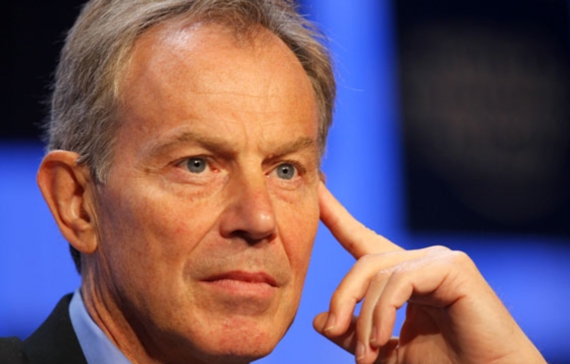 From the Times of London: Exclusive: Ten years on, Blair says Iran is the real enemy
Tony Blair backs regime change in Iran and Syria and warns the West of a long and hard struggle to defeat terrorism and the flawed ideology that supports it. The former Prime Minister, in an interview with The Times to mark the tenth anniversary of 9/11, blames Tehran for helping to prolong the conflicts in Iraq and Afghanistan long after the allies' initial victories. He suggests that the West must be ready to use force against Iran if it pursues its nuclear ambitions. "Regime change in Tehran would immediately make me significantly more optimistic about the whole of the region," Mr Blair, who is international peace envoy for the Middle East, said.
The piece is behind a paywall, so only the first paragraph is available for free, but it does contain the key portion quoted above (but there is a lot in the quote).
First, if one's job description includes the phrase "international peace envoy" it is rather odd to be calling for the use of force against a specific country, not to mention calling regime change in multiple countries.
Second, the amount of force needed to dislodge Iran from its nuclear ambitions continues to strike me as far, far too costly to even contemplate.  Further (and this is Foreign Policy 101):  if western states and their spokespersons are going to constantly threaten Iran in public, this only serves to incentivize them to acquire more military power.  As I have noted before:  it is not lost on the Iranians that having a nuclear weapon radically increases the general respect a state commands on the international stage.  For example:  no one talks about invading North Korea (and, indeed, rarely make calls for regime change, for that matter).
Third, while I have a normative preference for liberalization and democratization in both Syria and Iran (especially Syria of late, given the brutal way that the Assad regime has treated its population of late), the degree to which  these things can be forced is highly questionable.  Call it the Dirty Harry Rule:  a state's (or groups of states) gotta know its/their limitations.*  I thought that Iraq and Afghanistan would have taught that lesson, but apparently it hasn't sunk in in all quarters.  Even a case like Libya, which appears to have resulted in the overthrow of a dictator, is too incomplete to inform this discussion (not to mention very different cases than Syria or Iran).
Fourth, given the volatility in the region (the story of the Arab Spring is still being told, and the end of the tale not yet known), policies from outside the region to foment regime change could very easily create far more problems than they might solve.  Again:  isn't Blair supposed to be a "peace envoy"?
One wonders if the logic displayed in the quote above isn't a politician still trapped in trying to justify decisions made almost a decade ago, rather than the best policy advice looking forward.
—–
*And yes, I am skewing old.