Blame The Afghan Rioters For Murder, But Condemn The Demagogues Too
The only people responsible for the murders in Afghanistan are the people who committed them, but the demagogues like Terry Jones deserve condemnation as well.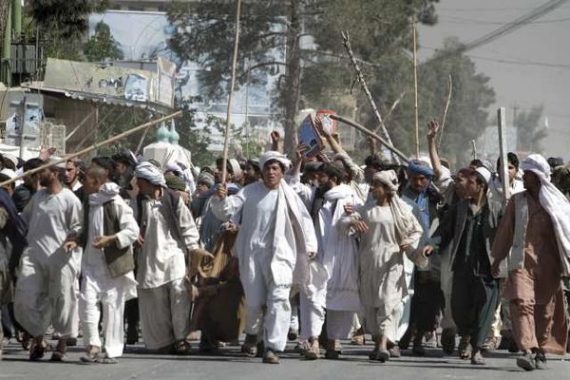 The protests in Afghanistan over the burning of the Koran more than three weeks ago in Florida are spreading and show no sign of letting up:
Hundreds of people have taken to Afghanistan's streets in fresh protests against a Quran burning in the United States, as the UN vowed a deadly attack on its staff would not derail its work.

At least two people were killed and 20 others injured in Sunday's protests, local officials said.

Demonstrations occurred in the main southern city of Kandahar as well as Jalalabad, in the east, officials said, as anger sparked by the burning of Islam's holy book spread.

In Kandahar, one person was killed when protesters set fire to a gas cylinder causing an explosion. Protesters also attacked a police traffic booth, said Al Jazeera correspondent Hashem Ahelbarra.

"We are getting reports of demonstrators attacking the police," our correspondent said. "The burning of the Quran has spread fires of unrest and they are saying that they will take it to different cities attacking UN offices and military bases."

The Taliban said in a statement emailed to media outlets that the US and other Western countries have wrongly excused the burning a Quran by the pastor of a Florida church on March 20 as freedom of speech and that Afghans "cannot accept this un-Islamic act".
President Obama, meanwhile, issued a statement yesterday condemning both the protests and the Koran burning:
Today, the American people honor those who were lost in the attack on the United Nations in Mazar-i-Sharif, Afghanistan.

Once again, we extend our deepest condolences to the families and loved ones of those who were killed, and to the people of the nations that they came from.

The desecration of any holy text, including the Koran, is an act of extreme intolerance and bigotry.

However, to attack and kill innocent people in response is outrageous, and an affront to human decency and dignity.

No religion tolerates the slaughter and beheading of innocent people, and there is no justification for such a dishonorable and deplorable act.
For his own part, Terry Jones  is unrepentant and already talking about another stunt "trial" involving Islam:
Despite clear evidence that his actions have led to multiple murders and widespread violence in the Middle East, controversial Florida pastor Terry Jones has vowed to step up his provocative campaign against Islam.

The radical pastor said that he was considering putting Islamic prophet Mohammed 'on trial' for his next 'day of judgement' publicity stunt.

His last, in which he oversaw the burning of a copy of the Koran after a six-hour mock trial, has been directly responsible for a wave of violence that began last night and has left 30 people dead and more than 150 injured.

The vilified pastor remains unrepentant about his actions, and has even hinted that he will take his provocative stance further.

He said in an interview:  'It is definitely a consideration to stage a trial on the life of Mohammed in the future.'

Such a move would trigger further violent protests in the Muslim world – even in more moderate Islamic states.

But Mr Jones shows no signs of backing down, refusing to admit the violence is his fault, and apparently proud of his actions.

In an interview at his Dove World Outreach Center, the pastor at least admitted that he was saddened by the Afghan attacks – but added that he would burn the Koran again if given the chance.

He told the New York Times: 'It was intended to stir the pot; if you don't shake the boat, everyone will stay in their complacency.
And stirring the pot seems to be all that Jones is interested in doing, regardless of the consequences. In addition to this threatened "trial" of Muhammed, Jones also plans to be in Dearborn, Michigan, the home of the largest Muslim population in the United States, where he will lead a protest outside a mosque on Good Friday. Clearly, this guy relishes in causing controversy and getting media attention in the process.
I agree with James Joyner and Ed Morrissey that the responsibility for the murders that occurred during the rioting in Afghanistan lie principally, if not solely, with the men who committed them. However, Jones strikes me as deserving of at least moral approbation for engaging in an activity that he reasonably should have known would be highly offensive to a large number of people and could put Americans, American troops, and others in danger throughout the Muslim world.  Burning a Koran as part of a stunt trial is clearly constitutionally protected speech, but the value of that speech is, at best, minimal. As James noted yesterday, it adds nothing to any reasonable debate. In the end, Terry Jones is no different from the Westboro Baptist Church group, he has a right to say what he says, but he deserves to be condemned for saying it.
The difference between this matter and the Westboro Baptist Church, though, is that Jones's actions appear to be having an impact on the image of the United States in an already unstable country engulfed in a war that we're fighting for unclear reasons. The event was exploited by Hamid Karzai, the President of Pakistan,  and others, for no other purpose it seems than to whip up the populist mobs. Jones lit the fire, they poured gasoline on it. As I've said before, I hope they're all proud of themselves.