Bloomberg Businessweek's Unintentionally Racist Cover Art
So, whoever approves cover art at Bloomberg BusinessWeek thought this was a good idea.
So, whoever approves cover art at Bloomberg BusinessWeek thought this was a good idea: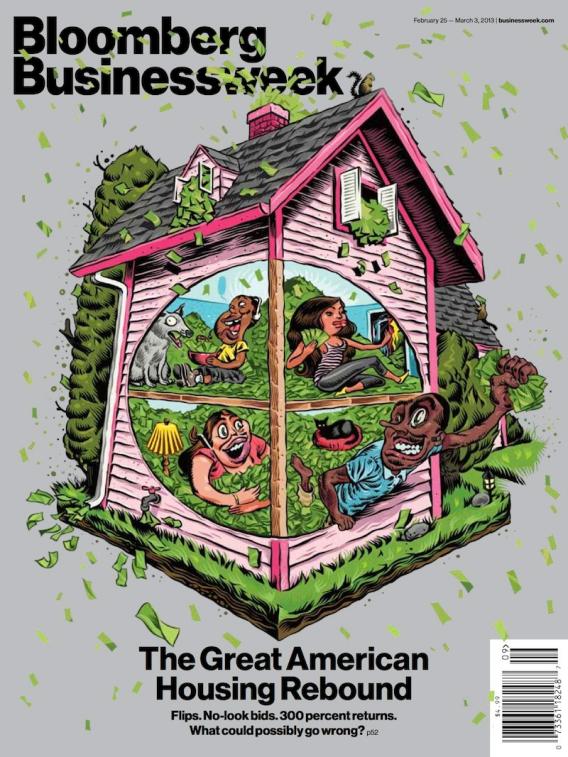 As Columbia Journalism Review's Ryan Chittum points out, they have a history of "edgy" design and "walk-up-to-the-line philosophy in its covers, which over the last year or so have pushed the line on what's okay for a respected mass market magazine." But they've clearly miscalculated with this one. I don't think it needs to be spelled out but, just for the sake of clarity:
The cover stands out for its cast of black and Hispanic caricatures with exaggerated features reminiscent of early 20th century race cartoons. Also, because there are only people of color in it, grabbing greedily for cash. It's hard to imagine how this one made it through the editorial process.
In a separate column, he notes,
The cover artist was Andres Guzman, a native of Peru who says, in an email passed along by BusinessWeek that, "The assignment was an illustration about housing. I simply drew the family like that because those are the kind of families I know. I am Latino and grew up around plenty of mixed families."

[…]

It surely wasn't Guzman's intent to draw a racially insensitive picture, and his own racial background is mostly irrelevant. The real problem is, as I wrote, that the picture made it through a BW editorial structure that is well familiar with American racial history and imagery, and onto the cover of the magazine. Part of the point of having an institution is to keep things like this from happening. This passed through too many editorial gatekeepers who missed the problem with the cover. It's the whole machine that's responsible for what it spits out.
The machine failed horribly in this case.