Bob Barr Ready To Impeach Another President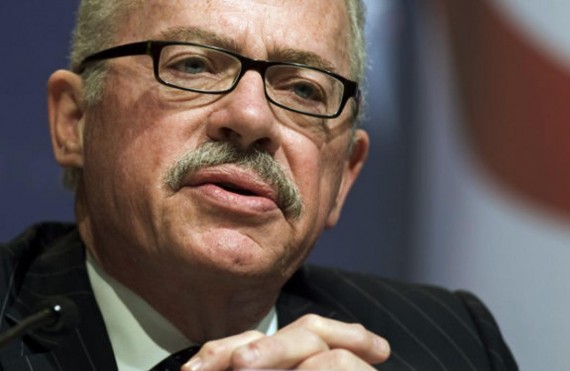 Bob Barr, who was one of the Members of Congress who led the charge to impeach President Clinton in 1997, is running for Congress in Georgia again and he appears to be ready to consider impeaching another President:
Bob Barr was endorsed by noted conspiracy theorist Alex Jones in an interview last week in which Barr pledges to try to impeach President Barack Obama if he returns to Congress.

Barr is competing in a heated GOP primary to replace Rep. Phil Gingrey. The Republican-turned-Libertarian-turned-Republican again is best known for being the engine behind President Bill Clinton's impeachment in the 1990s.

Jones' "Infowars" is a popular Internet radio show and website that fights things like fluoride in drinking water and claims the 9/11 attacks were an inside job.
Here's the audio clip and transcript:
Jones: "A lot of people died that went up against Clinton. A lot of airplanes blew up. A lot of people got shot in the head five times. And it does take backbone to try to impeach somebody when you're going up against gangsters like this. And we've got to get rid of the Clinton mafia. And I think what you're hinting at is if we put you back into Congress, you are going to start investigating bringing charges of impeachment up in the House?"

Barr: "Alex, I was with some folks just recently and pulled out of a file in my office the House resolution, the House resolution that I introduced on November fifth of 1997 that was the very first official inquiry of impeachment filed against Bill Clinton and that was mine. And at the time I think I had 18 co-sponsors was all, in November of 1997. And what I did is I took that document, figuratively kind of dusted it off, added a little bit of language to it and darned if it doesn't sound pretty good with Barack Obama's name in there."

Jones: "Oh man. So I think it's safe to say when you get back in Congress, the evidence is already there, you're going to start looking at the inquiry to begin looking for co-sponsors for indicting the president in the House, and I guess he will be tried in the Senate?"

Barr: "I think it really has come to that. It's not something I like to say. When I left the House before after we impeached Clinton, you know, my hope was we wouldn't have to go through that process again. But we do. Mr. President, you are not above the law. You cannot ignore the law. You cannot simply violate the law, violate the Constitution because from a policy standpoint you deem it appropriate to do so. We don't operate that way in America, and you are not going to be permitted any longer to do that."
Barr seemed to become a lot more sane in the years since he left Congress. During the time that he had left the GOP and ran as a Libertarian for President in 2008 he was pretty darn good on a wide ranging number of issues in fact. Now it seems like the decision to return to the GOP and an effort to win a seat in the south are causing him to go back to pandering to the far right wing of the GOP. And don't even get me started about the whole decision to appear on a radio show hosted by a conspiracy touting lunatic like Alex Jones.
H/T: Dave Weigel