Bob Zoellick and the Real Mitt Romney
The presumptive Republican nominee has sent a strong and welcome signal about his governing philosophy.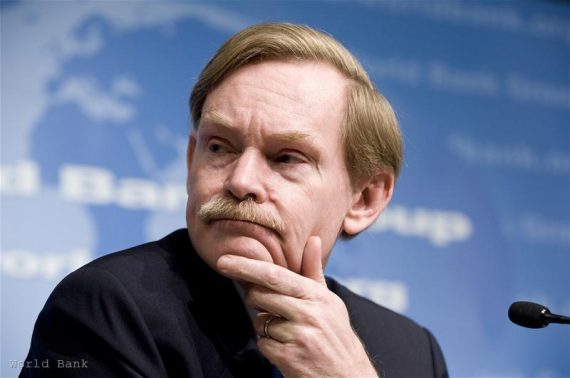 Among the many developments that a combination of a heavy workload and several nights of sleep deprivation have kept me from writing about this week is the controversy within some conservative circles about Mitt Romney's selection of Bob Zoellick to head up his national security transition team. The FT's Gideon Rachman has taken pity on me and written a column perfectly encapsulating my thoughts on the matter:
This is taken as a strong hint that Zoellick might be Secretary of State in a Romney administration – and he will certainly have a major influence on the senior appointments.

Zoellick has all the qualities to be an excellent Secretary of State. He is vastly experienced. He played a key role in the diplomacy that led up to the reunification of Germany, under the first President Bush. He is also steeped in economics and development. His most recent job was president of the World Bank, and he has worked at the top of the US Treasury. That is the kind of expertise that would be very useful, in responding to the euro crisis and to the rise of China.

Above all, in a modern Republican Party that has a disturbingly nationalist streak, Zoellick is a natural internationalist. Of course, he is a patriot and would work to protect and advance American interests – that is the job, after all. But he has none of the contempt for foreigners or international institutions that characterises the worst of the Republican right.

Perhaps the most encouraging thing about Zoellick is that he has the right enemies. The repellent John Bolton – the very epitome of swaggering nationalism – loathes Zoellick. I have seen the two clash publicly. Some had even suggested that Bolton might be Secretary of State under Romney. That would be a disaster. It is both telling and encouraging, therefore, that the paleo-conservatives in the GOP have reacted badly to news of Zoellick's appointment.
By "paleo-conservatives," he means what we on this side of the Pond call "neo-conservatives." And quite.  Rachman's close is a bit harsh but, again, right:
In fact, Zoellick is so intelligent and decent that I have sometimes wondered what he is doing in the modern Republican Party. People  who share his approach certainly feel like a dwindling minority in the GOP. Interestingly, one politician who is similar in outlook, is also regarded as a frontrunner for the vice-presidential nomination. Senator Rob Portman was a solid US Trade Representative, who is level headed and knows the world.

If Romney were to choose Portman as his running-mate, that would confirm the impression made by the appointment of Zoellick to the transition team. Beneath the pandering and the campaign cynicism, there may lurk a decent potential president.
Romney's campaign has been, to say the least, a disappointment. He's clearly calculated that the most likely path to the White House is to run against the status quo. Rejecting the conventional wisdom that a challenger must present an alternative vision, he's instead steadfastly avoided talking about policy at all. Similarly, while the conventional wisdom has always been that the general election campaign is about targeting centrist "swing voters," he's instead calculated that there aren't enough of them to matter and that his key challenge is to motivate the base.
My sense all along has been that Romney, while willing to say pretty much anything on the campaign trail, is actually the guy who governed with substantial success as a moderate Republican (sorry, "severe conservative") in liberal Democratic Massachusetts. While his foreign policy team includes enough neocons to keep that part of the base happy, his policy papers have strongly hinted at a conventionally Realist foreign policy. The Zoellick choice is a really welcome reinforcement of that message and the notion that he might emerge as Secretary of State rather than, say, John Bolton strikes me as much more in keeping with Romney's history. You get a mustache either way.
In terms of his running mate, Portman has been the odds-on favorite all along. He'd be a solid choice. My only concern there is that Romney's horrendously lackluster campaign has put him so far behind at this point that "solid" might not be enough.
That said, given that we're less than three months from the election, I'd much prefer if Romney were delivering passionate speeches telling us how he'd govern the country if elected president rather than us having to guess from reading the tea leaves. That is, after all, the tradition.