Bobby Jindal Is Running For President For Some Reason
Louisiana Governor Bobby Jindal enters the Presidential race today, but it's hard to see how he even manages to become a plausible candidate.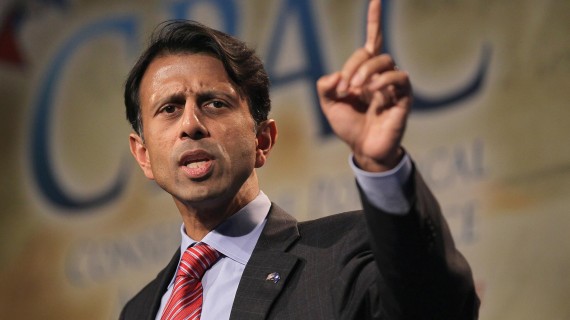 Later today, Louisiana Governor Bobby Jindal will become the thirteenth Republican to enter the race for his party's Presidential nomination:
Louisiana Gov. Bobby Jindal is set to announce Wednesday that he is running for the Republican nomination for president, in a long shot bid that will rely on wooing the socially conservative voters who dominate early primary states.

Mr. Jindal, a 44-year-old former Rhodes Scholar who is barred by term limits from seeking a third term in Baton Rouge, is the first of four sitting Republican governors poised to enter the already crowded race.

Mr. Jindal's path to the nomination looks steep. The latest Wall Street Journal/NBC News poll found just one likely Republican primary voter out of 236 polled—not 1%—who said Mr. Jindal is his or her choice for president. A Suffolk University poll of New Hampshire Republicans released Tuesday found two of 500 people who like the Louisiana governor best. He hasn't been above 1% in an Iowa poll since February, when he received 2% support.

Mr. Jindal doesn't talk like an underdog. He talks about a viable path to the GOP nomination, performing well among Iowa's evangelical Christians and impressing New Hampshire town-hall audiences.

"When the front-runners are still clumped together around 10%, what that tells me there is a path wide open for folks," Mr. Jindal said in an interview last week in Washington. "I get the sense that voters are saying this isn't about just one good impression."

Mr. Jindal has also struggled with voters in his home state. His approval rating in Louisiana is hovering around 30%. His unpopularity, Mr. Jindal said, stems from the difficult choices he has made as governor. His record, he says, includes clipping 30,000 employees from the state payroll, reducing the state's budget by 26% and stemming an outflow of Louisiana's residents to other states.

Mr. Jindal is the first in a series of Republican governors who are expected to officially enter the race. Also in the on-deck circle are New Jersey Gov. Chris Christie and Wisconsin Gov.Scott Walker, and possibly Ohio Gov. John Kasich.

Any plausible path to the nomination for Mr. Jindal begins in Iowa, where the state's last two caucus winners—former Arkansas Gov.Mike Huckabee in 2008 and former Pennsylvania Sen. Rick Santorum in 2012—catapulted themselves into the national conversation by winning over the state's social conservative voters.

This year's historically crowded primary means Mr. Jindal, who is opposed to gay marriage and abortion and sought to implement "religious freedom" legislation like the controversial measure Indiana passed, and then watered down, earlier this year, has to compete not just with Iowa's last two winners. Texas Sen. Ted Cruz, former Texas Gov. Rick Perry and retired neurosurgeon Ben Carson,are all targeting the same slice of voters.
It's hard to see what Jindal thinks his path to plausibility is in this race, never mind talk of a path to victory. He is at the bottom of the polls nationally and in Iowa and New Hampshire, and he is not even a factor in the polling in South Carolina and Florida. He is competing for the same evangelical and social conservative vote that is already being courted by far stronger and better known candidates such as Mike Huckabee, Ted Cruz, and Rick Santorum, and it's hard to see how Jindal differentiates himself from them. He has tried to do that to some degree over the past few months by endorsing a Religious Freedom Restoration Act bill in the Louisiana legislature and, when that bill died in committee, attempting to implement some of its provisions through Executive Orders. He has also been very outspoken on the same-sex marriage issue. However, the other candidates in the race have also staked out territory on these issues, so it's hard to see how Jindal would be able to use these as wedge issues going forward. Additionally, his record as Governor has not been all that successful, and the biggest issue before the legislature during its recently concluded term was a massive budget deficit that seems to just have been papered over. Given all of that, it's no surprise that Jindal finds himself at the bottom of the pack right now with candidates like Carly Fiorina, and behind even far less experienced candidates such as Ben Carson and Donald Trump.
Harry Enten argues quite persuasively that Jindal lost whatever he chance at the Republican nomination when he didn't run in 2012:
Jindal missed his best chance to run for president. He's jumping into a much tougher primary.

First, there was less competition in 2012. In the summer of 2011, just 47 percent of Republican voters were at least "somewhat satisfied" with their choices, according to an ABC News/Washington Post survey. That dissatisfaction allowed Rick Perry to enter the race pretty late and shoot to the top of the polls, and it might have provided an opening for Jindal.

Today, it's a different story. According to a YouGov poll conducted last week, 73 percent of Republicans are satisfied with the Republican field. It's not the type of election where Republican voters are likely to leap at the next alternative. There could be up to 13 recent statewide or national officeholders running, depending on whether Chris Christie, John Kasich and Scott Walker ultimately join the fray. That would be the most since the implementation of the system of selecting nominees through caucuses and primaries in 1972. The primary four years ago featured just six recent statewide or national officeholders.

Worse, Jindal has little new to offer. There could be up to seven other current and former governors running — many more than in 2012. Jindal also would have been the only serious candidate younger than 50 in 2012, but he's joined by Ted Cruz, Marco Rubio and Walker in 2016.

And most importantly, Jindal's ideological space is already occupied.

In 2012, Jindal would have mainly been competing for the affections of social conservative voters with Michele Bachmann, Perry and Rick Santorum. Only the latter two had ever won statewide office, and they both had their own problems. Now, Jindal has to go up against five other candidates for the social conservative vote, including four who have won statewide office before.

(…)

All in all, 2016 is a much tougher game than 2012. But it's not just that this field is stronger, Jindal is also weaker.

Even after his subpar State of the Union response in 2009, Jindal was quite popular with Republicans. According to a 2010 Gallup poll: 45 percent of Republicans nationwide viewed Jindal favorably, and 9 percent viewed him unfavorably. In three liveinterview polls conducted so far this year, he's averaged just 30 percent favorable and 15 percent unfavorable. That is, more Republicans dislike him even as fewer people can form an opinion of him. His net favorability rating, +15 percentage points, is among the worst of the Republican candidates.
Because of all of this both Daniel Larison and Ed Kilgore are wondering just why it is that Bobby Jindal is running for President. Given the size of the Republican field, I suppose the answer to that question is basically why not?  In a field that will be as large as fifteen people by the time debate season starts, Jindal arguably has as much of a chance of being a breakout candidate as any of the other B-List or C-List candidates in the field and since he's term-limited I suppose there's no reason for him not to run. If it doesn't work out, which it probably won't, then he can drop out of the race, finish his term as Governor, and then move on to whatever his future plans might be. Perhaps he would consider running for Senate if David Vitter ends up being elected Governor, but his popularity inside Louisiana is far from what it used be and it's unclear that he'd be much more successful as a statewide candidate than he is likely to be as a national candidate.
Anything can happen in a political contest, of course, but given the available evidence it seems unlikely that Jindal is going to go very far. Indeed, if he fails to qualify for the early debates it's unlikely that his campaign will last very long at all. Nonetheless, Bobby Jindal is joining the race for President, which is apparently what all the cool Republicans with no real jobs to do this summer are doing.