Body Of Hitler Deputy Rudolf Hess Exhumed, Cremated, Dumped In The Ocean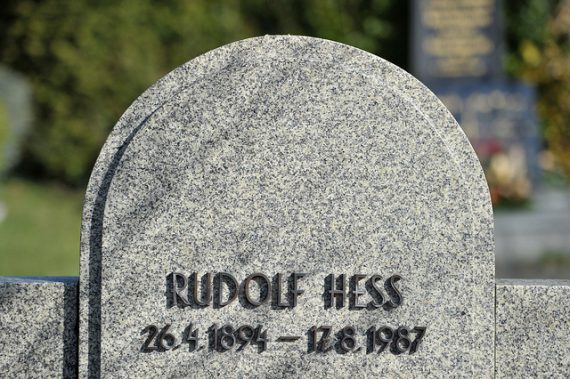 An odd coda to one of the odder incidents of World War II:
BERLIN – The bones of Adolf  Hitler's deputy Rudolf Hess were exhumed under cover of darkness, cremated, and secretly scattered at sea, a cemetery administrator in the Bavarian town of Wunsiedel said yesterday.

Workers crept in before dawn Wednesday – the 67th anniversary of a failed assassination attempt on Hitler's life – to remove Hess's remains from his family's grave, cremate, and disperse them, Andreas Fabel said.

"The grave is now empty," Fabel said. "The bones are gone," he said.
The incident was apparently prompted by the fact that Hess's grave had become a gathering place, and memorial site, for German and other European Neo-Nazis.
Hess was one of Hitler's closest deputies, and rose to the position of Deputy to the Fuhrer in 1933. In 1939, he was named second in the line of succession after Hermann Göring. Then, on May 10, 1941, Hess left an airport in Germany and ended up parachuting into England, being captured, and immediately beginning an imprisonment that lasted until he died alone in Spandau Prison, the last leader of the Third Reich to be held prisoner. The motivations for Hess's trip to England have been the subject of speculation for 70 years now. Some say he was trying to negotiate a secret peace with Churchill before war with the Soviet Union began later that spring. Some say he was trying to make contact with pro-Nazi interests in the U.K. Others just say he was insane. At some point, the records will all be made public and we might finally now what happened.
Until then, just chalk this up as the final bizarre chapter of a bizarre story.