Boehner Plan Stalled In The House, Reid Plan Moving Forward In The Senate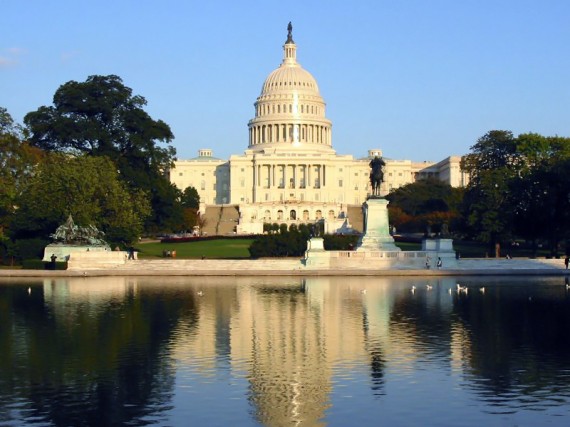 The House Republican leadership is once again trying to put together the 216 votes they need to get John Boehner's debt ceiling bill passed:
House GOP leaders expressed confidence Friday morning that they would move a vote on raising the debt ceiling one day after they had to pull their Speaker's measure from a planned House floor vote.

Majority Leader Eric Cantor (R-Va.) said "just a handful of members" had a problem with the bill that was pulled from a scheduled House vote on Thursday

Cantor made the remark before a meeting of the House GOP conference on Friday morning. He said GOP leaders were going to talk to their members when he asked about the possibility that Speaker John Boehner's (R-Ohio) bill would be changed.

(…)

Despite their struggles on Thursday, GOP leaders voiced optimism ahead of Thursday's meeting.

Rep. Jeb Hensarling, the GOP conference chairman, said, "I believe there will be a vote today" in response to a question about whether there will be a vote on Friday.

"We've got a plan," said Majority Whip Kevin McCarthy (R-Calif.) as he walked to the conference meeting. McCarthy declined to comment further.
Notwithstanding Hensarling and McCarthy's optimism, Majority Leader Eric Cantor is not committing to bringing the bill up for a vote today:
On Friday morning, House Majority Leader Eric Cantor was non-committal about bringing Speaker John Boehner's debt ceiling package back to the floor — less than 12 hours after GOP leadership pulled the bill fearing it would fail without enough Republican votes.

The Virginia Republican told POLITICO in a brief interview as he walked into the Capitol Friday morning that "we'll see" if the twice-delayed debt ceiling package would see a vote.

"We're going to go and have conference and we'll see where members are," Cantor said, as he walked to his office suite.
With House action stalled, Senate Majority Leader Harry Reid announced Friday he'd take the lead and move his bill to raise the national debt limit and avert an economy-shaking default next week.

Calling his plan "the last train out of the station," Reid said there are only hours to act before Tuesday's Treasury deadline, so he plans to file a procedural motion Friday to move towards a final vote in the next few days.

"That is why, by the end of the day today, I must take action on the Senate's compromise legislation," he said.

Republicans are opposed to Reid's plan, saying that it would give President Barack Obama too long of a debt ceiling increase by extending it through 2012. And they criticize its proposed savings of $1 trillion from winding down the wars in Iraq and Afghanistan, calling it a gimmick.

But Reid said he was about to make "tweaks" to his plan to win GOP support, which he would need to get 60 votes and break a possible filibuster attempt.
Under Senate rules, bringing the bill forward now means we would be looking at a vote sometime Sunday. At this point, it seems clear that the best chance for a deal is if Reid and Mitch McConnell are able to hammer out an agreement, change the Reid bill slightly, pass it, and send it to the House. If that doesn't happen, then I think we'll be in the same place on Monday that we are now.