Boehner Wants Big Cuts in Exchange for Debt Ceiling Increase
Boehner wants some pretty big cuts in exchange for a vote on raising the debt ceiling.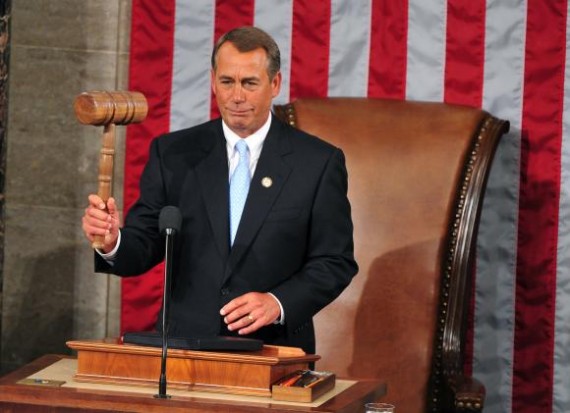 Via the NYT:  Boehner Outlines Demands on Debt Limit Fight
Speaker John A. Boehner said Monday that Republicans would insist on trillions of dollars in federal spending cuts in exchange for their support of an increase in the federal debt limit sought by the Obama administration to prevent a government default later this year.

[…]

"Without significant spending cuts and changes to the way we spend the American people's money, there will be no debt limit increase," Mr. Boehner told members of New York's business and finance community. "And cuts should be greater than the accompanying increase in debt authority the president is given." Mr. Boehner said those cuts should be in the trillions of dollars, not billions.
On the one hand, the House Republicans know that the debt ceiling has to be raised.  As such, it makes sense for them to take the opportunity before them to try and leverage the situation to their advantage.
On the other, this is not a case of saying Democrats want X and Republican want Y, so let's press whatever advantage one has to achieve the preferred outcome.  No, this is a case wherein if the Republicans follow through with their threat and refuse to allow the debt ceiling to be increased, then there could be very serious economic repercussions.  As such, this is more than just a policy disagreement or even a petty political battle over which party gets its way.  This is about threatening the general economy.
Further, it is easy to say "we have to cuts trillions" (seriously, it is really easy to say—go ahead, try it now).  The doing, however, is another issue.  I would take the Republicans more seriously on this issue if they actually had a plan that will, in fact, save said trillions, as opposed to simply a declaration.
At a minimum, if one is going to state the need for cuts of that level, then there ought to be details to go along with the request.
We need a long-term serious approach to solving these fiscal problems, not a game of chicken over what should be a simple procedural issue.  Further, it is foolish to take a simple procedural issue into a potential economic crisis.
I have to wonder, too, as to the degree to which Boehner isn't painting himself into a corner here, as I find it unlikely that the GOP will actually be willing to forgo raising the debt ceiling and then have whatever happens next be hung around their neck.  After all, Republicans have hopes of controlling the while Senate and the White House starting in January of 2013.