Boris Johnson Resigns as Tory Leader
He plans to hang on as PM through the fall but likely won't be able to.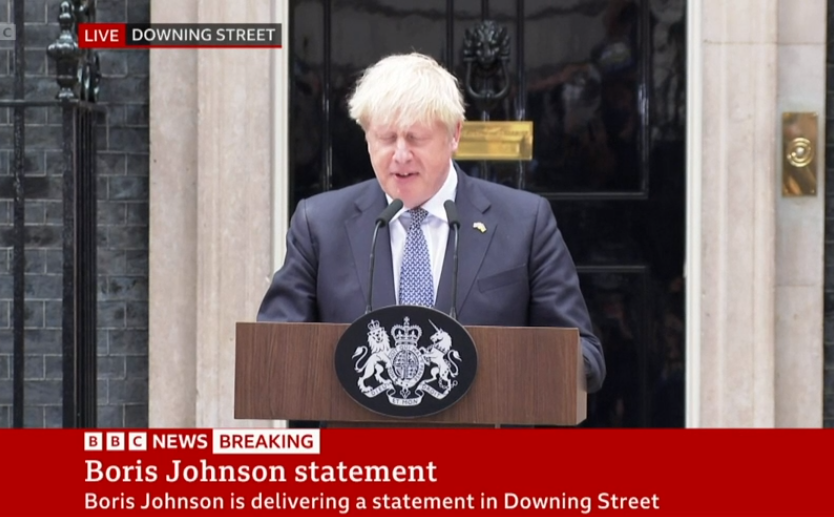 BBC BREAKING ("Boris Johnson to resign as Conservative leader"):
Boris Johnson is to stand down as Conservative Party leader, but intends to carry on as prime minister until the autumn.

He plans to stay in Downing Street until a new Tory leader has been elected to replace him as PM.

And he has begun appointing new ministers to replace the ones that quit in protest at his leadership.

But some Tory MPs are urging him to leave as soon as possible to avoid government paralysis.

Former minister Sir Bob Neill told MPs there was a "serious question mark" over how long a "caretaker" prime minister could stay in place.

"Might it not be in everybody's interest to speed up the transition as much as possible?" he added.

Sir Keir Starmer said that if the Conservative Party did not "get rid" of Mr Johnson immediately then Labour would bring a vote of no confidence "in the national interest".

"We can't go on with this prime minister clinging on for months," said the Labour leader, adding: "He needs to go completely… he's inflicted lies, fraud, and chaos in the country."

A vote of no confidence would be held in Parliament – if the government lost the vote that could lead to a general election, but this would require a significant rebellion from Conservative MPs to back a Labour motion.

It follows a dramatic 48 hours which saw dozens of ministers – including chancellor Rishi Sunak – resigning in protest at his leadership.

Mr Sunak's replacement as chancellor Nahim Zahawi was among the ministers urging the PM to quit.

Mr Johnson resisted the calls until Thursday morning, when it became clear that he had lost the confidence of his MPs and that the government could no longer function.

Attorney General Suella Braverman and leading backbencher Steve Baker are the first Tory MPs to declare a leadership bid, with others expected to follow.

Less than three years ago, Mr Johnson won an historic landslide victory in a general election – but he has been dogged by controversy in recent months, including a fine for breaking his own lockdown laws.

The revolt this week was triggered by revelations about the prime minister's handling of sexual misconduct allegations against former Deputy Chief Whip Chris Pincher.

BBC political editor Chris Mason said Graham Brady, the chairman of the 1922 Committee of backbench Tory MPs, has met the prime minister to tell him he has lost the confidence of the party.
WaPo ("Boris Johnson expected to resign as party revolts, but plays for time") adds:
In fast-breaking news, Johnson has reportedly agreed to resign as leader of the Conservative Party, but hopes to stay in office until the autumn. During that time, the party would pick a new prime minister to replace Johnson. There would be no general election.

There was immediate and fierce pushback to that idea from some lawmakers and party grandees who warned that Johnson was soiling the Conservative Party brand and that he was too damaged to stay in office through the summer.

Johnson's former top aide and now chief critic, who helped his boss win the Brexit referendum and get elected, warned that the prime minister needed to go now. In a tweet, he urged the Conservative Party to "Evict TODAY or he'll cause CARNAGE."

Dominic Cummings said that Johnson even now is "playing for time" and will try to stay on if he's allowed to remain in office until the fall. "He doesn't think it's over," Cummings said, adding that Johnson still is plotting, thinking ,"I can still get out of this, I got a mandate, members love me, get to September…"

As the world watched the British government unravel, the defense secretary, Ben Wallace, stepped forward to assure Britons that they were being protected. Wallace tweeted: "A number National Security Ministers are directly involved in authorising, on a daily basis, operations to defend the UK & its citizens."

Wallace added, "a number of us have an obligation to keep this country safe, no matter who is PM."

Keir Starmer, the leader of the opposition Labour Party, told the BBC that Johnson "needs to go completely, none of this nonsense about clinging on."

By midday, Johnson was appointing new members to his Cabinet to replace those who had resigned. He is doing this to keep government functioning — but also perhaps to bolster his own position and convince his party that he should remain in office until a replacement is picked.

It was unclear when exactly Johnson would give his address, but broadcasters, for hours on Thursday morning, pointed their cameras at the famous black door of 10 Downing Street, the prime minster's office, and waited for Johnson to step outside.

Johnson is not the first Conservative leader to have been shoved aside by his own party, which is famous for ditching its leaders quickly when they are no longer an asset. Even Winston Churchill resigned — after being given a gentle push — as his health declined in his later years.

Johnson's predecessor, Theresa May, was forced out after she was unable to get her Brexit deal through Parliament following opposition within her own party, including from Johnson. May managed just over three years in office — Johnson has ruled for just under three years.

Johnson woke up Thursday morning in Downing Street, which is also his residence, to another wave of resignations by government officials and party members declaring that the embattled prime minister must step down immediately — for the sake not only of his Conservative Party but for the country.

Before the breakfast shows on television were over, there were 53 resignations, including four Cabinet ministers in just two days. Many of the letters included brutal assessments of Johnson's tenure and critiques of his honesty. Some pleaded with him to go.

Nadhim Zahawi, who on Tuesday was appointed chancellor, the second-most important job in government, turned on Johnson on Thursday and told him to step down. He tweeted: "Prime Minister: this is not sustainable and it will only get worse: for you, for the Conservative Party and most importantly of all the country. You must do the right thing and go now."
BBC political editor Chris Mason's analysis (same link as above):
Is it sustainable for Boris Johnson to carry on as prime minister until the autumn?

His supporters will argue that offers some semblance of continuity and stability at a time where there's not much of either.

Critics, such as Scotland's First Minister Nicola Sturgeon, are already arguing it isn't sustainable, given the huge number of vacancies in government.

Labour also think he should leave as prime minister now and there should be an interim prime minister until the autumn.

That argument will rage today.

And another will begin: who should be our next prime minister?

Liberal Democrat Leader Sir Ed Davey said it had long been clear Mr Johnson was "unfit to lead our country", adding the "public won't forgive the Conservatives for propping him up for so long".

In a tweet, Scottish First Minister and SNP leader Nicola Sturgeon said there was a "widespread sense of relief that the chaos of the last few days (indeed months) will come to an end".
It appears that Johnson will make his announcement at 12.30 BST, which is 15 minutes from now (that is, 0730 EST).
Another BBC feature, aptly titled "Boris Johnson resignation: What happens now?" reminds us,
Once a Conservative leader has stood down, an election for a new party leader is triggered. Under the current rules, candidates need the support of eight Conservative MPs to stand.

Once all the candidates have declared – if there are more than two candidates – Tory MPs will hold a series of votes until only two remain.

● in the first round, candidates must get 5% of the votes to stay in the running (currently 18 MPs)

● in the second round, they must get 10% (currently 36 MPs)

● in the following rounds, the candidate with the least number of votes is eliminated

When two MPs are left, all Conservative Party members around the country – so not just MPs – will vote for the winner.

The timescale for each contest is decided by the 1922 Committee of backbench MPs, and the committee could vote to change the rules before the contest takes place.
and provides this handy-dandy graphic: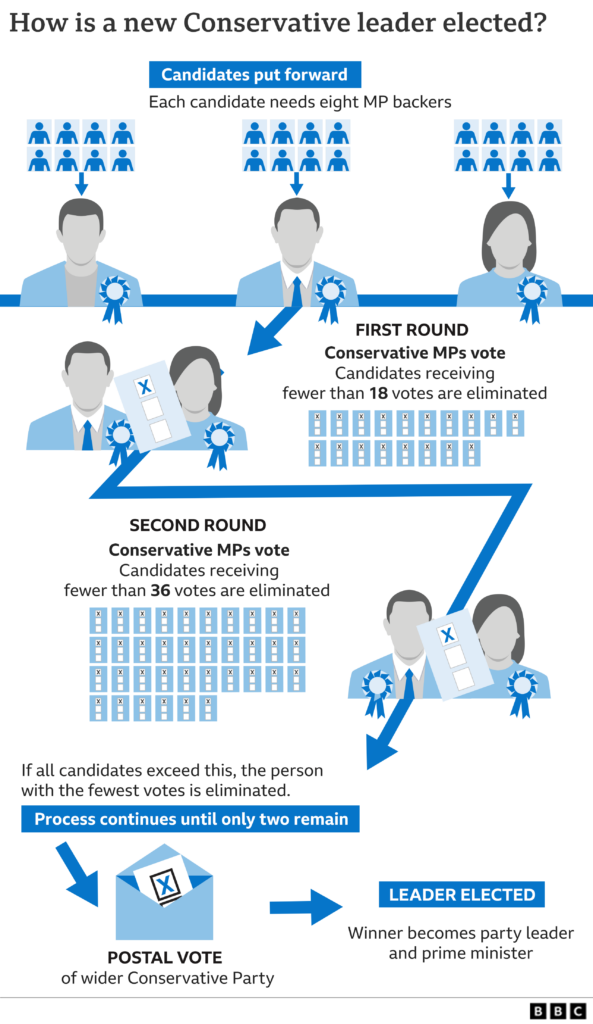 Overall, this is quite the chaotic process. The party has gone through multiple leaders since the disastrous Brexit referendum.
Johnson led them to a huge win in the 12 December 2019 general election. In our system, he would be entitled to ride it out and see if he can recover for another year and a half. Certainly, US Presidents have been wildly unpopular this far out from an election and gone on to right the ship. If our system allowed party leadership to oust a President they were unhappy with, one could imagine more serious clamoring than the various "Dems in disarray" reports to replace Joe Biden with a younger, more dynamic leader.
At the same time, Johnson is clearly ineffective and this system gives the party—and the British people—an escape valve. We were stuck with Richard Nixon and Donald Trump far, far too long. In a different system, they could have been replaced and the country could have gotten on with it much more quickly.
Obviously, the whole structures of the two systems are different. The UK has a parliamentary system and, despite the framing, the people vote for a party, not a person. The party that gets the majority—or can put together a governing coalition—gets to appoint a PM, subject ostensibly to the monarch's approval. We elect Presidents, Senators, and Representatives separately, so fixed terms make more sense. But there's something to be said for being able to dump leaders that the followers have lost confidence in.
UPDATE (0738): I listened to Johnson's statement and was struck by how normal it was. Despite the obvious comparisons with Donald Trump, from the unorthodox personal style to the bizarre hairdo, it was a statesmanlike speech from a man who was experiencing a humiliating personal failure and losing the post he had spent his entire career seeking. In that moment, he put queen and country above all that. Thus, he went the route of Gerald Ford, Jimmy Carter, George H.W. Bush, and even Al Gore rather than that of Trump.
UPDATE (0748): Multiple sources are noting that Johnson's tenure will be among the shortest in the modern era. The Telegraph:
Boris Johnson's resignation today puts him among the top four shortest serving British Prime Ministers in the post-war period – and means he has lasted less time in office than Theresa May.

Mr Johnson became Prime Minister on 24 July 2019, and has therefore been in post for two years and 348 days.

In comparison, Theresa May, who became Prime Minister in 2016, served for three years and 12 days until 2019.
He would obviously surpass May were he able to hold out until the fall. Nobody thinks he will.