Bourbon Snobbery
The noted wine critic Robert Parker recently forayed into reviewing bourbon and came under intense fire from enthusiasts of American whiskey.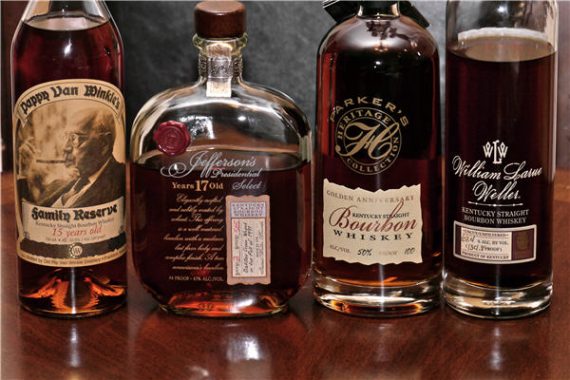 The noted wine critic Robert Parker recently forayed into reviewing bourbon and came under intense fire from enthusiasts of American whiskey.
In his essay, Parker notes that Pappy Van Winkle is "the most difficult alcoholic beverage to find in the United States. If you think I'm joking, try and find a bottle, especially of the 20-year-old and the very rare 23-year-old bourbon. They are much more difficult to find than esoteric and limited production French wines such as Romanée-Conti, Montrachet or Petrus." He adds, "What started as a fun distraction to see what was so special about Pappy Van Winkle led to a full throttle inspection/conquest of bourbon. To tell you the truth, I have never been a big fan of liquor, but I was blown away by the quality of the top bourbons. They are every bit as good as a great cognac or Armagnac … and I'm not kidding!"
While true and seemingly innocuous, this drew the ire of Scotch and Ice Cream's Tim Read who terms Parker a "professional Napa douchebag" and implores, "Git Offa Our Property, Parker!" While admittedly not much of a wine drinker, Read finds the whole wine scene and "the sheer douchebag factor of guys in their 60s tooling around in Porsches with chinos and checked oxfords dangerously unbuttoned at the collar, made safe by the addition of a blazer" pathetic.  In particular, he's not a fan of  the "deferential and reverent mention to what Parker thought – as if his taste is more relevant than your own."
As to Parker's foray into whiskey reviewing, Read's sensibilities are offended by the notion that rarity and price should be the prime considerations.
Apparently the wine world regards scarcity as a measure of quality. I hope Parker very quickly clues into the rich-asshole-targeted Dalmore Constellation Collection; those are extremely limited and they must be fantastic since they're so hard to find. (Have you ever seen one in the stores?) Also, Brechin isn't common. You ought to stock up on that shit post-haste. It closed 30 years ago! BUY NOW.

Parker goes on to discuss how Bourbon, despite what all the Schwab branch office guys are predisposed to think, is actually perhaps worth giving some attention to. Apparently Johnny Reb's firewater made from mostly corn is worth consideration, as long as it's rare and priced highly.
Sour Mash Manifesto's Jason Pyle is similarly annoyed at the "shocker" that bourbon can be every bit as good as cognac and bemused that Parker describes Blanton's as either "a masterful blend or a bourbon of serious age"  when his own readers "all of course know that it's neither."
Chuck Cowdery weighs in at his eponymous blog with "God-Like, Robert Parker Conquers (His Word) Bourbon in One Fell Swoop." He admires Parker as a taster, chides his use of a 100-point scale on which nothing scores below and 82, and finds his choice of whiskies to compare odd:
He also does not appear to know nor care that it's insane to compare Hudson Baby Bourbon to Pappy Van Winkle 23 just because they both have the word "bourbon" on the label. Would he compare a Pinot Noir to a Sauterne? Not without at least noting their inherent differences first.
He also scoffs at Parker's lack of knowledge about distilleries and their mashbills, making fun especially of Parker's fondness for products of Black Mapel Hill Distilling which is "an entirely fictional distillery." (Cowdery doesn't explain what he means, since his readers know. But, yes, there's a common practice in the bourbon trade of inventing niche distilleries to hide the fact that several different bottles all contain pretty much the same whiskey at widely different price points.)
Along the same lines, Read not unreasonably chides Parker for weighing in as though he were an expert when he's a rank novice. In particular,
Parker seems to fall for the common trap that "older is better" and rates Pappy 23 a 100%, tacitly blessing all of the fanboy bullshit that surrounds Pappy, age in general, and the overrated mythos of Stitzel-Weller. Parker also tells us in his notes that "top bourbons" should never be "diluted or served on ice". Oh, really?

Hey Bob, did you know that Van Winkle 23 is about 47% ABV which is considered "towards the low end of ABV" in our scale? Any clue that people regularly will drop a little ice or water in their blisteringly-high-proof single cask scotches or bourbons and find a massive explosion in flavor? It's extremely common, and if you'd spent any time whatsoever learning the culture and truly tasting whisky and learning about the spirit, you'd know that it's not at all taboo in those cases. Instead, you've taken what amounts to a five-minute noob-comment-driven crash-course on Reddit and are now spreading it to a bunch of uninterested assholes as gospel truth. Why don't you hop on the "bourbon can only be made in Kentucky" bandwagon while you're at it? It's as tone-deaf and factually ignorant as what you professed. Maybe you saw Paterson saying he'd "kill you" for putting ice or water in your whisky, but that's because Paterson's whiskies are already pretty fucking watery unless you're spending $2000.00 for a cask strength bottle.
Now, I'm with these guys that, in the end—with whiskey as with wine—what matters is what the individual taster likes. Reviews can be helpful in selecting what to try, but the point should be an enjoyable drinking experience, not social status. But they're too hard on Parker here.  People who subscribe to wine reviewing magazines tend to be interested in rarity and building collections; introducing the notion that bourbon has these qualities likely piques their interest. And, while it may be insulting to bourbon enthusiasts, there's a widespread misconception out there that cognacs and Scotch whiskey are the finer spirits while bourbon is cheap rotgut to be mixed with one's Coca-Cola. Parker is helping to dispel the notion.
While I've been drinking bourbon longer than Parker, I'm still a relative novice. I was pretty exclusively a Scotch guy until a year or so ago and only started drinking Scotch maybe five years ago. Now, unlike Parker, I therefore don't presume to review whiskies.
But, for example, until Keith Boyea and some others of my Twitter friends convinced me to try some of the better brands, I always thought that bourbon all tasted like Jim Beam (white label), which is to say, sickly sweet. In actuality, there's almost as much variation in bourbons as there is in Scotch. Naturally, because I started with Scotch, I assumed that age matters a lot. But bourbons achieve peak flavor a lot more quickly, so it's not necessarily so.
Because I got on the bandwagon late, I've never had the Pappy Van Winkle. It's just impossible to get and, from all accounts, not worth the grossly inflated prices that come with that rarity. Indeed, that very fact seems to be part of what set off Read and company. Clay Risen of Mash Notes builds on that theme with a post titled "Robert Parker and the Douche-ification of Bourbon." He's inclined to cut Parker some slack as a newbie but worries about the impact of his message.
What I think both Read and I – and many others – don't want to see happen is a repeat of the Pappy Van Winkle hype story. Don't get me wrong, I think the Pappy portfolio is fantastic. The 23 year old may be the best whiskey out there; I vacillate in my own opinion, but it's certainly a contender. Up until a few years ago, you could easily find most Pappy expressions, at relatively cheap prices. Then, suddenly, it started to get hype, particularly among those people who confuse wealth for class and rarity for quality – the very people who have made Parker an icon. Now it's as rare as turkey teeth, and on Wall Street having a bottle or two is a status symbol. People brag about Pappy, beg for Pappy, in terms wholly out of proportion to the way old-timers used to see it. Worst of all, those of us who used to like buying a bottle every now and then can't, because all the bottles in town have been bought up by the Wharton Club of New York.

How long will it be before this same thing happens to other delicious, low-hanging fruits – Parker's Heritage, Elijah Craig 20, the upper-end Four Roses, and so on?
Since I'm now a steady consumer, I join in hoping this doesn't happen. Indeed, I drink a lot less Scotch these days not only because I'm enjoying my foray into bourbon but because the status value of the former has contributed to jacking up the price. The Macallan line, in particular—my favorite—has been especially hard hit. The basic 12-year-old Sherry cask expression, which was available in these parts around $48 a bottle just a couple years back is now going around $63. The 10-year Cask Strength, which is my favorite, has gone from $70 to over $95 in that same span. The 18-year is now over $150 and the 25-year is in the $1000 range.* I own a bottle of the former for special occasions and can't imagine the circumstances under which I'd acquire the latter.
Despite the emergence of a "bourbon bubble" in recent years, with the Pappy craze the most obvious example, American whiskies remain a comparative bargain. The widely available Four Roses expressions (80-proof Yellow Label , 90-proof Small Batch, and 100-proof Single Barrel) remain a relative steal, with the various limited edition releases much more expensive and hard to locate.  One of my favorites is Booker's, the 126ish-proof barrel strength expression from the folks at Jim Beam, which rivals the Macallan Cask Strength for around $55. And Boyea tipped me off to some under-$15 bottles, my favorite of which is the 100-proof Evan Williams White Label, that I would never have deigned to try precisely because they were so inexpensive.
If you're a true connoisseur of bourbon or Scotch or wine or whatever, you probably spend a lot more time learning about those products than the average Joe who just drinks the same brand all the time. Most newbies, myself included, are happy to be educated. There's no call for condescension, though. Why wouldn't Parker start with the assumption that Pappy Van Winkle 23 is the best bourbon on the planet? That's a widely held view. So, it's fine to tell him that there are a dozen bottles of easily obtainable bourbons that are as good or better at a quarter of the price. But sneering seems uncalled for.
Rating systems like Parker's can be helpful to uneducated consumers—which is to say, almost all consumers. There's a bewildering array of choices out there. I've been drinking big red wines long enough to know what varietals and regions I tend to prefer, but will indeed look at the ratings cards for guidance when selecting between labels I don't know. I know I tend to like Highland and Speyside Scotches and will happily take suggestions from expert reviewers as to which new-to-me varieties to try. I'm less educated on bourbons and happily take suggestions along the lines of "Well, if you like Booker's and Four Roses Small Batch, you should really try ______."
Ultimately, though, Pyle's recent posts on hoarding whiskey strikes me as the right note to take. The point of acquiring new bottles of whiskey is to enjoy them, not store them away so that you can brag about what's in your collection. If I ever come into possession of a bottle of the Pappy 23, I'll be drinking it, not staring at it on a shelf.
*Originally, I had it at $600. But the Virginia ABC stores sell it at $999 and I'm not finding it in any of online catalogs of the DC stores for much less than that. I'm guessing it was the 21-year Macallan Fine Oak edition that I was seeing at $600.