Bowe Bergdahl To Face Court Martial For Desertion, Endangering U.S. Troops
Sgt. Bowe Bergdahl will face a Court Martial for the circumstances that led to his being capture and held captive by the Taliban for five years.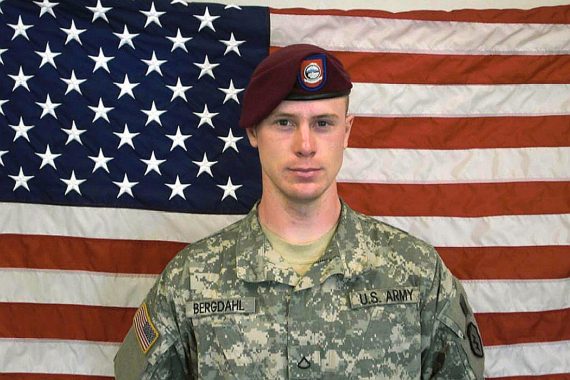 The Army announced today that Sgt. Bowe Bergdahl, who had been held as a prisoner of the Taliban for five years before being released as part of a deal that quickly became a point of political and legal controversy, will face a court martial on charges that include desertion and endangering his fellow soldiers, a  move that virtually guarantees that the proceedings will still be going on during the height of the Presidential campaign season:
A top Army commander on Monday ordered that Sgt. Bowe Bergdahl face a court-martial on charges of desertion and endangering troops stemming from his decision to leave his outpost in 2009, prompting a huge manhunt in the wilds of eastern Afghanistan and landing him in nearly five years of harsh Taliban captivity.

The decision by Gen. Robert B. Abrams, head of Army Forces Command at Fort Bragg, N.C., means that Sergeant Bergdahl, 29, faces a possible life sentence, a far more serious penalty than had been recommended by the Army's own investigating officer, who had testified that a jail sentence would be "inappropriate."

In a terse statement after the decision, Sergeant Bergdahl's chief defense lawyer, Eugene R. Fidell, said that General Abrams "did not follow the advice of the preliminary hearing officer who heard the witnesses." Mr. Fidell said that the hearing officer had also previously recommended against a prison sentence.

The decision followed a recommendation from the Army lawyer who presided over Sergeant Bergdahl's preliminary hearing in Texas in September that the sergeant face neither jail time nor a punitive discharge and that he go before an intermediate tribunal known as a "special court-martial" where the most severe penalty possible would be a year of confinement.

That recommendation, made by Lt. Col. Mark Visger, came after the Army's investigating officer, Maj. Gen. Kenneth R. Dahl, testified for the defense that prison would be "inappropriate."

General Dahl, whose report formed the basis for the Army's prosecution, also said that no troops died specifically searching for Sergeant Bergdahl and that no evidence was found to support claims that he intended to walk to China or India or that he was a Taliban sympathizer.

Sergeant Bergdahl, 29, was freed in May 2014 after President Obama approved trading him for five Taliban detainees who were being held at Guantánamo Bay, Cuba. The exchange drew condemnation from Republicans and widespread claims that the sergeant had been a defector and that a half-dozen or more American troops had died searching for him.

The Army originally charged Sergeant Bergdahl in March with one count of desertion that carried a maximum penalty of five years in prison and one count of endangering the troops sent to search for him, which carried a maximum of life imprisonment.

At the Texas hearing, an Army prosecutor, Maj. Margaret Kurz, described a frantic but fruitless search for Sergeant Bergdahl in the weeks after he disappeared.

"For 45 days, thousands of soldiers toiled in the heat, dirt, misery and sweat with almost no rest, little water and little food to find the accused," Major Kurz said. "Fatigued and growing disheartened, they search for the accused knowing he left deliberately."

The prosecution's witnesses included Sergeant Bergdahl's former platoon leader and company and battalion commanders, who all recounted the scramble to find the soldier after he was reported missing early on June 30, 2009.

His former platoon leader, Capt. John Billings, testified about his "utter disbelief that I couldn't find one of my own men."

He and the other commanders said soldiers searched almost nonstop, never knowing when the ordeal would end, while their underlying mission to support Afghan security forces fell by the wayside. The manhunt involved thousands of troops across thousands of square miles.

General Dahl described Sergeant Bergdahl as a truthful but delusional soldier, who identified with John Galt, the hero of Ayn Rand's "Atlas Shrugged," and left to hike 18 miles to a larger base so he could tell a senior commander about what he felt were serious leadership problems that had placed his platoon in danger.

Another defense witness, Terrence Russell, who debriefed Sergeant Bergdahl after his release, testified that the sergeant had suffered more in captivity than any American since Vietnam, including beatings with rubber hoses and copper cables, and uncontrollable diarrhea for more than three years.
Despite the fact that Bergdahl's release is something that many members of Congress, including many Republicans, had been pressing the Obama Administration about for years, Bergdahl's case has been a point of political and legal controversy virtually from the moment that the news of his release became public when President Obama announced it in an appearance with Bergdahl's parents in the White House Rose Garden.
Almost immediately, the deal that led to Bergdahl's relase  came under fire from Congressional Republicans due both to its terms, which included the release of five Taliban prisons from the Guantanamo Bay facility, and due to the stories that quickly began to circulate which suggested that Bergdahl's capture occurred after he had abandoned his post, and even allegations that Bergdahl had aided the enemy in some way while he was being held captive. While a story about an American returning home after five years of captivity should seemingly have been overwhelmingly positive for the Administration, but the opposite soon turned out to be the case. Indeed, problems for the Administration increased when even Democrats began to point out that the White House appeared to have violated the law by failing to inform Congress of the release of the Taliban prisoners before the release took place. In the weeks after Bergdahl's release, the accusations that Bergdahl had deserted his post became louder as members of Bergdahl's unit came forward to talk about what they knew about what happened both before, during, and after the time he went missing. The Army eventually cleared Bergdahl of any charges that he aided the enemy, but the investigation into whether he had deserted or committed other violations of the Uniform Code of Military Justice. Back in March, the Army investigation recommended in its report that Bergdahl be charged,  and while one of the chief investigators recommended in September that Bergdahl not be subjected to a Court Martial, it is apparent that the General charged with evaluating the case disagrees. So, while Bergdahl is of course entitled to the same presumption of innocence as any other person charged with a crime in a civilian or military court, it's also quite apparent that, as The Daily Beast put it, everything the Obama Administration told us about Bowe Bergdahl was wrong, and that the deal that led to his release is now likely to become even more controversial.
In terms of the case against Bergdahl himself, the maximum charge he faces is life in prison but his ultimately punishment could end up being less severe depending upon both how the jury of officers that ultimately hears Bergdahl's case views the case and how any subsequent appeals may go assuming that he's convicted. Given the facts as we know them, acquittal seems unlikely but Bergdahl could ultimately receive a sentence far less than life in a military prison, and indeed could even end up getting off with a sentence as relatively light as loss of rank and a dishonorable discharge. Additionally, his ultimate fate is likely to take years to determine since the process is likely to outlast the Obama Administration itself. Politically, though, these developments are likely to continue to prove to be a political headache for the President and a serious obstacle to any efforts on his part to close down the detention facility at Guantanamo Bay. As it was, of course, the likelihood of that happening while President Obama was in office was virtually nil thanks to bipartisan opposition to the idea that included the passage of a rider to the annual defense bill passed into law in November that made it next to impossible for the Administration to close the facility, release prisoners, or transfer prisoners to facilities on the mainland no matter how secure they might be.