Bowing To Pressure, Tim Pawlenty Signs Anti-Gay Marriage Pledge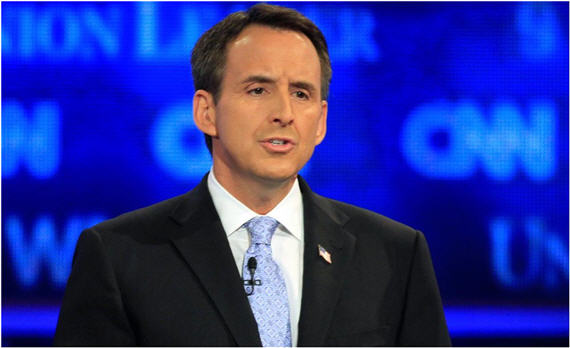 On Tuesday, Tim Pawlenty's campaign said that he would not be signing the National Organization for Marriage's candidates pledge, at which point NOM launched a campaign to pressure him to change his mind:
Tim Pawlenty is taking heat from the National Organization for Marriage for not signing the group's pledge to oppose efforts to legalize same-sex marriage. On Thursday, the group announced that Michele Bachmann, Mitt Romney and Rick Santorum had all signed the pledge. But while Pawlenty has hesitated to take the pledge, he gave the Miami Herald a piece of his mind on gay marriage on Thursday.

"What happened with Governor Pawlenty?" asked NOM head Brian Brown in an email to supporters on Thursday. "I have to be honest with you: I do not know."

Brown's sidekick, Maggie Gallagher, said she'd talked to Pawlenty's campaign.

"Pawlenty's communications director, Ann Marie Hauser, personally informed me on Tuesday that Tim Pawlenty would not sign NOM's marriage pledge," she said. "Like many people, we are scratching our heads wondering why Gov. Pawlenty, who has been a champion for marriage in Minnesota, would not commit to doing so for America."

She added, "At this point, the people of Iowa need to know that Michelle Bachmann and Mitt Romney and Rick Santorum are the only candidates willing to step forward and pledge to protect marriage in this campaign. We hope Gov. Pawlenty will reconsider."

Brown urged NOM's members to call Pawlenty's campaign.

"I know you will be polite and civil. But he needs to hear from you that marriage is not just one of many issues; it's a key issue as you consider voting for the presidency in the first of the nation's caucuses, in Iowa."

He added, "This is mission critical!"
And, sure enough, rather than taking a principled stand, T-Paw folded like a wet noodle:
Tim Pawlenty will become the fourth Republican presidential candidate to sign a pledge by the National Organization for Marriage to oppose the legalization of same-sex marriage. Pawlenty had initially declined to sign the pledge, but NOM launched a pressure campaign to single him out. NOM's Brian Brown said on Friday that Pawlenty's campaign told him that the candidate would be signing the pledge.

"We got word last night he's signing on," Brown told MSNBC.
Whatever it takes when your campaign is on its last legs, I suppose.