Boy Scout Leaders Destroy Ancient Rock Formation
Two Boy Scout leaders toppled a rock formation at Utah's Goblin Valley State Park that dates to the Jurassic period.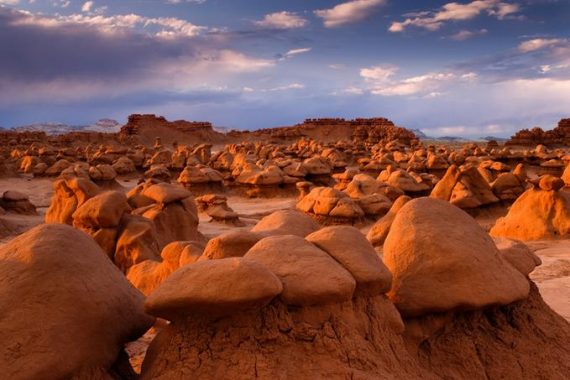 Two Boy Scout leaders toppled a rock formation at Utah's Goblin Valley State Park that dates to the Jurassic period.
Fox News ("Charges possible for Boy Scouts leaders who toppled Utah rock formation"):
A group of Boy Scouts leaders may face criminal charges after purposely knocking over an ancient Utah desert rock formation and posting a video of the incident online, authorities say

The men were leading a group of 14 to 16-year-old Boy Scouts on a trip to Goblin Valley State Park when they said they noticed the top of the rock formation was loose and feared it was dangerous.

"This is about saving lives," Dave Hall, who shot the video, told The Associated Press on Friday. "One rock at a time."

The rock formation is about 170 million years old, Utah State Parks spokesman Eugene Swalberg said. The park in central Utah is dotted with thousands of the eerie, mushroom shaped sandstone formations.

In a video posted on Facebook, Glenn Taylor of Highland, Utah, can be seen last Friday wedging himself between one formation and a boulder to knock a large rock off the formation's top. Taylor and his two companions can then be seen cheering, high-fiving and dancing.

"This is not behavior that is appreciated or should exist in state parks," Swalberg told the Deseret News. "This has been formed for literally millions of years, and it's supposed to last for a long time. It doesn't need individuals doing the work of Mother Nature."

Hall, who is also a scoutmaster from Highland, said some of their Scouts were jumping on the structures and they noticed a large boulder on top of one structure was loose.

"My conscience won't let me walk away knowing that kids could die," Hall said.

While safety was their motivation, Hall said, it was exciting to knock it over, and that's why they reacted with high-fives and cheers in the video.

"You can't have a rock the size of a car that you can push with one hand, and have it roll, and not have an adrenaline rush," Hall said. "It was a crazy, exciting moment."
The Boy Scouts of America have issued a statement that they are "shocked and disappointed by this reprehensible behavior." While I suppose their public safety explanation for why they did it is plausible, it's unfathomable that trained scoutmasters would undertake this action on their own rather than reporting the situation to park rangers. They were, after all, taking the boys in their charge to see a natural wonder.
As to criminal charges, it's not obvious what they would be.
Brent Langston with the Emery County Attorney's Office said his agency is aware of the incident has not yet started evaluating whether they'll file charges.

"The county attorney's office has spoken with the state park representative but as of this date, no reports have been submitted and no charges have been filed. The county attorney's office will review the case upon completion of the investigation and determine what action to take at that point," the office said in a press release obtained by ETV 10 News Friday afternoon.

The men involved could face a misdemeanor or a felony depending on how much officials determine the formation was worth, Langston told the Tribune.

"Some things can't be replaced, like photographs in a family album, but they have great sentimental value," he said.

Hall said he and Taylor were both "immensely sorry for any damage that we may have caused," or any embarrassment they brought to the Boy Scouts or anyone else.

But he also said, "One more rock falling to the ground is not going to destroy the beauty of the park. Eventually, the erosion brings all of them down."
My guess is that they get a small fine, if that. Pushing over a rock might be "criminal" but it isn't a crime.