Bradley Manning Sentenced to 35 Years
Bradley Manning will be spending a long time at Leavenworth.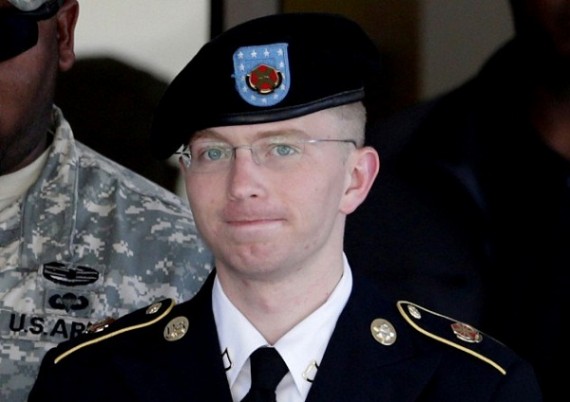 Bradley Manning will be spending a long time at Leavenworth.
WaPo ("Judge sentences Bradley Manning to 35 years"):
A military judge on Wednesday morning sentenced Pfc. Bradley Manning to 35 years in prison for leaking hundreds of thousands of classified documents to the anti-secrecy group WikiLeaks.

Manning, 25, was convicted last month of multiple charges, including violations of the Espionage Act for copying and disseminating the documents while serving as an intelligence analyst at a forward operating base in Iraq. He faced up to 90 years in prison.

According to the military, Manning is required to serve one-third of the sentence before he becomes eligible for parole.

The government had asked Judge Denise Lind, an Army colonel, to sentence Manning to 60 years. "There is value in deterrence, your honor; this court must send a message to any soldier contemplating stealing classified information," said Capt. Joe Morrow, a military prosecutor. "National security crimes that undermine the entire system must be taken seriously."

Defense lawyer David Coombs portrayed Manning as a well-intentioned but isolated soldier with gender identification issues, and he asked Lind to impose "a sentence that allows him to have a life."

[…]

Manning will receive a credit of 1,293 days for the time he has been confined prior to the sentence, including 112 days of credit for abusive treatment he was subjected to at the Marine Corps brig in Quantico, Va.

[…]

According to his lawyers, Manning became more and more stressed in Iraq, wrestling with his sexuality and the breakup of a relationship. At one point, in April 2010, he sent an e-mail to a superior with the subject line "My Problem" and a photo of himself wearing a blond wig and lipstick.

On May 7, Manning was found on the floor of a supply room with a knife at his feet. After some brief counseling, he was returned to his work station. Later that same day, he struck a fellow soldier and was removed permanently from the secure environment where he worked.

Following these events, Manning boasted to hacker Adrian Lamo that he had been working with WikiLeaks. After engaging Manning for several days, Lamo informed Army investigators and the FBI about the breach of information and provided them with his chat logs with Manning.
As with Major Hasan, I think the Army is culpable for ignoring numerous red flags that clearly showed he shouldn't have been trusted with sensitive materials.Time and again, he displayed erratic behavior and unsuitability for military service and yet was allowed to not only remain in uniform but given carte blanche to access Sensitive Compartmented Information.
Further, the conditions of his imprisonment were often unnecessarily cruel. That's shameful.
But, despite all that, he deserves a very heavy sentence for his crimes. He swore to uphold the Constitution and to safeguard the nation's secrets and he violated that trust. Whatever problems there might be with our system of classification and our tendency to keep things secret, it's not up to privates first class to decide what information should be released to the public and our enemies.
All in all, absent compelling proof that the released materials caused the death of Americans or our allies, 35 years strikes me about right.