Bradley Manning's Maximum Sentence Reduced By More Than 40 Years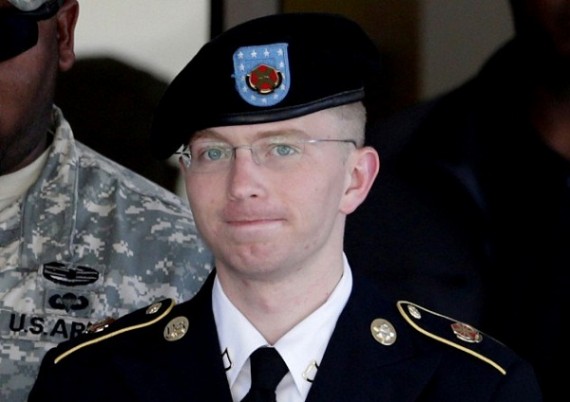 Bradley Manning's sentence has yet to be determined, but the military judge presiding over his trial has reduced the maximum he's facing at the end of it all:
Army Pfc. Bradley Manning's possible sentence for disclosing classified information through WikiLeaks was trimmed from 136 years to 90 years Tuesday by a military judge who said some of his offenses were closely related.

The ruling was largely a victory for defense attorneys, who had argued for an 80-year maximum. Still, the 25-year-old soldier could spend most, if not all, of his remaining years inside a prison at Fort Leavenworth in Kansas.

The sentencing phase of Manning's court-martial is in its second week. He was convicted last week of 20 counts, including six Espionage Act violations, five federal theft counts and a federal computer fraud charge for leaking more than 700,000 documents from a classified government computer network while working as an intelligence analyst in Iraq in 2010.

(…)

At his sentencing hearing, prosecutors are presenting evidence that the leaks damaged U.S. interests. They have focused mainly on the impact of more than 250,000 State Department diplomatic cables that WikiLeaks began publishing in November 2010.

Maj. Gen. Michael Nagata testified for the prosecution Tuesday that the leaked cables had an impact on U.S. military operations in Pakistan, where he was deputy commander of a defense office within the U.S. embassy in Islamabad. Nagata saved the details of the impact for a closed court session to protect classified information
Ninety years would still mean that Manning would still spend most of his life in prison, of course, but the shortened potential maximum sentence may end up working in Manning's favor in the ultimate sentence imposed, or in future parole proceedings. In any case, it's expected that the sentencing phase of this case will last for the balance of the month so it will likely be a few more weeks before we get word of a final disposition here, after which there will inevitably be an appeals process.