Breaking: Top Officers Live in Nice Houses
As Congress eyes the Defense budget for cuts, some are drawing attention to the lavish housing of our top brass.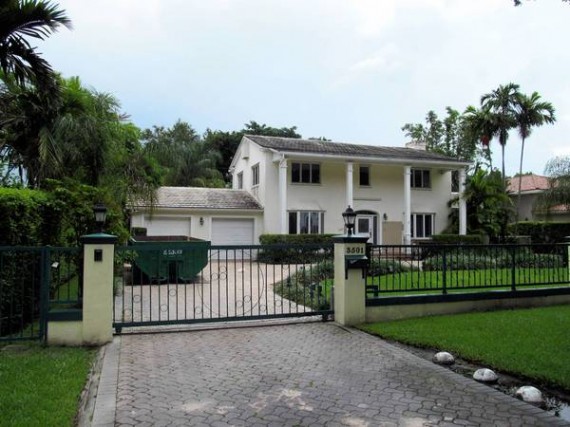 As Congress eyes the Defense budget for cuts, some are drawing attention to the lavish housing of our top brass.
LAT ("Report questions costs of villas and mansions for top military brass"):
Marine Gen. John F. Kelly works in a fortress-like headquarters near the Miami airport. Starting this fall, he will live in Casa Sur, an elegant home with a pool and gardens on one of the area's swankiest streets. The five-bedroom residence, across the street from the famed Biltmore Golf Course, is provided rent-free to Kelly as head of U.S. Southern Command, which oversees military operations in most of Latin America and the Caribbean. The cost to taxpayers? $160,000 a year, plus $402,000 for renovations and security improvements that are now underway.

Casa Sur is one of hundreds of high-end homes, villas and mansions where senior generals and admirals are billeted, according to a Pentagon report prepared for Congress last month but not publicly released.

Gen. Philip M. Breedlove,  the Air Force four-star who commands NATO, gets a 15,000-square-foot, 19th century chateau in Belgium. Lt. Gen. Steven A. Hummer, head of Marine Forces Reserve, enjoys a 19th century plantation house in New Orleans listed on the National Register of Historic Places. The Joint Chiefs of Staff and their deputies inhabit historic quarters in and around Washington — all staffed with chefs, drivers, gardeners and security teams.

The perks for top military brass, a Pentagon tradition, are under increasing scrutiny in Congress at a time when budget reductions and the mandatory spending cuts known as the sequester have forced the Pentagon to cut services, close facilities, cancel training and missions, and furlough 680,000 civilian workers.

[…]

Generals and admirals say they need large houses with high security — as well as cooks and gardeners — because they often host visiting dignitaries or preside at ceremonial events. Keeping pricey properties makes fiscal sense, they argue, because the Pentagon either already owns them or would waste money finding a suitable rental every time a senior officer is moved to a new command.
This explanation immediately occurred to me as I was reading the descriptions. The four-star service chiefs and heads of our regional and functional commands have diplomatic, not just military, roles. Their homes are not merely private domiciles but places where official functions are held on a regular basis. And one needs only tour Embassy Row in DC to see the fantastic homes in which the various ambassadors to the United States live.
While it's perfectly reasonable to ensure that the costs are kept in control and that these perquisites aren't taken too far down the chain of command—not all four stars have these kind of duties and hardly anyone below four-star rank does—this is simply the cost of doing business. It would be bizarre, indeed, for the richest and most powerful nation on earth to conduct its diplomacy in the shabbiest accommodations.
And, indeed, the report goes on to note that the Pentagon is tightening up.
[T]he commander of Submarine Group 8, occupies Villa de Lorio, a 6,600-square-foot villa in Naples leased for $172,000 a year. But a Navy policy adopted last year says only officers in "high-risk billets" can have high-cost leases — and a submarine group commander on the Mediterranean doesn't qualify. As a result, the lease will be terminated, the report said, but not until next May, "when the current occupant's tour is over." The current Submarine Group 8 commander is Rear Adm. Robert Burke.

Leases also will be canceled next year for Villa Anna, home to the commander of Navy Region Europe, and Villa Maria, residence for the operations director of Allied Joint Force Command.

The Pentagon also will give up Villa Nike, a 12,000-square-foot residence in Naples, because of "water damage, structural concerns and an aging electrical system" that has driven maintenance costs up to $220,000 a year, the report said. Adm. Bruce W. Clingan, commander of all U.S. naval forces in Europe, will relocate to Villa Capri, a smaller residence nearby, while the Navy decides whether to spend as much as $3 million to renovate Villa Nike.
As anyone who's owned a home knows, maintenance is expensive. That's particularly true of a historic home, whose major systems will periodically need replacement and upgrading. And, of course, most of us aren't prime terrorist targets and thus don't have extensive security needs. But, while we shouldn't necessarily balk at large one-time expenditures to accommodate these unusual needs, nor should we undertake them without a second thought. It makes sense to periodically review whether we're getting our money's worth out of these arrangements and whether there are more cost-effective alternatives.
As an aside, I'm mildly amused that it cost the taxpayers $320,000 to undertake this study, which only examined 32 homes. It strikes me that holding down such routine costs by figuring out more efficient ways of conducting day-to-day operations is a much more target rich environment for finding efficiencies than a handful of high visibility expenditures.