Brendan Eich Had To Go
In an ideal world, we would be more tolerant of leaders who held controversial positions. We don't live in that world.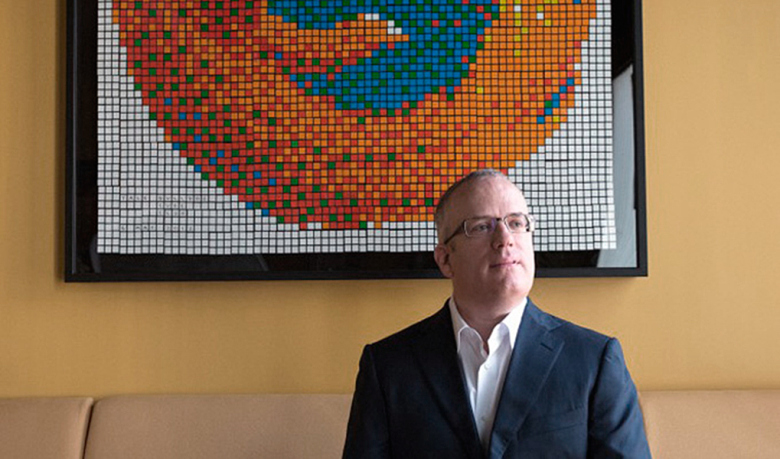 Andrew Sullivan has received lots of reader pushback, some more civil than others, for taking the position that Mozilla CEO Brendan Eich should not have been forced out of his job for his active opposition to gay marriage. Sullivan, of course, is gay, married to another man, and has been a public defender of the gay marriage rights for years. Nonetheless, he's not persuaded by the arguments supporting the "public shaming" of Eich.
[T]hese arguments avoid the core, ugly truth of what happened. Brendan Eich was regarded as someone whose political beliefs and activities rendered him unsuitable for his job. In California, if an employer had fired an employee for these reasons, he would be breaking the law . . .

[…]

Now Eich was not in that precise position. He resigned as CEO under duress because of his political beliefs. The letter of the law was not broken. But what about the spirit of the law?

The ability to work alongside or for people with whom we have a deep political disagreement is not a minor issue in a liberal society. It is a core foundation of toleration. We either develop the ability to tolerate those with whom we deeply disagree, or liberal society is basically impossible. Civil conversation becomes culture war; arguments and reason cede to emotion and anger. And let me reiterate: this principle of toleration has recently been attacked by many more on the far right than on the far left. I'm appalled, for example, at how great gay teachers have been fired by Catholic schools, even though it is within the right of the schools to do so. It's awful that individuals are fired for being gay with no legal recourse all over the country. But if we rightly feel this way about gays in the workplace, why do we not feel the same about our opponents? And on what grounds can we celebrate the resignation of someone for his off-workplace political beliefs? Payback? Revenge? Some liberal principles, in my view, are worth defending whether they are assailed by left or right.
I came to support marriage equality much later and more reluctanctly than Sullivan. Eich's position is not that far from my own position as recently as a decade ago; not surprisingly, then, I don't find said position worthy of public shaming, much less disqualifying for employment.
Beyond that, I fully support Sullivan's stance on toleration for others'  beliefs, including those I find distasteful. I'm no fan of the lynch mob mentality that social media enabled to go into full gear every time someone gets found doing something others find distateful. Having every private act of pettiness spotlighted and set upon viciously through viral campaigns on Facebook, Twitter, Reddit, or whathaveyou is damaging to our society.
If Eich were an ordinary employee—even a senior vice president or chief technical officer—of Mozilla I would be on Sullivan's side here. But CEO is a different animal altogether. As CEO, Eich was the public face of the company. As such, what for an ordinary employee could simply be chalked up as his private opinion on a matter having nothing to do with his job is instead going to be perceived as the Official Position of Mozilla. Once his financial support on the losing side of such a controversial issue came to light and the backlash ensued, including a boycott campaign, there was simply no saving him. Mozilla had a fidiciary obligation to its shareholder to distance itself from Eich. Whether Eich did the honorable thing and did the deed himself or his board magnanimously let him resign rather than face the additional humiliation of being fired, the outcome was inevitable.
I'm reminded here of the brouhaha a dozen years back when Trent Lott resigned his position as Senate Republican Leader after publicly joking on the occasion of Strom Thurmond's 100th birthday that the country would have been better off had Thurmond been elected president in 1948. While I believed then and continue to believe to this day that he was just buttering up an old man rather than suggesting that it's a shame that Jim Crow went away, the combination of that joke—told repeatedly, it turned out, in other venues and some other evidence of Lott's association with neo-Confederates doomed him. Had he been an ordinary Senator from Mississippi, I suspect he'd have survived the scandal. As the most prominent Republican on Capitol Hill, however, he simply had to go.
Lott rehabilitated his image somewhat and actually rejoined the Senate Republican leadership team less than four years later. I suspect that Eich, too, will mend his fences and re-emerge in a prominent position in the tech world in short order.
It's an interesting philosophical question as to whether one should have to apologize for holding controversial positions. I agree with Sullivan that it would be a better world if we could just let bygones be bygones, especially on issues still in controversy rather than those long since settled. But that's not the world we live in.