Bristol Palin Paid $262,500 by Candies, 7 Times Amount Spent on Teen Pregnancy Prevention
Bristol Palin was paid $262,500 by Candies Foundation as an anti-teen pregnancy spokesman. That's 7 times what they spent on teen pregnancy prevention.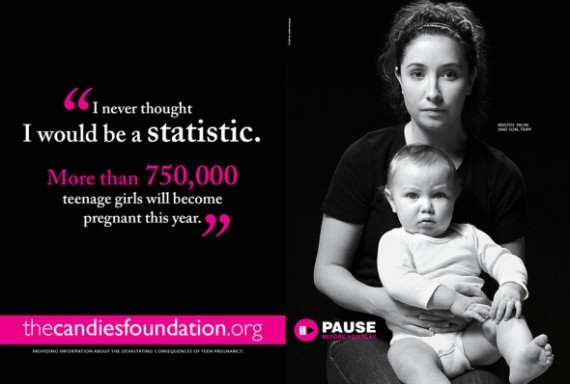 AP ("Bristol Palin earns $262K for teen pregnancy work"):
Tax documents show unwed mother Bristol Palin earned more than $262,000 for her role in helping raise awareness for teen pregnancy prevention in 2009.

The most recent data for The Candie's Foundation that's posted online by research firm GuideStar shows compensation at $262,500 for the now 20-year-old daughter of former Alaska Gov. Sarah Palin, the 2008 Republican vice presidential nominee.

Bristol Palin was 18 when she was appointed as a teen ambassador for the New York-based foundation in 2009, months after giving birth to son, Tripp. She and the 2-year-old boy's father, Levi Johnston, are no longer together.
Good work if you can get it, I guess. Certainly, the average 20-year-old unwed teen mother with no education and discernible skills makes less. But it's not like she forced them to pay her such a handsome salary. And she's doubtless famous. Maybe she's worth much more in increased fundraising and impact?
But Think Progress' Lee Fang reports that "a closer examination of the tax form by ThinkProgress shows that the group disbursed only $35,000 in grants to actual teen pregnancy health and counseling clinics: $25,000 to the Mt. Sinai Adolescent Health Center and $10,000 to the National Campaign to Prevent Teen Pregnancy." Thus, "the nonprofit paid Bristol over seven times what it paid to teen pregnancy prevention groups. In addition, the Candie's Foundation spent $165,000 on advertising, including [a] spot with Bristol and 'The Situation' of MTV's Jersey Shore."
Again, that's not in any way Bristol Palin's responsibility. There's no reason she would have any clue how they disbursed their funds. But it's yet another object lesson in the inadvisability of donating to "charities" endorsed by celebrities without thorough research.
UPDATE: Commenter Jay Caruso points out that Candies Foundation touts itself as an "action organization" rather than a grant-making organization. And the linked tax form says as much: "educating . . . through celebrity PSAs and initiatives." But, even if we factor in the $165,000 spent on advertising, we're still left with an amount far short of the payout to Palin–and that's assuming that the advertising featuring Palin isn't counting her prorated salary as a part of the expense of the spot.
Again: to the extent something untoward is happening here, it's on the part of Candies, not Palin. But she is, quite literally, the face of the organization.