Broadway Actors Resent Hollywood Stars
Broadway actors are aiming a familiar lament at Hollywood stars: They're taking our jobs!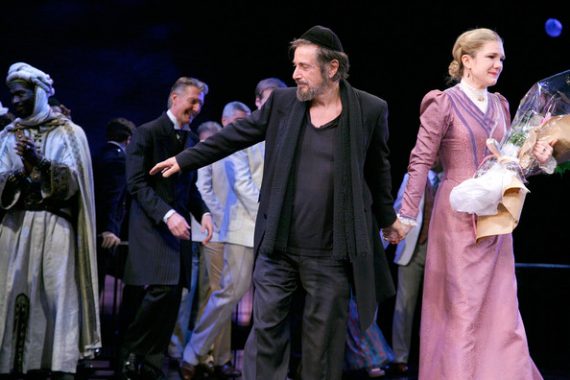 Broadway actors are aiming a familiar lament at Hollywood stars: They're taking our jobs!
Reuters ("Hollywood stars at center of Broadway backlash"):
Every year, Hollywood celebrities head to Broadway where they get plenty of attention for their headlining efforts.

The Tony Awards, being presented on June 12, are the ultimate judge of the skills of any stage actor, famous or not, and many lesser-known performers worry that the value of the award diminishes as film stars continue to take them home.

Last year's star-studded broadcast disheartened many New York actors, including Hunter Foster, who started the Facebook group Give the Tonys Back to Broadway!! in an effort to combat the Tinseltown effect. With the now almost 9,000-member group, Foster hopes to restore the ceremony as a beacon of hope for the next generation of stage performers.

Whether stage actors like his sister, Sutton Foster — nominated this year for her performance in "Anything Goes" — will disappear from Broadway's future if the Tonys continue to focus on Hollywood stars is debatable. Many actors appearing on Broadway — including Al Pacino, a nominee this year for "The Merchant of Venice" — began their careers on stage, but their mass appeal comes from their films.

"I have worked my ass off to get to where I am, so I understand that strug

[…]

A star can be an economic necessity for a Broadway show, and Michael Riedel, New York Post theater columnist and host of PBS's "Theater Talk," does not think Hollywood stars take jobs away from New York actors. "If you didn't have these celebrities, a lot of these shows wouldn't be produced," he said. "All of these shows have people in them who are not movie stars and they're all working."

A Tony represents the Holy Grail for a stage actor and can significantly boost a performer's career, whereas film and television actors are already honored with awards like Oscars and Emmys. Having widely recognized actors swoop in and secure a Tony nomination can be upsetting to some, said Garrett Eisler of the blog The Playgoer, as there are limited spots.

According to Eisler, stars have driven Broadway ticket sales throughout history, but "what changed is the definition of who is a star." In the 1950s and '60s, the box office names were Robert Preston, Rex Harrison, and Zero Mostel, who had some fame from film but whose main medium was the stage. "A Broadway star could really be a star," Eisler said, recognizing that Patti LuPone is one of the few who fits this bill today. "Now you can't be a star unless you're a Hollywood star."

The Internet democratizes entertainment, and a stage performer will never receive the same size audience for a Broadway show that another actor will receive for a film or a television series. "There's been a generational shift," Eisler explained, noting that today's generation of young people is the first to come of age with the Internet. "Certain stars can't become household names without appearing on multiple platforms."

Tony winner and New York stage veteran Victoria Clark acknowledged her win for "The Light in the Piazza" in 2005 helped launch her career and turned her into more of a "known quantity." Her role as Mother Superior in this year's "Sister Act," for which she is nominated, came to her in part because of her name and the connections she made through her past work. "Jerry Zaks could have gone after anybody between the ages of 45 and 80 for this part," she said, referring to the show's director. "There's a message to our directors: Support the people that supported you when you first started your career and go back to those people and give them a shot."

Celebrities coming to Broadway take work away from New York theater actors, according to Clark, but she also says the industry should not separate actors into film, TV, and stage categories. "It's our culture that segregates us," she argued. "If we were actors in any other country, we'd all be doing everything, no questions asked."
This is a bizarre lament. If actors who have gained fame in the movies are more able to attract an audience, why shouldn't they headline Broadway plays? It would be one thing if their skills didn't translate to the stage but nobody here is making that claim. Rather, people who have chosen to make their careers under the lights of Broadway are complaining that they're not famous enough. That's just too bad.