Browns Defensive End Unleashes Brutal Attack On Pittsburgh Quarterback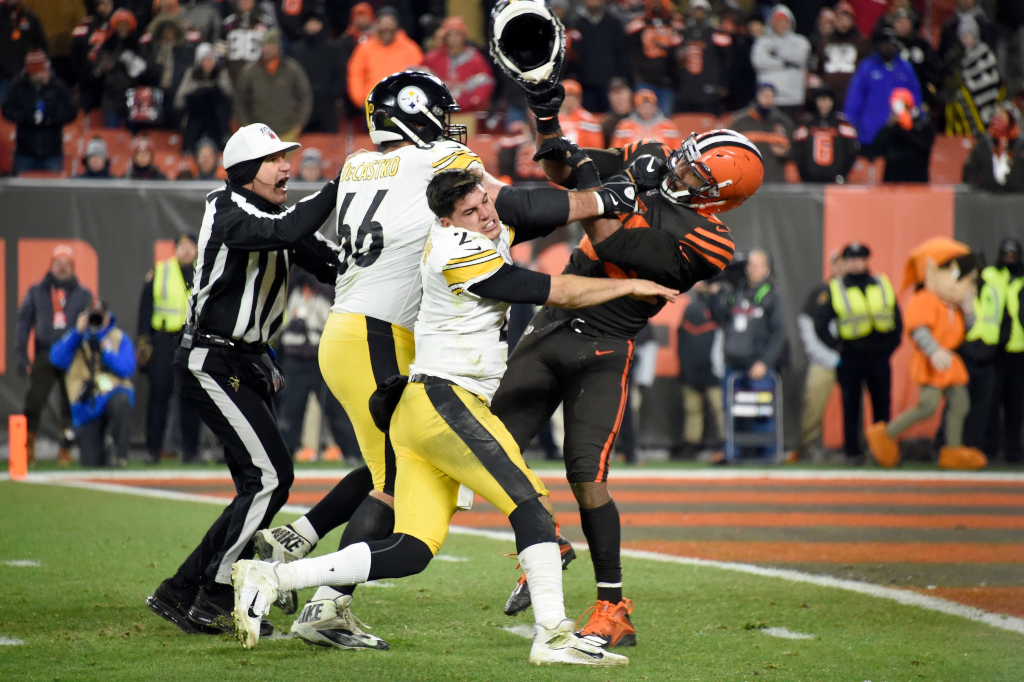 Instead of the fact that the surprisingly stronger than usual Cleveland Browns managed to pull off a win against their divisional rivals in Pittsburgh, last night's Thursday night football will be remembered for another reason thanks to shocking behavior on the part of Myles Garrett, a Defensive End for the Browns, unleashed a brutal attack on Pittsburgh Quarterback Mason Rudolph:
There were just a few seconds left in the Browns' 21-7 win Thursday over the Steelers when everything that had happened up to that point became a mere footnote. A fight broke out, during which Cleveland defensive end Myles Garrett ripped off the helmet of Pittsburgh's Mason Rudolph and slammed it against the quarterback's head.

It was a stunning scene, one that left more than a few longtime observers of the NFL saying they'd never witnessed anything like it. Among those expressing shock were a number of current and former players from the league, including 49ers fullback Kyle Jusczcyk, who tweeted that Garrett "should not be allowed to play another snap this season."

That was a widely shared sentiment, in the wake of an episode that immediately became the talk of the NFL, both online and on postgame shows.

"It's safe to say we've all probably lost our cool on the field and had some fights on the field," NFL Network analyst and former Cowboys wide receiver Michael Irvin said, "but in a league where you're trying to mitigate and watch injuries, especially head injuries, where you suspend guys for hitting helmet-to-helmet, I don't see how you're gonna let Myles Garrett play any more football this year."

Fellow NFL Network analyst and former wide receiver Steve Smith agreed, telling viewers after the game that Garrett had "lost the privilege of playing football for the remainder of the year."

Even Browns quarterback Baker Mayfield acknowledged that Garrett would "get suspended" for his act. Speaking on the field just after the contest ended, Mayfield repeatedly told Fox Sports that what his teammate did was "inexcusable" and added, "I don't care, rivalry or not, we can't do that. … That's just endangering the other team."

Telling reporters at a postgame news conference, "I've never seen that in my life," Browns Coach Freddie Kitchens said, "I'm embarrassed. Myles is embarrassed. It's not good.

"He understands what he did. He understands it's totally unacceptable."
Here's the video of the attack itself, and the video of the full altercation between the two teams:
Not surprisingly, many NFL players expressed shock at Garrett's behavior. Washington Post sportswriter Adam Kilgore meanwhile, correctly points out that while football can be a violent sport, Garrett obviously went too far:
On every snap of every NFL game, players risk their careers and well-being. The game by its very nature shreds ligaments and snaps bones and damages brains, sometimes with alacrity and sometimes imperceptibly. Lives change every Sunday because of what the sport does to those who play it. NFL football at its core is human achievement at the cost of human suffering.

The inherent violence of football is what made the calculated violence of Myles Garrett on Thursday night such a shocking affront. The game is built on sanctioned brutality, but within those parameters lies an agreement between players. They may destroy each other, but not on purpose and not outside the mayhem that happens during plays. It is a gladiatorial contract that should make you wince, but it is the understood agreement participants enter with full understanding.

When Garrett ripped off Pittsburgh Steelers quarterback Mason Rudolph's helmet and swung it at him in the dying seconds of Cleveland's victory, he committed an egregious act that will follow him for the rest of his career and violated the unspoken players' pact that a sport of such relentless violence relies on. Garrett's assault should not be excused on any basis, such as Rudolph's provocations or how a good man momentarily snapped. It should especially not be excused on the premise that it was just more violence heaped onto a violent sport.

(…)

The league will clearly see the severity of Garrett's attack. He should, and almost certainly will, be suspended for the remainder of the season. The only debate is how much of next season he should miss. The NFL suspended repeat offender Vontaze Burfict a dozen games for a head-to-head hit this year. Garrett has been flagged for typical offenses such as late hits and personal fouls, but he is not in the same universe as Burfict as a recidivist. Still, his punishment could meet or surpass Burfict's. It would be justified.

There is room for sympathy for Garrett. He will be defined by his actions Thursday night, for losing sight of the line between his sport's violence and the madness that lies not far beyond. He would not have been a prime candidate to commit one of the most notorious moments in NFL history. Defensive end Chris Long created a charity called Waterboys that builds clear-water wells in areas of need in Africa. When he retired, Long picked an active player to become the face of his efforts. The man he chose was Garrett. He seems like a good man. In the mind of the American public, he became a monster Thursday night.
There really isn't much more that can be said about what happened beyond this. Clearly, the fact that tensions were high because this was a game between division rivals or the suggestion that some have made that there may have been words exchanged between players over the course of the game last night is irrelevant. Indeed, there really isn't anything that justifies what happened last night. The NFL has yet to speak publicly and officially about the matter, but it is likely we'll hear something before the end of the day, and it's likely to be bad news for Garrett. As it stands, Garrett is lucky that his hit on Rudolph came with the open end of the helmet. Had he struck him over the head with the top of the helmet, he could have done serious injury to him.
As far as punishment goes, the minimum ought to be a suspension for the remainder of the season and a hefty fine. Given that this happened on the field during the course of a game, though, could mean something far more substantial that includes suspension for the opening part of the 2020 season. Hopefully, the league won't shrink away from what needs to be done here.
Update: Subsequent to the publication of this post, the NFL issued a ruling that indefinitely suspends Garrett and requires him to apply for reinstatement next year:
Myles Garrett of the Cleveland Browns was suspended for at least the rest of the season on Friday for pulling off the helmet of Steelers quarterback Mason Rudolph and hitting him in the head with it.

The suspension is the longest for any player for a single on-field incident, and the N.F.L. said in a tweet on Friday that Garrett would need to meet with league officials to be reinstated next season.

Two other players, Steelers center Maurkice Pouncey and Browns defensive tackle Larry Ogunjobi, were also suspended, and the Browns and Steelers were fined $250,000 each. The league said other players, including those who left the bench to join the skirmish, would face discipline as a review of the situation continued.

The owners of the Browns, Jimmy and Dee Haslam, said they were disappointed about the fight and understood the punishments.

"There is no place for that in football and that is not reflective of the core values we strive for as an organization," the Haslams said. "We sincerely apologize to Mason Rudolph and the Pittsburgh Steelers. Myles Garrett has been a good teammate and member of our organization and community for the last three years but his actions last night were completely unacceptable."

This seems entirely appropriate. Indeed, it may be appropriate that Garett never be allowed to play in the league again.