Bureaucratic Insurgency
There are growing signs that the Deep State is seeking to thwart legal orders from President Trump. This is dangerous.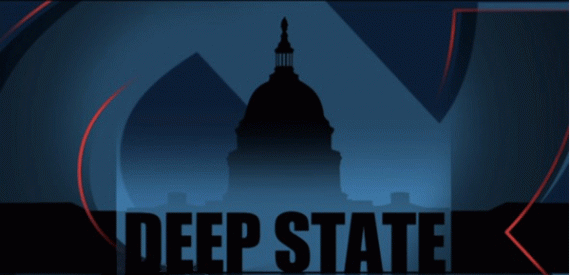 After Donald Trump's surprising election win in November—and especially after indications during the transition that he would seek to carry out the dangerous policies on which he campaigned—many in my Twitter feed started talking about the power of the so-called "Deep State" to check him in the likely event the Republican-controlled Congress would not.  In particular, there have been calls for active resistance to Trump's policies on the part of federal civil servants. There are signs that this is now happening.
Michael Shear and Eric Lichtblau in yesterday's NYT ("'A Sense of Dread' for Civil Servants Shaken by Trump Transition"):
Across the vast federal bureaucracy, Donald J. Trump's arrival in the White House has spread anxiety, frustration, fear and resistance among many of the two million nonpolitical civil servants who say they work for the public, not a particular president.

At the Environmental Protection Agency, a group of scientists strategized this past week about how to slow-walk President Trump's environmental orders without being fired.

At the Treasury Department, civil servants are quietly gathering information about whistle-blower protections as they polish their résumés.

At the United States Digital Service — the youthful cadre of employees who left jobs at Google, Facebook or Microsoft to join the Obama administration — workers are debating how to stop Mr. Trump should he want to use the databases they made more efficient to target specific immigrant groups.

[…]

This article is based on interviews around the country with more than three dozen current and recently departed federal employees from the Internal Revenue Service; the Pentagon; the Environmental Protection Agency; the Justice and Treasury Departments; the Departments of Homeland Security, Veterans Affairs, and Housing and Urban Development; and other parts of the government. They reveal a federal work force that is more fundamentally shaken than usual by the uncertainties that follow a presidential transition from one party to the other.

Federal workers are more likely to be Democrats, according to surveys. But partisanship and ideology explain only some of the intense feelings among workers, many of whom have seen Democrats and Republicans in the White House come and go.

At bars after work, in employee break rooms, on conference calls and on social media networks, employees at agencies targeted for steep reductions fear for their jobs. They worry about Mr. Trump's freeze on hiring and regulations, his pledge to reverse environmental protections, and his executive order shutting down immigration for refugees and people from seven predominantly Muslim countries.

Some federal workers welcome Mr. Trump's promises to create new jobs, build infrastructure and lower taxes. Others say they are focusing on doing their jobs and trying not to be distracted by the political noise that surrounds them. Still others say they are struggling with the question of whether they want to work for a president with whom they so strongly disagree.

[…]

"What do you do," asked Representative Gerald E. Connolly, Democrat of Virginia, if you work at a place where the leader "avowedly renounces the work of that agency?"

"All of a sudden, you are faced with a real moral dilemma," continued Mr. Connolly, whose district just outside Washington is home to thousands of federal workers.

Federal workers watched with growing alarm last year as Mr. Trump waged a campaign filled with antigovernment bombast and then during a transition in which he recruited cabinet secretaries hostile to the agencies they lead. Now they wait in these chaotic early days of Mr. Trump's presidency as he and his political advisers use executive orders to shred the policies and traditions the workers have championed.

[…]

Career employees are particularly nervous at the E.P.A., which Mr. Trump repeatedly singled out for attack on the campaign trail, vowing at one point to "get rid of" the agency. On Monday, about 100 employees at the agency's Chicago office, which oversees the enforcement of environmental regulations in five Midwestern states, used their lunch hour to protest the Senate's confirmation of Scott Pruitt, the Oklahoma attorney general, to lead the agency. Mr. Pruitt was a fierce critic of its mission under Mr. Obama.
That civil servants, particularly those in agencies whose agenda tends to be more robust during Democratic administrations, are nervous as they wait to see what policies Trump seeks to implement is neither surprising nor problematic. It's the normal course of events. Much more concerning is Maria Stephan's recent WaPo editorial "Staying true to yourself in the age of Trump: A how-to guide for federal employees."
Less than three weeks into the administration of President Trump, resistance from inside the U.S. government is growing. About a thousand State Department employees have signed an unusual "dissent cable" expressing their opposition to the president's executive order placing a temporary ban on immigrants and refugees from seven majority-Muslim countries. After the White House ordered the Department of Health and Human Services to cease advertising and outreach related to the Affordable Care Act, former agency workers and the law's supporters pushed back, prompting the ban to be lifted in less than 24 hours. Still other federal workers have created social media accounts to leak information about new policies and directives from Trump's political appointees. Nearly 200 civil servants signed up to attend a recent workshop to discuss legal rights and ways to challenge unethical or unconstitutional policies.

Bureaucratic resistance from below could cause significant difficulties for the Trump administration, which relies on the approximately 2.5 million civil servants in the federal government to implement policy. The new president is clearly aware of the power wielded by civil servants, who swear an oath of allegiance to the U.S. Constitution, not to any president or administration. One of Trump's first acts as president was a sweeping federal hiring freeze affecting all new and existing positions except those related to the military, national security and public safety. Even before Trump's inauguration, the Republican-controlled House of Representatives reinstated an obscure 1876 rule that would allow Congress to slash the salaries of individual federal workers. This was a clear warning to those serving in government to keep their heads down. Trump's high-profile firing of acting attorney general Sally Yates, who refused to follow the president's immigration ban, sent shock waves through the bureaucracy.

There are, however, strong arguments for experienced, ethical civil servants to remain in government. Professional bureaucrats are needed to provide high-quality, evidence-based advice, to warn when administration proposals may be outside the law, and, if necessary, to blow the whistle when legal and ethical lines are crossed. Conservative national security expert Eliot Cohen recommended that those who decide to serve in the Trump administration "keep a signed but undated letter of resignation in their desk" in the event that personal or professional red lines are crossed.

But resignation isn't the only option. There are numerous courses of action for federal workers who are asked to participate in actions they believe to be illegal or unethical or when they are aware of such actions taken by others. Decisions about what to do (or what not to do) are both personal and contextual, based on one's rank, one's tolerance for risk, one's preparation and where one sits in the federal bureaucracy.

Bureaucrats can challenge policies and practices while working from within. On the less risky end of the scale, they can engage colleagues and make the case for why an action or policy is illegal or unethical, work to modify the plan, elevate the issue, or seek advice from the agency's general counsel office. They can create a paper trail, producing a clearly written account of the problem in question and the actions taken to address it. Under the George W. Bush administration, this tactic was used by career staff in the Environmental Protection Agency, who helped compile 600 pages describing legal mechanisms to regulate greenhouse gases despite the EPA administrator writing an unusual preface describing his personal skepticism. This paper trail later helped to justify further regulatory action. Civil servants can use meticulous documentation to challenge policies or directives they deem unethical or unconstitutional, particularly when the orders are given verbally rather than in written form.

Another option, albeit higher-risk, is for federal works to perform their duties at a foot-dragging pace. As University of Chicago law professor Jennifer Nou notes, such slowdowns, unlike overt strikes, are less likely to attract attention. This tactic was used during the Reagan administration by career civil servants in the USDA's Food and Nutrition Service who challenged the president's efforts to cut the food stamp budget and declare ketchup a "vegetable." They performed the work that was technically required but refused to openly defend the policy to various constituencies.

In the riskier category of dissent options, federal workers can leak information about pending or actual policies with journalists, activists and influential people on the outside. A senior official at the Bureau of Land Management in the Clinton administration described the leaking of internal documents to interest groups as a particularly effective strategy.
There's much more to the piece but that's the gist. I find this highly problematic on a number of levels.
(A caveat. I have been, for the past three-and-a-half years, a Defense Department employee. I'm in what's called the Excepted Service. While I have all of the benefits of my General Schedule counterparts, I'm employed on a term basis. And, while the Hatch Act and other restrictions apply to me, I'm employed as a college professor and have the academic freedom that's normal within that profession. Which is to say, while the President certainly has substantial say on my employment, I don't in any meaningful way work for him and am free to offer respectful criticism so long as I make clear I'm speaking in a personal capacity.)
First off, we must distinguish between orders that are illegal, immoral, and merely distasteful. Federal employees take an oath to the Constitution of the United States. They have a duty to disobey orders which, in their professional judgment, violate the Constitution or Federal law. There are numerous channels for doing this in an above-board fashion and strong legal protections for those who do so in good faith, even if the courts ultimately find that the action in question passed legal muster. (There are sporadic and anecdotal signs that Border Patrol and other Federal agents are overzealously and perhaps illegally enforcing the travel ban and other orders; if so, it's an outrageous abuse of power.)
Federal employees are also citizens and human beings. They have every right to form moral opinions about matters of public policy. If they believe a policy to be unconscionable, they have a moral duty to refuse to carry it out. If, however, said policies are deemed to be lawful, they have no right to use their position to stop it once their objections have been overruled. In many cases, it will be possible to get reassigned or otherwise escape being forced to carry out the order personally. (There are, for example, accommodations made for religious objections.) If, for some reason, this is not possible, then their only recourse is to resign their post.
Almost all of Trump's policy changes, however, fall into the third category: those which merely offend the policy sensibilities of much of the professional bureaucracy. For example, the national security community—myself included—almost unanimously find Trump's departures from longstanding U.S. foreign policy positions to be dangerous if not catastrophic.  In these instances, the bureaucracy is on the weakest ground.  It is legitimate, in my view, to strongly protest decisions through official channels. The State Department's Dissent Channel, for example, is a longstanding tradition in that regard and is a valuable release valve. Additionally, because Congress has oversight responsibility over essentially all Executive branch functions (with the White House staff as the most important exception) it's perfectly legitimate to protest policy shifts through that venue.
What is not legitimate, however, is to engage in a conspiracy to slow roll the elected President of the United States in carrying out legal orders. Nor is it legitimate—although it's certainly commonplace—to leak government work products to the press in order to resist the President from within. These actions, in fact, are quite dangerous.
After a series of scandals—and the ultimate assassination of a President!—in the nineteenth century, the United States moved away from the spoils system and adopted a professional civil service in 1883 with the Pendleton Act. Since then, rather than filling the government with partisan cronies, only the senior-most officials who most directly influence public policy or speak for the President are replaced when a new administration comes to power. That allows for the cultivation of expertise that has become even more vital as our society has grown ever more complex.
Still, poll after poll shows that the American public is skeptical of the civil service. Government workers are perceived as overpaid, incompetent, and lazy. Moreover, Republicans in particular think that civil servants are overwhelmingly Democratic partisans.  (For their part, civil servants don't think much of the public they serve, either.)  Republican presidents have, for decades, been highly distrustful of some agencies in particular—the State Department, the EPA, the Department of Education, the Labor Department, and others—and not without reason. Democrats have similar concerns, also not without justification, of the Defense Department and the national security and law enforcement bureaucracies.
I fear that open revolt by the bureaucracy against Trump policies will generate significant backlash, perhaps even enough to allow Trump to roll back civil service protections and reinstitute something like a spoils system. We've already seen statements from the administration and gotten some backing from Members of Congress for the notion that even legitimate protest, like participation in the Dissent Channel, is an act of disloyalty that should be punished.
Like it or not—and I don't—Trump was duly elected. It's true but irrelevant that he did so while getting nearly three million fewer votes than his opponent, for whom I voted. Like it or not—and I don't—both Houses of Congress are in the control of a Republican Party that's increasingly Trumpist. That this reflects a combination of the artifact of a federalist system designed in 1787 for a vastly different political realty and perfectly legal if distasteful Gerrymandering of districts is unfortunate but not illegitimate.  They have every right to govern according to the platform on which they ran, subject to whatever parliamentary maneuvering that the minority party can use to thwart them and, of course, the rulings of the Judiciary on the Constitutionality of said policies. Absent an exceedingly unlikely removal of Trump through impeachment and conviction, this will remain true until either a biennial election changes the balance of power in the elected branches.
It is very much the role of professionals in the bureaucracy to point out the potential follies of these policy choices based on centuries of institutional knowledge. And, again, it's their duty to resist illegal orders. Beyond that, however, their role is to carry out the wishes of the elected representatives of the people.