Bush Funeral Inevitably About Trump
Honoring the 41st President cast a poor light on the 45th.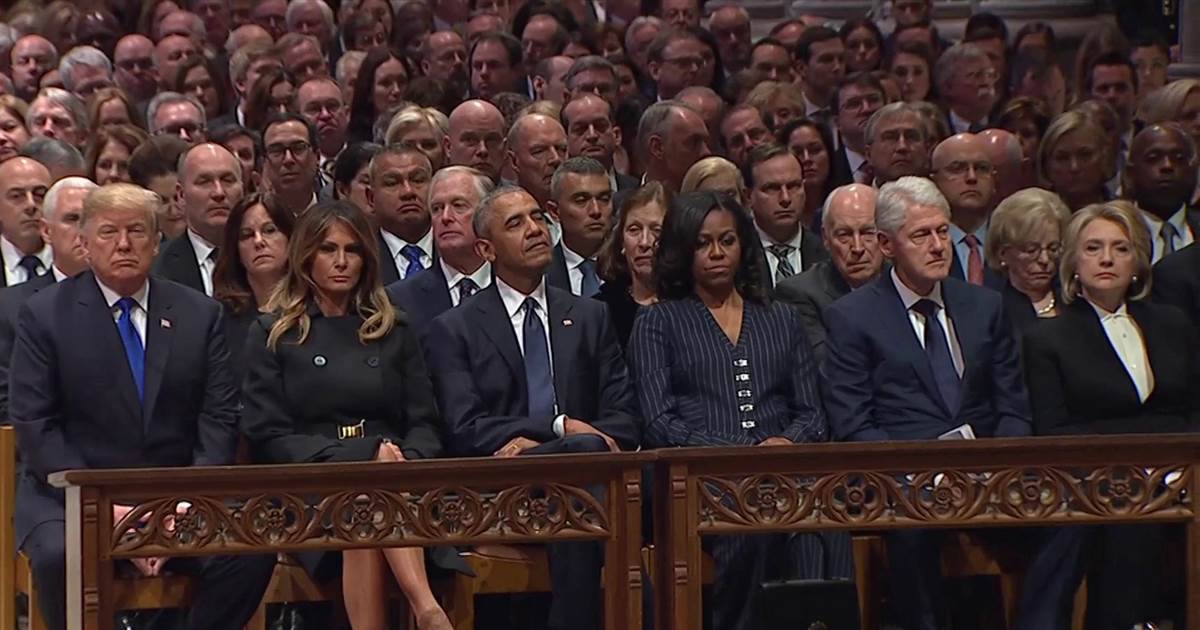 Teaching undergraduate American government classes twenty years ago, it was seemingly impossible not to stumble into double entendres about the Clinton-Lewinsky scandal. Now, it's virtually impossible to praise a departed leader without drawing a stark contrast with the current president.
Philip Rucker, WaPo ("Bush funeral: Trump sits with fellow presidents but still stands alone"):
From the moment he crossed the transept of the soaring Washington National Cathedral, tore off his overcoat and took his seat in the front pew, President Trump was an outsider.

When the others sang an opening hymn, his mouth did not move. When the others read the Apostles' Creed, he stood stoically. And when one eulogist after another testified to George H.W. Bush's integrity and character and honesty and bravery and compassion, Trump sat and listened, often with his lips pursed and his arms crossed over his chest.

Wednesday's state funeral was carefully orchestrated to be about one man and his milestones — Bush the father, the friend, the war hero and the lifelong public servant. But inevitably it became about Trump, too, for it was impossible to pay tribute to the 41st president without drawing implicit contrasts with the 45th.

"His life code was: 'Tell the truth. Don't blame people. Be strong. Do your best. Try hard. Forgive. Stay the course,' " Bush biographer Jon Meacham said in his eulogy. "And that was, and is, the most American of creeds."

The mourners did not deliver the searing rebukes of Trump the nation witnessed in September for the funeral of Sen. John McCain (R-Ariz.).

But despite being crafted to honor Bush's legacy, their words also served to underscore the singular nature of Trump's presidency.

Trump was in the company of all his living predecessors for the first time Wednesday, and the encounter was plainly uncomfortable. By 10:49 a.m., when Trump and first lady Melania Trump stepped into the cathedral, a cool hush had come over the pews filled by American dignitaries and foreign leaders, past and present. Trump handed his black overcoat to a military aide and took his seat on the aisle next to his wife, with three past presidents and first ladies seated to her side.

First was the president Trump said was illegitimate (Barack Obama); then the first lady he called a profligate spender of taxpayer dollars (Michelle Obama); then the president he called the worst abuser of women (Bill Clinton); then the first lady and secretary of state he said should be in jail (Hillary Clinton); and then the president he said was the second-worst behind Obama (Jimmy Carter) and his wife, Rosalynn.

The Trumps and the Obamas greeted each other brusquely, but only Melania Trump reached over to shake hands with Bill Clinton. Hillary Clinton did not acknowledge the Trumps, keeping her gaze straight ahead as if determined not to make eye contact with the man who continues, two years after the 2016 election, to inspire "Lock her up!" chants at his rallies.

The frostiness of Trump's interactions with his predecessors was all the more apparent when former president George W. Bush entered the cathedral a few minutes later. Bush shook hands cheerfully with each of the other presidents and first ladies. He slipped what appeared to be a candy to a smiling Michelle Obama — a reminder of McCain's funeral, when video of Bush giving Obama candies went viral on social media.

[…]

The first of Bush's five eulogists at Wednesday's funeral was Meacham, a Pulitzer Prize-winning journalist who grew close to Bush as he researched the former president's life for the 2015 biography, "Destiny and Power." Meacham explained what Bush meant by his famous volunteerism phrase "a thousand points of light," which Trump mocked this summer as an ineffective and confusing slogan.

"Abraham Lincoln's 'better angels of our nature' and George H.W. Bush's 'thousand points of light' are companion verses in America's national hymn, for Lincoln and Bush both called on us to choose the right over the convenient, to hope rather than to fear, and to heed not our worst impulses but our best instincts," Meacham said.

The next eulogist, former Canadian prime minister Brian Mulroney, praised three of Bush's achievements in office — negotiating the North American Free Trade Agreement, the Americans With Disabilities Act and the Clean Air Act.

"There's a word for this. It's called 'leadership,' " Mulroney said. "Leadership. And let me tell you that when George Bush was president of the United States of America, every single head of government in the world knew that they were dealing with a gentleman, a genuine leader — one who was distinguished, resolute and brave."

It was not lost on the audience that Trump has slammed NAFTA as one of the worst trade deals ever; mocked a journalist's physical disability; and rolled back scores of environmental regulations.

Trump sat through much of Mulroney's speech crossing his arms over his chest or holding his hands between his knees, at times leaning forward in his seat.
John F. Harris, Politico Magazine ("Bush's Funeral Wasn't About Trump. But Of Course It Was."):
The memorial service for George H.W. Bush was a perfectly civil and eminently civilized event, and if one was listening in a literal-minded way it all sounded like a grand exception to life in modern Washington—two hours of stories and tributes that were entirely bereft of political tension.

The only way to listen in a literal frame of mind, of course, was through some equivalent of self-lobotomy—to be willfully oblivious of context, guileless in a way that certainly does not describe Bush or any of the people he chose to speak at his farewell.

The service was replete with praise for the 41st president that could, with just the slightest nudge of interpretation, be heard as implied rebuke of the 45th president. But only implied, never explicit—this, unlike almost everything else in American politics today, was not about Donald Trump.

And yet it very much was. Speakers rhapsodized about Bush's natural good cheer and optimism; his willingness to share credit and accept blame; his preference for self-deprecating humor; his gift for personal diplomacy; his loyalty to friends when they were down; his talent at assembling international coalitions; his mistrust of "unthinking partisanship"; his inaugural address in which he said that Americans must judge our lives by kindness to friends and neighbors rather than the pursuit of "a bigger car, a bigger bank account"; his commitment to truth and to living up to the obligations of a "gentleman."

Who wouldn't admire these traits? Or expect that any president should try to emulate them?

To be political while sounding apolitical is a lost art in contemporary times, and it would be hard for President Trump to claim injury because his name was never mentioned. President George W. Bush—who, like his father, broke with his party in not supporting Trump—swerved skillfully around that by starting his remarks by thanking "distinguished guests" and then, with seeming emphasis, adding "including our presidents and first ladies" but mentioning none of them by name.

[…]

Three months ago, the same space—the Washington National Cathedral—hosted another memorial service after the passing of Sen. John McCain. Like Bush, he had the lead time to carefully plan his own service, which became weaponized after a dying McCain made clear that he did not want the man who derided him for having been captured in Vietnam to be present. The Bush family, by contrast, was willing to set aside its disdain for Trump—the taunts of "low-energy" Jeb, the relentless criticism of George W.'s Iraq war. Whether out of respect for the office or a desire to avoid another politicized Washington funeral, they made it clear that their leader had very much wanted the current president to be there, and in remarks in recent days family members had emphasized that Trump has been "very gracious." Assuming that comment to be entirely sincere, it is still a shrewdly effective way to shift the week's events toward ground—polite, decorous, devoid of controversy—that is hardly Trump's natural terrain. One supposes that he was not sorry when the plane that is normally Air Force One lifted off to carry the 41st president back to Texas for burial, allowing Washington to return to normal business for the first time since Friday evening.

The commentariat's focus on Bush's contrast with Trump tended to take attention from what might otherwise have been the dominant motif of the memorial service: the contrast, and communion, between generations.
Catherine Lucey and Zeke Miller, Associated Press ("Trump odd man out as presidents assemble for Bush funeral"):
There was no mistaking the odd man out.

Wednesday's funeral service for former President George H.W. Bush served as a rare reunion of the remaining members of the presidents club, but the front-row banter among Barack Obama, Bill Clinton and Jimmy Carter and their spouses came to an uneasy end when President Donald Trump and wife Melania arrived.

The encounter was a real-time illustration of the uneasy ties between the current occupant of the White House and his predecessors, suggesting Trump as a member-in-name-only of the Oval Office fraternity. While the funeral ceremony itself was a warm celebration of the late president, the relationships between the surviving presidents are considerably cooler.

Trump gave the two Obamas a handshake before taking his seat in Washington's National Cathedral without greeting the others. Hillary Clinton nodded at Melania Trump but then stared straight ahead.

The last of the five presidents to arrive was George W. Bush, who made a point to shake hands with all four couples — and appeared to share a moment of humor with Michelle Obama, slipping something into her hand. Bush then took his seat with the rest of the Bush family, across the aisle from the ex-presidents.

Some discomfort with Trump was perhaps to be expected.

Since his swearing-in, Trump has spurned most contact with his predecessors — and they have snubbed him in return. But while the staid group of Oval Office occupants has been disrupted since Donald Trump's election, the Bushes had made it known to the White House months ago that, despite differences in policy and temperament, the late president wanted Trump to attend the national service.

The ceremony's tributes at times stood as an unspoken counterpoint to Trump's leadership, as historian Jon Meacham eulogized Bush by recounting his life's credo: "Tell the truth, don't blame people, be strong, do your best, try hard, forgive, stay the course." George W. Bush added of his father: "He could tease and needle, but not out of malice."

The late Bush was the de facto chair of the modern incarnation of the president's club, transcending contentious campaigns and party lines to bring together fractious personalities who share that rarified experience.

Trump has sought to meet the elder Bush's passing with grace, a contrast to the rhythms of much of his tumultuous presidency. He came to office after a campaign in which he harshly criticized his Democratic predecessors and co-opted a Republican Party once dominated by the Bush family. Despite the traditional kinship among presidents, Trump's predecessors have all made their discomfort known in different ways.

"It's unusual that a cabal of ex-presidents from both parties dislike a sitting president and that's what you've got happening right now," said Douglas Brinkley, a history professor at Rice University.

The Trump-Obama handshake marked the first direct interaction between the current president and his immediate predecessor since Inauguration Day 2017. Trump has not spoken to Democrats Clinton or Obama since that day.

He did speak with the younger Bush during the contentious confirmation process for Supreme Court Justice Brett Kavanaugh, as the previous Republican president helped lobby for his former aide. Democrat Carter has been briefed by White House officials on North Korea, though it was not clear if he has engaged directly with Trump.

By virtue of health, longevity and opportunities for continued influence, ex-presidents are sticking around longer than ever and staying active in the public eye.

Past presidents often built relationships with their predecessors, Brinkley said. "Bill Clinton would reach out to Richard Nixon for advice on Russia," he said. "Harry Truman leaned heavily on Herbert Hoover. It's endless."

To be sure, Brinkley added, those ties vary from president to president and there have been chilly relationships as well, noting, for example, that "FDR would never talk to Herbert Hoover."

Busy with a mix of personal pursuits, charitable endeavors — and, in some cases, paid speaking gigs — the former leaders don't mingle very often, making a funeral in their group a big occasion. Bonded by the presidency, they tend to exercise caution in their comments about each other. Still, all the living former presidents have aimed barbs — directly or indirectly — at Trump.
Barack Obama frequently described the presidency as a relay race, in which the current occupant advanced the baton as far as one could before handing off to the next, hoping that they would continue advancing the interests of the country. With rare exception, because it's such a small club, the members have a special bond that transcends the nastiness of campaigns and inevitable disputes over policy. While he's officially a member of the club, Trump isn't accepted as one of them. One simply can't imagine him being asked, as all of the living former Presidents—and quite notably the man being honored yesterday—were, to serve as a goodwill ambassador for the country one he's out of office.