Cain, Romney Share Lead In Latest Iowa Poll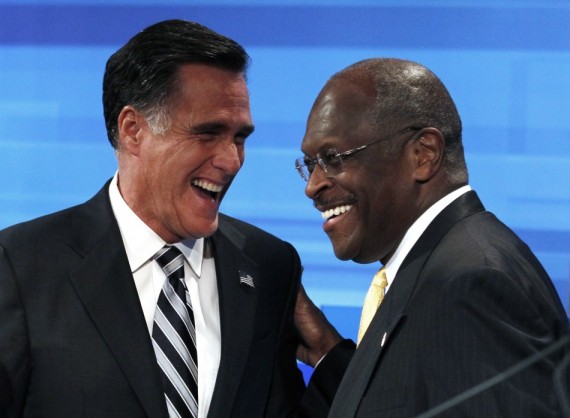 The latest poll from the Des Moines Register has Herman Cain and Mitt Romney in a statistical tie among likely caucus-goers
Two months before the first votes are to be cast in the Republican presidential nominating contest, Herman Cain and Mitt Romney have the strongest support among party activists who plan to participate in the Iowa caucuses, according to a poll released on Saturday evening.

The Iowa Poll in The Des Moines Sunday Register provides the clearest snapshot yet of how candidates stand in the Republican presidential race. The leaders were Mr. Cain, with 23 percent of support among Republican voters, and Mr. Romney, with 22 percent — a difference that is statistically insignificant.

Representative Ron Paul of Texas, who had 12 percent in the poll, was the only other candidate to reach double digits.

The poll found the rest of the Republican field to be bunched together. Representative Michele Bachmann of Minnesota had 8 percent, Gov. Rick Perry of Texas and former Speaker Newt Gingrich each had 7 percent and former Senator Rick Santorum of Pennsylvania had 5 percent.

The Iowa Poll, which has been taking a measure of the state's voters since 1943, is the latest indicator of the remarkable fluidity — and opportunity — in the Republican presidential race.
While it's only one poll, and may be statistical noise, the Real Clear Politics average shows, interestingly, that Cain may be slipping a bit: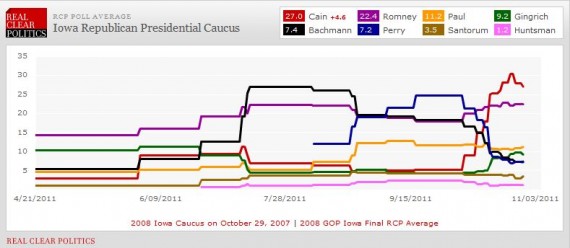 At the same time, though, none of Cain's conservative rivals are rising in the polls, and his campaign says that they aren't planning on giving them the opportunity to do so:
In coming months, Cain's plan to win Iowa, Grubbs says, is to win over conservative voters, especially supporters of Michele Bachmann and Rick Perry. Battling with the former Bay State governor, he says, is not the campaign's top priority.

"Our competition is all of the other conservatives," Grubbs says. "They're keeping Cain from being the full conservative candidate in the polls. Together, Perry and Bachmann have 15 percent. Eventually that support is going to go to the top conservative candidate."

"Romney is still the frontrunner," Grubbs cautions. "He has been in Iowa for five years and he has two of the best consultants in the state on his team. He has more money and more organization on the ground. Our goal is to maintain the passion for the cause — building great town halls, lining up precinct captains, putting a team together."

As Mark Block, Cain's chief of staff, told NRO last week, the campaign will soon hold a series of "major town-hall meetings" in Iowa. Grubbs says those events will enable conservatives to meet and hear Cain. That personal interaction, he bets, will boost Cain's numbers.
Cain just might have what it takes to do well in Iowa, despite the money and organizational advantages that candidates like Bachmann and Perry seem to have there. Of course, as Mike Huckabee can tell us, winning Iowa doesn't always amount to much of anything in the end.