California Balances Budget While Expanding Aid to Poor
Jerry Brown's second go-round as governor has been very, very good to the Golden State.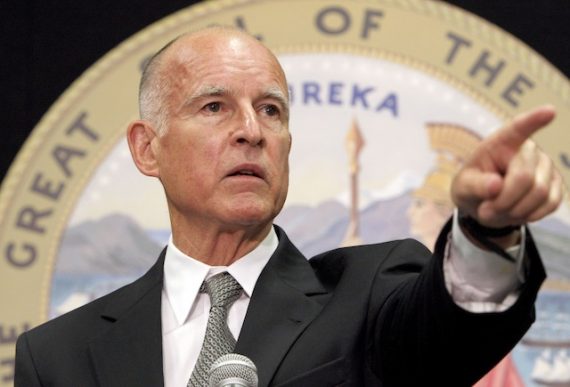 Jerry Brown's second go-round as governor has been very, very good to the Golden State.
AP ("Brown signs budget that reshapes K-12 spending"):
Gov. Jerry Brown signed a state spending plan for the coming fiscal year Thursday that makes budget-busting deficits a distant memory, funnels billions of additional dollars to K-12 schools and begins restoring social service programs that were cut during the recession.

The budget also expands Medicaid to an additional 1.4 million low-income Californians, adopting an optional provision of the federal Affordable Care Act.

"This is a momentous occasion, because we have a balanced budget not proposed but actually actualized, the first time in probably a decade or more," the governor said moments before signing the spending plan for the fiscal year that starts Monday.

It includes a $96.3 billion general fund, the state's main account for paying ongoing expenses. The size of the general fund and a reserve account of $1.1 billion reflect the continuing recovering of California's economy and $6 billion in voter-approved taxes.

Declining tax revenue during the recession had cut the general fund to as low as $87 billion just two years ago, requiring lawmakers to make deep spending cuts.

The Democratic governor declared it "a big day" for public school students and those who have no health insurance or inadequate coverage.

The budget for the coming fiscal year adopts a new funding formula for public schools that will send more money to districts with disadvantaged students. It also expands Medicaid so the health care program for low-income residents could grow over the next few years to cover 9.8 million Californians, roughly a quarter of the state's population.

Democratic lawmakers said the move will save lives, keep workers healthy and bring billions of dollars from the federal government into the state.
While still very much the social liberal that earned him the nickname Governor Moonbeam in the 1970s, Brown has matured into a pragmatic manager.* He forced through wildly unpopular austerity measures when he took over because there was no other way to deal with the budget crisis he inherited. Now, he's won the fight to make expensive investments in the state's future–and figured out how to pay for it.
The centerpiece of this year's budget is Brown's priority to reshape California's funding formula for K-12 schools as a way to help close the achievement gap for poor and minority students.

The budget allocates $2.1 billion to begin moving the state to a new formula that gives proportionately more money to school districts with high levels of low-income students, those with limited English proficiency and foster children. School districts also will get more control over how to spend state aid.

Democrats say districts will be held accountable for how they spend the money, such as requiring them to create master plans to track the success of English learners. But Republican lawmakers have said the budget package lacks a requirement that the money be used on services and program that have proved effective.

Overall, the budget boosts K-12 and community college funding to $55.3 billion. The governor's budget says that represents an increase of more than $8 billion over the 2011-12 fiscal year.

The budget for the coming year also gives the University of California and California State University systems an additional $125 million each, while restoring $63 million to the state court system.

Democratic lawmakers were able to restore some of the programs that were slashed during the recession for mental health treatment, health care for the poor and higher education — a move criticized by Republicans.

"Keeping promises to the people of California on education funding and paying off our state debt load so as not to burden future generations with our mistakes should have been the first priority, but unfortunately that did not happen," Senate Minority Leader Bob Huff, R-Diamond Bar, said in a statement Thursday.

Brown made no general fund cuts in his line-item vetoes, the first time a governor has done that since 1982, when Brown did it during his previous time in the governor's office. However, he removed nearly two dozen appropriations as a way to reduce state mandates that could saddle the state with future obligations.

He reduced $40 million in earmarks, a majority related to special education and preschool programs. Finance officials say that money will instead be used for other education purposes.
The deficit is under control and it makes sense to reinvest in California's education system–once the model for the nation but fallen into disrepair of late–at a time when borrowing is so cheap. Indeed, Brown is in the weird position of being criticized by Republicans for not spending enough on education.  And, given that Brown has gone so far as to ignore court-ordered prisoner releases to deal with overcrowding, there's not much choice but to spend more on prisons. (Well, there's always decriminalization of certainly illicit drugs. I'm actually surprised Brown hasn't moved in that direction.)
Oddly, none of this is on the front page of the LA Times. Even in the Local section, one has to scroll down a bit to get to a story titled "Gov. Jerry Brown signs budget with few changes — or complaints."
Flanked by fellow Democrats and other political allies, Gov. Jerry Brown approved California's new budget Thursday, changing very little of the $96.3-billion spending plan before signing it into law.

Brown said California's finances are "in very solid shape" after years of deficits and touted increased spending on schools and healthcare for the poor.

"It is a big day for schoolkids. It's a big day for Californians who don't have healthcare," Brown said. "California is the leader. The rest of the country is looking to see how we did it."

The budget, which takes effect Monday, will change education funding, diverting some money from wealthier schools to districts with large numbers of poor students or English learners. Brown also signed bills expanding healthcare, part of President Obama's federal overhaul.

Although the final budget hews closely to the governor's original blueprint, it also includes new funding sought by Democratic lawmakers for welfare, university tuition assistance, mental health and dental care for poor adults.

"Today represents great progress," said Senate leader Darrell Steinberg (D-Sacramento). "Real people hurt for so long will get some help."

Tax revenue has continued to outpace Brown's expectations since he reached a budget deal with lawmakers, but the governor said it would be unwise to count on the surge to continue.

"We live in uncertain times," Brown said. "There's a lot of unknowns out there in Washington, in Europe, in Asia, in technology, in real-estate growth."
James Fallows has an interesting profile of "Jerry Brown's Political Reboot" in the June issue of The Atlantic.
Brown began his first two terms as governor in 1974, at age 36, following one Republican former actor, Ronald Reagan. He returned to the office at age 72, following another, Arnold Schwarzenegger. In between he ran for president three times and the U.S. Senate once, all of course unsuccessfully; served eight years as Oakland's mayor and four as California's attorney general; and lived in both Japan (studying Zen meditation) and India (volunteering for Mother Teresa). He celebrated his 75th birthday the weekend I was in Oakland, which means that if he runs for reelection next year and if he wins, both of which are considered likely—his approval rating this year has been the envy of other politicians in the state—he could still be governor at age 80. "This is certainly a new identity for Brown, so flighty in his first 'Governor Moonbeam' period as governor," Bruce Cain, a political scientist and an expert on California politics at Stanford's Bill Lane Center for the American West, told me. "Now he is the most trusted, stable, and reliable leader around." I asked Kevin Starr, of the University of Southern California and the author of the acclaimed Americans and the California Dream series of books, how Brown was seen in his return to office. "He is now liked," Starr said. "Eccentric, but liked."
The latter isn't surprising. You might not like his politics but it's hard not to like the man. He's what people say they want their leaders to be but few are: a man who thinks for himself and says what's on his mind, not what the pollsters tell him to say.
As a reporter, I have never encountered a politician more willing to talk with, as opposed to talk at, other people than Jerry Brown. "I think as I speak," he told me early this year, underscoring the obvious, when I met him in Washington. He and his wife were in town for the National Governors Association conference. As I waited for them in the conference-center lobby on a Sunday morning, I saw governors from modest-size states bustle through, each with an earpiece-equipped security detail and a covey of aides. When the Browns arrived, they were alone.

"I find that a lot of people are more invested in position-taking than they are in the inquiry," he continued. "Generally speaking, I am in the inquiry. I live in the question. People have so many positions, and usually the evidence is not strong enough for them really to be so confident in those conclusions. There are just a lot of things that are not certain." He rattled off a list of decade-by-decade fads and gimmicks for "saving" America's struggling school system, most recently No Child Left Behind and the "teacher accountability" movement. "The question you have to ask yourself is, if teacher accountability is really the whole key, how can it be that from Comenius"—a 17th-century European pioneer in education—"through John Dewey and Horace Mann, and going back to the Greeks, every­body missed this secret, and we figured it out just now? I'm skeptical of that—and of you, and Washington, and myself." This was the "civilizational" outlook Nathan Gardels was referring to. Then, the practicality: "The world is so rich and diverse, and there is this technocratic imperative to impose rules, by small minds." I realize that on the page this could look airy or pompous. In real conversation, Brown gives a convincing impression of weighing thoughts and evidence as he goes.
After a long discourse on what makes California California, Fallows gets to policy:
The easiest question to answer is how California has pulled its way out of its budgetary disaster. Three things have happened since Jerry Brown replaced Arnold Schwarzenegger: the overall economy got better, so more people paid more taxes; state spending went down, largely at Brown's insistence; and California's voters approved a significant tax increase, mostly on annual incomes higher than $1 million.

Each of these has its fine points. California depends more on income tax, especially from rich taxpayers (even before the new increase) than it used to. This makes its revenues notoriously volatile. They fall very fast when the state economy is contracting—Brown had 10 percent less money to work with in his first year than Schwarzenegger had had in his last—but also rise quickly when conditions improve, as they have begun to do. One other aspect of the state's tax structure compounds its problems. The fastest-growing parts of its economy are those classified as "services," from entertainment and health care to infotech and finance. But most of these are untaxed. In the words of a recent report on the state's finances, "California's tax code is so outdated that nearly $1 trillion—that is, roughly half—of the state's economic output is not taxed." And this despite the state's image as being overtaxed.

The budget cuts have been substantial, and came at Brown's insistence to an often skeptical Democratic-dominated legis­lature. This may be the place to note a difference between state and national budgets. During economic slowdowns, national governments do and should run budget deficits, to keep un­employment from getting worse. Otherwise public-sector layoffs intensify, rather than offset, what is already happening in the private economy. It is different for state governments. Many, though not California's, have constitutions forbidding deficit spending. And not even California can view deficits as a state-level stimulus program, since so much of the spending sloshes out beyond state borders.

[…]

Brown's current role as the Democrat who is cutting budgets brings up the inevitable "Nixon goes to China" analogy, but I think the more important comparison is to an earlier Republican president, Dwight Eisenhower. The most admirable part of Eisenhower's policy, in retrospect, was his effort to push big infrastructure and national-greatness efforts—the interstate highway system, more money for schools and basic research, much of it of course with a Cold War rationale—while holding the line on other spending, including the Pentagon's. I'm oversimplifying the story of the '50s to make the point that the Jerry Brown of 2010 comes closer to that part of Ike's balance than anyone else I'm aware of.

"For me to get the budget cuts these past two years, I had to go to the legislature and say 'Please, please, please!' " he told me. "The Democrats"—who control the legislature—"didn't like it, but they agreed as part of getting the tax increase." In California, the governor has line-item-veto authority—one more indication of the legislature's feebleness—and Brown says he will use his veto power to resist spending increases. "The budget is more or less balanced," he told me. "Toun­balance things now, they have to come through me. That is a real shift in power." Meanwhile, Brown's reduced and balanced budget includes more spending for what he considers the big challenges of the future: clean-energy initiatives, an expensive (and controversial) north-to-south high-speed-rail project, new canals and aqueducts, even California-based medical-research projects beyond those sponsored by the National Institutes of Health.

For students of California politics, Brown's most surprising achievement was persuading the legislature to eliminate urban "redevelopment agencies" against the bitter opposition of nearly every big-city mayor in the state, most of them Democrats. "Redevelopment agencies" were a stratagem that one San Francisco analyst has described as "the California equivalent of the national military-industrial complex." Without getting into the details, their effect was to channel a certain share of tax money into a special fund that mayors and local officials could use to finance housing projects, malls, and similar efforts. In theory this was a step toward wholesome decentralization, but in practice the agencies were often wasteful and occasionally corrupt. "This was Brown's really interesting move," Joe Mathews, of the Los Angeles-based civic group Zócalo Public Square, told me. "These had turned into a racket, and he understood that and was able to unplug it." Most state legislators had no idea why these agencies mattered, or how much money was involved. Brown, a two-term mayor, knew just what was at stake.
There's a lot more to the Fallows piece, which is worth reading in full.
__________________
*UPDATE: After some pushback from commenters, it seems that my boyhood recollection of the young Brown as a flighty governor is mostly without basis. Aside from a handful of way-ahead-of-his-time social initiatives, the Medfly fiasco, and the incident that earned him the "Governor Moonbeam" sobriquet, Brown was actually a reasonably pragmatic and fiscally conservative administrator even in his first term as governor, which commenced when he was a mere 36-year-old.