California Bans New Soda Taxes
California's legislature has moved to block localities from imposing taxes on soda and other sugary drinks.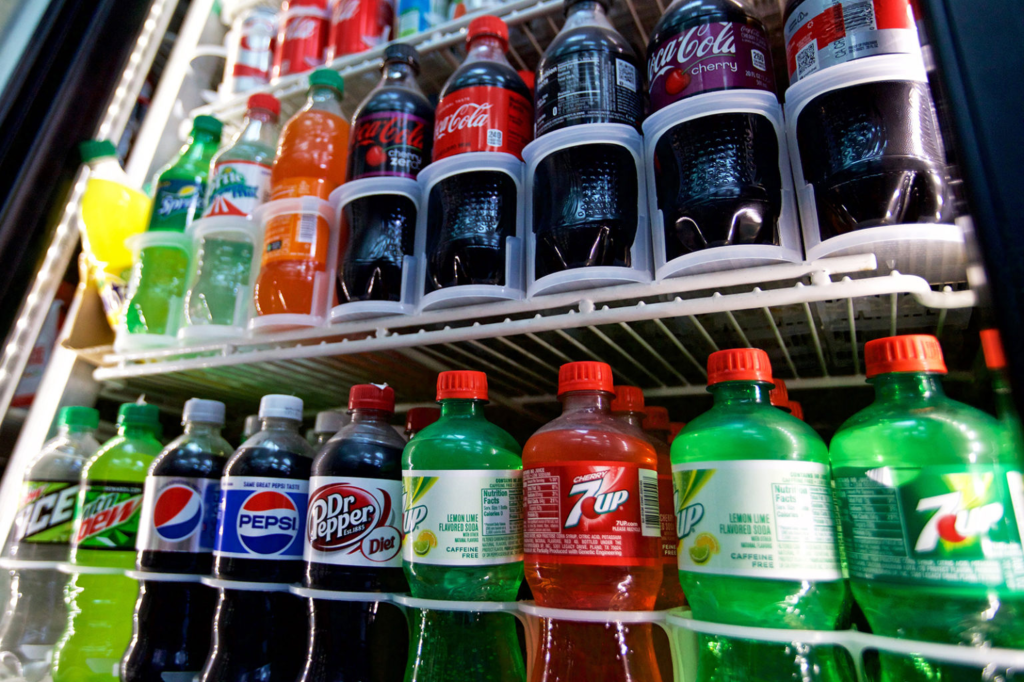 After pioneering the idea of imposing taxes on soda and other sugary drinks, California is stepping away:
The beverage industry scored a defining victory in its battle against soda taxes this week as California lawmakers voted to bar future local taxes on sugary drinks.

The state had been a hotbed for the soda-tax movement, having passed laws designed to slash soda drinking in four jurisdictions. But under the fast-moving ban introduced June 23 and signed into law five days later, no new food or beverage taxes can be passed in the state until 2031 at the earliest.

The law represents a significant, if long-anticipated, shift among the nation's soda makers, who have previously fought taxes, city by city, and expended millions of dollars in the process. Soda companies say the statewide bans more efficiently protect jobs and businesses that could be hurt by local tax laws.

But public-health advocates argue the state preemptions undermine the will and health of voters, pointing out that similar tactics have been embraced by tobacco companies and fast-food chains to fend off everything from cigarette taxes to menu labels.4

Now backers of the soda tax movement are searching for other options in California — and bracing for similar fights across the country.

"There's a fear that as California goes, so goes the nation," said Sabrina Adler, a senior staff attorney at ChangeLab Solutions, which develops public-health policies. "This could be the beginning of further preemption in other states."

Advocates say the tactical shift from soda makers was not unexpected, but the speed of the California ban caught many by surprise. California has long been seen as the vanguard of the soda-tax movement, which seeks to slash consumption of sugary drinks while raising revenue for local governments.

Soda is one of the primary sources of calories and added sugars in the American diet, and cities that have passed taxes — such as Berkeley, Calif., which became the first in 2014 — have seen consumption fall. According to the American Heart Association, eight cities now have soda taxes on the books, four of them in California, and a number of other cities in the state were readying ballot measures.\

But while California's existing taxes will remain in place under this week's ban, others in the pipeline can no longer proceed. That will protect consumers and retailers from unexpected price hikes, argues the American Beverage Association, the trade group for soda companies.

Stores in other cities that passed soda taxes have faced sharp sales declines, risking jobs, the ABA has said. The group has also argued that soda taxes disproportionately affect low-income shoppers, who spend a larger portion of their income on food and beverages.

"Our aim is to help working families by preventing unfair increases to their grocery bills," said William Dermody, the ABA's vice president of policy, in a statement. "At the same time, we're working with the public health community and government officials to help Californians reduce sugar consumption in ways that don't cost jobs or hurt the small businesses that are so important to local communities."

But such choices should be left to local communities, argues Carter Headrick, the director of state and local obesity policy at the American Heart Association, which fought the ban. Cities and towns are in the best position to judge whether a tax will improve health and raise revenue in their jurisdiction, he said, and the experience of most cities has been positive. Only two states, Michigan and Arizona, have previously passed this sort of preemptive ban, and in neither state were any cities actively pursuing taxes.

Critics have also taken issue with the way the ban was introduced. After lobbying hard for another, far more sweeping tax measure, the ABA and other business groups agreed to the soda tax ban as part of a last-minute deal with state lawmakers and unions.
This move by the state legislature also seems to undercut another effort by the beverage industry that would have done far more to curtail the effort to impose or increase taxes on soda and other beverages. Prior to the passage of this new law in Sacramento, the American Beverage Association and other interested groups were backing a ballot measure that would require that any new state or municipal taxes receive 75% support in the relevant legislative body, making it far less likely that new taxes of any kind could be passed in the Golden State. When they saw that this proposed initiative was quickly gaining popularity, state legislators were faced with the prospect of either seeing their power to impose new taxes of any kind severely curtailed or finding a way to kill the ballot measure before voters could vote on it. This ban on future soda taxes, which essentially accomplishes what the beverage industry wanted, was the price for killing the ballot measure. It's unclear whether the ballot measure would have received the signatures it would need to get on the ballot, but if it did it's likely that it would have passed. Given that, trading a ban on soda taxes for a crippling new law likely struck them as a pretty good deal.
As it stands, the idea of imposing taxes on soda simply because of its sugar content is basically some of the same Nanny State nonsense that we saw in New York City when former Mayor, Michael Bloomberg tried, unsuccessfully to bar businesses, or at least some businesses, from selling sugary drinks larger than a certain size. That ban was immediately challenged in Court where it was struck down at the trial court level in a ruling that was upheld by New York State's intermediate appellate court and, ultimately, the highest court in the state. Rather than using Bloomberg's approach, other jurisdictions, principally in California but also other parts of the country pursued the strategy of imposing what amounted to "sin taxes" on sugary drinks in any effort to reduce consumption. According to some studies, those taxes have been successful in reducing consumption and sales of such drinks, and the beverage industry has responded to some extent by expanding its offerings of beverages with reduced amounts of sweetener and other change designed to address health concerns.
Notwithstanding that apparent success, there's something wrong with the idea of government imposing taxes on an otherwise legal product because they disapprove of the fact that people are making choices they disagree with. At some level, of course, there's nothing improper with the government engaging in public health campaigns, but things become more problematic when it gets to the point where you're banning products, regulating the size they can be sold them, or increasing the cost of them via taxation. Free individuals are and should be, capable of making their own choices, and I don't have a problem with the idea of making sure the public has information about healthy eating. In the end, though, people must be allowed to make their own choices, and they shouldn't be punished for making what some people believe to be "bad" choices by the government. If that choice includes a 64oz Mountain Dew, then that's their choice and neither you, nor I, nor any government entity should prevent them from making that choice. Eventually, perhaps, people will make healthy eating choices that will require businesses to respond with more choices in that area. That's how the market works. It doesn't work when some bureaucrat who thinks they know better makes choices for people.  Obviously, there are different issues at play when we talk about children, which is why it would be appropriate to talk about changing school lunch menus to make them healthier and banning vending machines in schools (although I have to wonder when they ever became a thing because they didn't exist when I was in public school up until the mid-1980s). When we're talking about adults, though, it is simply inappropriate for the state to make choices for people like this.