California GOP Turns Against The Tea Party
Another victory for the GOP establishment in its battle against the Tea Party.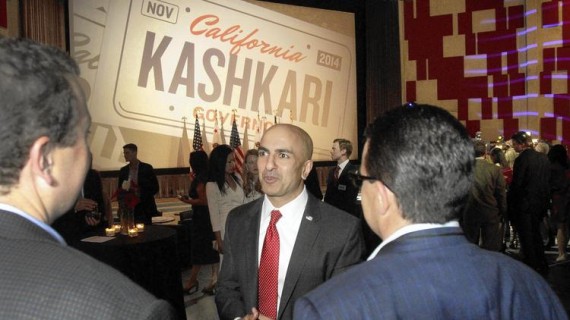 In the short run, the battle for the Republican nomination for Governor of California seems like a rather pointless battle. The Republican Party in California is still recovering from the decline that it suffered after Pete Wilson left office, and all indications are that Jerry Brown is headed for a landslide victory in the fall, making him the first Governor in state's history to be elected four separate times. In the long term, though, the battle between former Treasury official Neel Kashkari and GOP Assemblyman and Tea Party favorite Tim Donnelly, was seen by many as a potentially defining battle in the state GOP's efforts to regain some level of relevance in state politics and, potentially, a sign for where things may be going in the future for the rest of the Republican Party. Kashkari was backed my much of the national party's big names, who saw Donnelly's many controversial statements as something that could have a potentially disastrous impact on down ballot races where Republicans have a chance of pulling out victories. Donnelly, on the other hand, received support from several national Tea Party groups.
In the end, Kashkari pulled out a victory:
SAN FRANCISCO — Neel Kashkari, a former Treasury official and a moderate Republican running for governor of California, won over a Tea Party favorite in the state's primary elections late Tuesday, and will face Gov. Jerry Brown, who steamrolled to first place Tuesday, in the general election in November.

Mr. Kashkari's victory over Tim Donnelly, a Republican assemblyman from Southern California, came as a relief to state and national Republican officials hoping to rebuild their party in the nation's most populous state. Many Republican officials had tried to distance their party from Mr. Donnelly, whose hardline views on issues ranging from guns to immigration are likely to undermine the party's efforts to reach out to the state's growing Hispanic population and younger voters.

Mr. Kashkari, who also worked as an investment banker at Goldman Sachs and financed half of his campaign with $2 million of his own wealth, vanquished his opponent when Mr. Donnelly conceded the race to him late Tuesday, with Mr. Kashkari holding the lead with 18 percent of the vote to Mr. Donnelly's 15 percent.

In a statement after his rival's concession, Mr. Kashkari said, "My commitment is to rebuilding California's middle class and re-energizing the Republican Party."

Mr. Brown, a Democrat seeking a fourth term, garnered nearly 55 percent of the votes and is expected to win the general election in a landslide. In California's top-two primary system, the top-two vote-getters in a race advance to the general election regardless of party affiliation.

Mr. Brown, 76, whose approval ratings remain at a high and whose campaign account of nearly $21 million dwarfs that of his rivals, said after the primary results were announced, "Someone once told me you win elections the year before." Mr. Brown listed what he said were his administration's top accomplishments, starting with a voter-approved tax increase that allowed him to balance California's budget for the first time in many years.

California has a new, open primary in which the top two finishers move on to the November election.

(…)

Polls had shown the two Republicans in a tight race for second place. Though the contest amounted to securing the opportunity to lose to Mr. Brown in November, as Republicans themselves have acknowledged, it became a referendum on the Republican Party's identity by pitting Mr. Kashkari, a moderate endorsed by the Republican establishment, against Mr. Donnelly, an arch-conservative championed by the small but highly motivated Tea Party wing.

In a state where the Republican Party's influence has been shrinking because of its hard-line stance on issues like immigration and same-sex marriage, party officials expressed worries about the prospect of Mr. Donnelly becoming the party's face.

Mr. Donnelly, 48, a small-business man before he was elected to the Assembly in 2010, founded a chapter of the anti-immigration Minutemen movement in 2005 and patrolled the border with Mexico. A fierce gun rights advocate, he was detained in 2012 after trying to board an airplane with a loaded handgun in his carry-on luggage. Mr. Donnelly, who later acknowledged that the weapon was not registered in his name, said he had forgotten putting the gun in his luggage and pleaded no contest to two misdemeanors.

More recently, Mr. Donnelly tried to link Mr. Kashkari, who is of Indian descent and Hindu, to Islamic fundamentalism. Republicans ranging from Karl Rove to Representative Darrell Issa disavowed Mr. Donnelly and endorsed Mr. Kashkari.

In a debate last month, Mr. Donnelly accused Mr. Kashkari of being an elitist. He said, "We need to bring a lot more country into the country club."

Mr. Kashkari countered that extremists like Mr. Donnelly had caused the Republican Party's decline in California. Registered Republicans account for 28.5 percent of California's voter registration, compared with the Democrats' 43.5 percent. Democrats hold all statewide offices and control both chambers of the Legislature.

"I think we have very different visions for the Republican Party, and that's what this election comes down to," Mr. Kashkari said during a debate, adding, "I want to grow our party."
Mark Barabak of the Los Angeles Times characterizes this, correctly I believe, as a victory for the party establishment:
Correctly or not, Donnelly's undiluted, give-no-quarter conservatism was seen as a toxin that would poison the chances of Republicans up and down the ballot; not just those running for constitutional office — several of whom already face steeply uphill contests — but candidates in some potentially competitive house and legislative races, as well.

The damage, many in the party feared, would linger well past the fall and spread far beyond California's borders.

The state GOP is a wreck, steadily losing hearts and minds since Republican Gov. Pete Wilson won reelection in 1994, thanks in good part to his provocative targeting of illegal immigrants and, later, affirmative action. The incendiary rhetoric sent his party's reputation up in flames, not just within the growing Latino community but among more moderate white, suburban and young voters as well.

Donnelly picked up where Wilson left off and, on guns and other issues, took the GOP to a much further extreme. The former governor, who is still viewed affectionately within his party, was among those who notably condemned the San Bernardino-area congressman, calling him unfit to serve. Behind the scenes, Wilson played an important role in drawing other prominent Republicans to back Kashkari.

Shut out of statewide office, largely impotent in Sacramento and saddled with a retrograde image, the GOP probably faces years of rebuilding in this, the nation's largest, most important state. (With 55 electoral votes, California, by itself, offers more than one-fifth the total needed to win the White House.)

Kashkari's candidacy, at the very least, offers the party a place to start.
The race between Kashkari and Donnelly didn't get as much national press attention as other "Tea Party v. Establishment" battles that have taken place in GOP primaries this spring mostly because of the fact that nobody reasonably expects whoever won the race to have much of a chance against Jerry Brown in the fall. By all indications, that is a fair assessment. At the same time, though, the differences between the two were perhaps even more stark than those presented by races in places like Kentucky, Texas, or Mississippi, and for that reason alone it perhaps deserved more attention than it actually got. California, after all, is a state that has been known to set trends for the nation in many areas for some time now, so what happens to the GOP there should be of at least some passing influence on the party as a whole. Indeed, win or lose I except that we will see much of Kashkari on the national GOP scene after November 2014 and leading up to the 2016 elections.
Perhaps more importantly, when pundits sit down at the end of the 2014 primary season and start tallying wins and losses, it will be fair to count the Kashkari victory as a win for the GOP establishment against the Tea Party along with the others that it had tallied up in Alabama, Texas, Kentucky, and North Carolina and the ones it is likely to win in Kansas and South Carolina in the coming weeks. As we head into 2016, that could have a significant impact on the direction that the GOP takes on the national stage.  Even if Republicans manage to win back the Senate this year, it seems clear that the Tea Party has seen its influence crest, and this defeat in the nation's largest state is certainly a large part of that.