California Must Release 40,000 Prisoners
Prisons can be so overcrowded as to constitute cruel and inhuman punishment.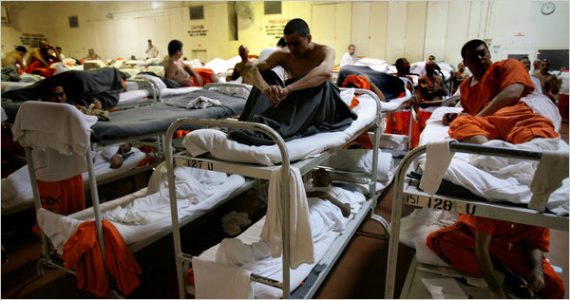 Citing the 8th Amendment prohibition on cruel and usual punishment, the U.S. Supreme court has upheld an order for California to release 38,000 to 46,000 prisoners from its overcrowded jails.
LAT ("Supreme Court orders California to release tens of thousands of prison inmates"):
The Supreme Court ordered California on Monday to release tens of thousands of its prisoners to relieve overcrowding, saying that "needless suffering and death" had resulted from putting too many inmates into facilities that cannot hold them in decent conditions.

Justices upheld an order from a three-judge panel in California that called for releasing 38,000 to 46,000 prisoners. Since then, the state has transferred about 9,000 state inmates to county jails. As a result, the total prison population is now about 32,000 more than the capacity limit set by the panel.

Justice Anthony M. Kennedy, speaking for the majority, said California's prisons had "fallen short of minimum constitutional requirements" because of overcrowding. As many as 200 prisoners may live in gymnasium, he said, and as many as 54 prisoners share a single toilet. Kennedy insisted that the state had no choice but to release more prisoners. The justices, however, agreed that California officials should be given more time to make the needed reductions.

In dissent, Justice Antonin Scalia called the ruling "staggering" and "absurd." He said the high court had repeatedly overruled the 9th Circuit Court of Appeals for ordering the release of individual prisoners. Now, he said, the majority were ordering the release of "46,000 happy-go-lucky felons." He added that "terrible things are sure to happen as a consequence of this outrageous order." Justice Clarence Thomas agreed with him.

In a separate dissent, Justice Samuel A. Alito Jr. and Chief Justice John G. Roberts Jr. said the ruling conflicted with a federal law intended to limit the power of federal judges to order a release of prisoners.
NYT ("Justices, 5-4, Tell California to Cut Prisoner Population"):
Conditions in California's overcrowded prisons are so bad that they violate the Eighth Amendment's ban on cruel and unusual punishment, the Supreme Court ruled on Monday, ordering the state to reduce its prison population by more than 30,000 inmates.

Justice Anthony M. Kennedy, writing for the majority in a 5-to-4 decision that broke along ideological lines, described a prison system that failed to deliver minimal care to prisoners with serious medical and mental health problems and produced "needless suffering and death."

Justices Antonin Scalia and Samuel A. Alito Jr. filed vigorous dissents. Justice Scalia called the order affirmed by the majority "perhaps the most radical injunction issued by a court in our nation's history." Justice Alito said "the majority is gambling with the safety of the people of California."

The majority opinion included photographs of inmates crowded into open gymnasium-style rooms and what Justice Kennedy described as "telephone-booth-sized cages without toilets" used to house suicidal inmates. Suicide rates in the state's prisons, Justice Kennedy wrote, have been 80 percent higher than the average for inmates nationwide. A lower court in the case said it was "an uncontested fact" that "an inmate in one of California's prisons needlessly dies every six or seven days due to constitutional deficiencies."

Monday's ruling in the case, Brown v. Plata, No. 09-1233, affirmed an order by a special three-judge federal court requiring state officials to reduce the prison population to 110,000, which is 137.5 percent of the system's capacity. There have been more than 160,000 inmates in the system in recent years, and there are now more than 140,000.

Prison release orders are rare and hard to obtain, and even advocates for prisoners' rights said Monday's decision was unlikely to have a significant impact around the nation.

"California is an extreme case by any measure," said David C. Fathi, director of the American Civil Liberties Union's National Prison Project, which submitted a brief urging the justices to uphold the lower court's order. "This case involves ongoing, undisputed and lethal constitutional violations. We're not going to see a lot of copycat litigation."

[…]

"A prison that deprives prisoners of basic sustenance, including adequate medical care, is incompatible with the concept of human dignity and has no place in civilized society," Justice Kennedy wrote on Monday.

[…]

In his dissent, Justice Scalia wrote that the majority opinion was an example of the problem of courts' overstepping their constitutional authority and institutional expertise in issuing "structural injunctions" in "institutional-reform litigation" rather than addressing legal violations one by one. He added that the prisoners receiving inadequate care were not necessarily the ones who would be released early. "Most of them will not be prisoners with medical conditions or severe mental illness," Justice Scalia wrote, "and many will undoubtedly be fine physical specimens who have developed intimidating muscles pumping iron in the prison gym."
While I'm deeply sympathetic to Scalia's position, Kennedy got this one right. Prison is meant to be unpleasant; it's a punishment for heinous transgressions against society. But even convicted felons are entitled to some measure of human dignity. The 8th Amendment's prohibition against "cruel and unusual punishments" being "inflicted," adopted in 1791, mirrored similar language in the English Bill of Rights of 1689.
As with other non-specific declarations, what constitutes a "cruel and unusual" punishment is subject to interpretation by the courts. And it's an evolving standard, since the mores of society change. Some longstanding practices — drawing and quartering, disemboweling, burning alive–were understood to be banned outright from the earliest days. In 1910, the Supreme Court ruled that certain forms of hard labor, known as cadena temporal, were cruel. More recently, the courts have struck down punishments that were excessive in relation to the crime committed.
The ratcheting up of prosecution for drug offenses, mandatory minimum sentences, three strikes laws, and other "tough on crime" measures has been widely popular, causing an explosion in the prison population around the country. Building expensive new prisons to house all these new inmates has been decidedly less popular.
Courts have naturally been reluctant to order the wholesale release of prisoners when jails are overcrowded. Yet we saw a series of cases starting in the early 1970s where they did just that.
The U.S. Supreme Court frequently strikes down such orders from lower courts, tending to bend over backwards to defer to the judgment of state elected officials and the not unreasonable concern for the safety of the public.  So, for example, in a 1981 case called Rhodes v. Chapman, SCOTUS overruled an order from the 6th Circuit which ruled that doubling up inmates in cells designed for one person was cruel and unusual. They outlined a test:
(a) Conditions of confinement, as constituting the punishment at issue, must not involve the wanton and unnecessary infliction of pain, nor may they be grossly disproportionate to the severity of the crime warranting imprisonment. But conditions that cannot be said to be cruel and unusual under contemporary standards are not unconstitutional. To the extent such conditions are restrictive and even harsh, they are part of the penalty that criminals pay for their offenses against society.

(b) In view of the District Court's findings of fact, virtually every one of which tends to refute respondents' claim, its conclusion that double celling at the prison constituted cruel and unusual punishment is insupportable.

(c) The five considerations on which the District Court relied are insufficient to support its constitutional conclusion. Such considerations properly are weighed by the legislature and prison administration rather than by a court. They fall far short in themselves of proving cruel and unusual punishment, absent evidence that double celling under the circumstances either inflicts unnecessary or wanton pain or is grossly disproportionate to the severity of the crime warranting imprisonment.

(d) In discharging their oversight responsibility to determine whether prison conditions amount to cruel and unusual punishment, courts cannot assume that state legislatures and prison officials are insensitive to the requirements of the Constitution or to the sociological problems of how best to achieve the goals of the penal function in the criminal justice system.
In the present case, however, there's very strong evidence that the overcrowding had reached a point well beyond mere inconvenience such that the inmates were actually being put in mortal danger. That's simply unacceptable. In this context, Scalia's plea for individual remedy for an institutional problem is absurd. The issue isn't individual mistreatment but an overall set of conditions that are outrageous.
As to the risk to the decent people of California of having an additional 40,000-odd felons freed, one presumes officials will weigh the releases accordingly. Rather than some arbitrary across-the-board reduction of sentences–much less an absurd releasing of the most dangerous felons–the obvious solution is to find alternative punishment for non-violent offenders.