Cam Newton, Racism, and Black Quarterbacks
The Panthers rookie is having a historic season. Were doubts that he could succeed colored by race?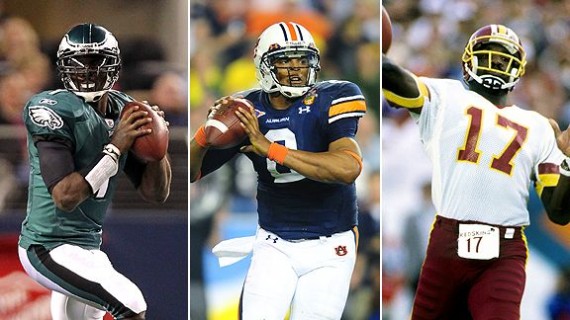 Ta-Nehisi Coates presents a statistical comparison that makes a compelling starting point for an argument that Cam Newton is having the best rookie year any NFL quarterback has ever had. With one game remaining on the schedule, he's already broken Peyton Manning's record for passing yards by a rookie, tied Dan Marino's record for touchdown passes by a rookie, and has a higher completion percentage than either. And he's by far a bigger running threat than either ever was.
As Coates himself notes, the debate is complicated by era effects. It's simply easier to pass the ball in the NFL of 2011 than it was in 1983, when Marino started, or even 1999, when Manning debuted, because of rules changes. Most of the league's passing records have been set in the last few years and this season has been especially explosive, perhaps as a function of the cancellation of most of the offseason training activities because of the lockout.
Regardless, it's an interesting debate. But not as interesting as a related one raised in the post: How much of a factor was the fact that Newton is African-American in the low expectations many scouts and prognosticators had before the season started?
Warren Moon, who had to win five straight Canadian Football League championships before being given a shot to play quarterback in the NFL and a Hall of Fame career, thinks it's a big factor. Newton tactfully dismisses the charge, noting that the recent flameouts of high profile black quarterbacks JaMarcus Russell and Vince Young justified the fears. But Coates thinks this, too, amounts to racism.
[I]t must be said that accepting Newton's formulation, he's actually proving Warren Moon's point. JaMarcus may well be the greatest bust ever (and like any greatest, that's debatable) but the list of white quarterback busts is fairly legion ranging from Ryan Leaf to Tim Couch to Todd Marinovich to Art Schlichter. But Newton is Newton worried about walking in the shadow of  say, Joey Harrington or David Carr. He's worried about the black guys. That is telling.

Our American struggle is not about the freedom to be exceptional–we've had that since the days of Frederick Douglass. It's about the freedom to be mediocre, the freedom to fail, and have that failure, or mediocrity speak only to the  merit of an individual, not to the "group." I assure you that Andy Dalton does not fear Matt Leinart, in the same way that Cam Newton fears Vince Young.
That's fair enough. We're only a quarter century or so into the era where black quarterbacks (most notably Moon, Doug Williams, Donovan McNabb, and Michael Vick) have had success in the League. Only one, Williams, has ever won a Super Bowl. Only three–Williams, Steve McNair, and McNabb–have ever started one. So it wouldn't be shocking if a lot of analysts, who tend to be middle aged white guys, still harbor subtle doubts about the ability of blacks to quarterback on Sundays.
Additionally, there was much thinly veiled talk that Newton was a thug and not particularly bright, criticisms often made–mostly indirectly these days–about black athletes. But Newton gave the critics plenty of ammunition. First, there was the months-long drama over the fact that his father, Cecil Newton, hamhandedly attempted to shop him to the highest bidder as he was leaving a highly successful junior college career and moving up to Division I. Which, incidentally, he'd left after being thrown off the team at Florida under suspicion of larceny and charges of cheating in the classroom. Nor did he help himself in a truly painful interview with ESPN's Jon Gruden in which he seemed to have no clue about how to call a simple football play.
But there is quite a bit of mitigating evidence in the case of Newton. Most importantly, he was ultimately chosen by the Carolina Panthers with the first overall pick in the draft. So, whatever doubts there were didn't keep him from going ahead of every other player, regardless of race, in his draft class.
The doubts about Newton were mostly predicated on two facts. One, he had only started one year in college. To be sure, it was a spectacular year (undefeated season, Heisman Trophy, and BCS national championship) but scouts are leery of QBs that didn't start at least three years. Two, he played in a high school offense. Literally. Gus Malzahn, his offensive coordinator at Auburn, has spent most of his career as a high school coach perfecting a spread offense.
Observers of the NFL hate, hate, hate quarterbacks who played something other than a pro style system in college. Because it's damned near impossible to predict how they'll make the transition. So many of the great college quarterbacks are pro busts because it's the position that least resembles its NFL counterpart. In college, quarterbacks can win by running the ball constantly; so far, that hasn't worked on a sustained basis in the NFL. In college, gadget offenses (double and triple option, spread, Wildcat) can overwhelm teams that haven't faced that style. (Alabama, which held LSU to 6 points in regulation this year, gave up 21 points to lowly Georgia Southern, its worst performance of the year, for this reason.) That just doesn't work over the long haul in the NFL.
Indeed, another highly controversial quarterback is a classic example of this phenomenon: Tim Tebow. He led Florida to two national titles, won a Heisman Trophy, and was a contender for two more. There's a strong case to be made that he's the best college quarterback ever. Yet, he was the 25th pick in the 2010 draft and most analysts thought Denver took him too high, especially with Jimmy Clausen still on the board. Why? Because he won in a spread style offense and relied extensively on his ability to run the ball. Despite considerable success in the NFL, most of us still don't think he'll make it over the long haul because he's not a good passer.
For those who don't follow the sport, Tebow's white.
Photo: ESPN/US Presswire